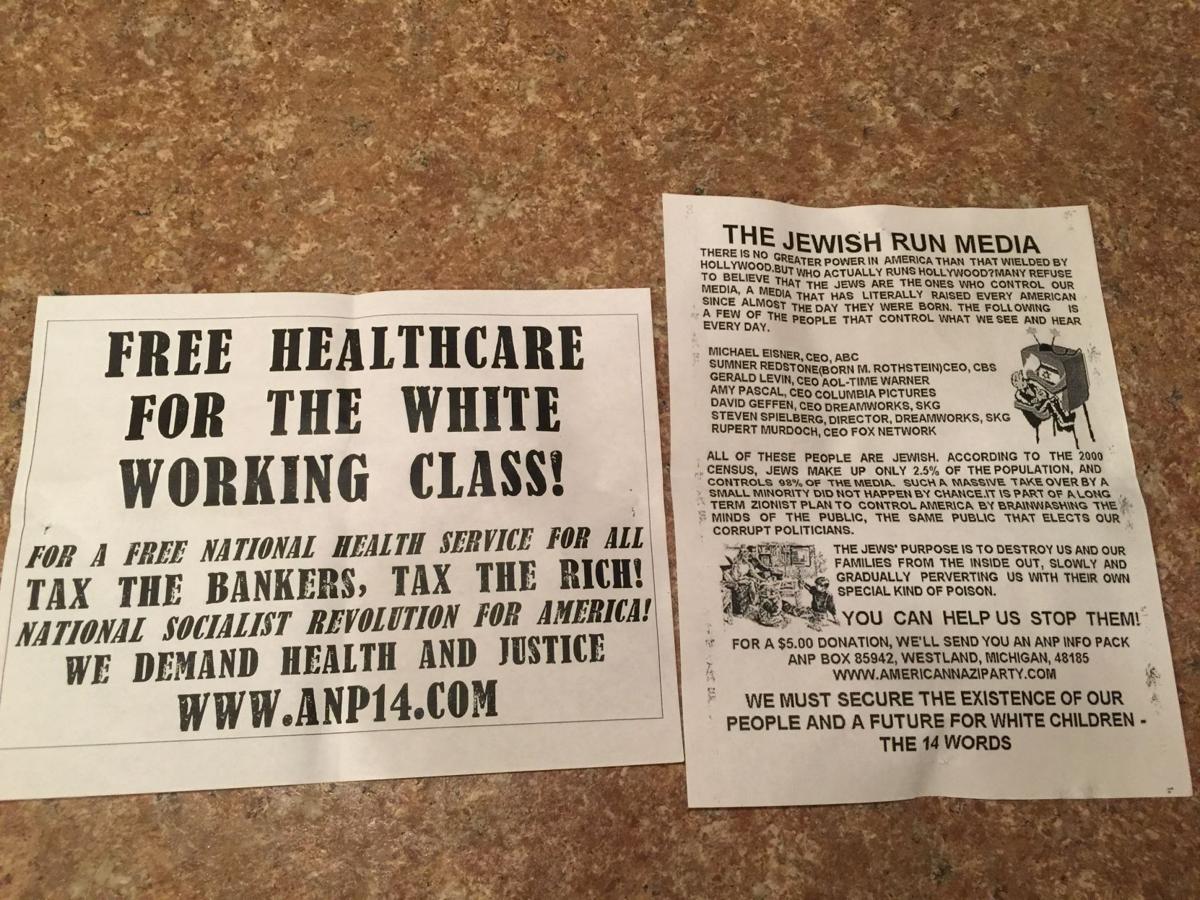 Fliers citing the American Nazi Party have appeared on some Missoula doorsteps, touting "the white working class" and disparaging Jews.
Late Friday afternoon on the eve of Shabbat, Har Shalom, a synagogue in Missoula, requested police patrol, said Lt. Jake Rosling of the Missoula Police Department. Saturday, rabbinic intern and spiritual leader Laurie Franklin said the synagogue did not receive hate literature directly, but reported the lit drop elsewhere in Missoula and requested the patrol as a precaution.
However, the Montana Human Rights Network received reports of at least three literature drops that took place within 24 hours after Republican Donald Trump was elected president, network co-director Rachel Carroll Rivas said Friday.
The network also has roughly six reports from across the state of vandalism, graffiti, and minor assaults this week. Rivas said she does not have details about the alleged incidents or perpetrators and does not know if they are linked to the American Nazi Party or white supremacists.
But Trump has made racist remarks, and the victims in the alleged incidents believed the acts directed at them were purposeful, she said. 
"Folks feel targeted because of race, religion, sexual orientation, gender identity," Rivas said.
Trump's campaign did not create bigotry or anti-Semitism, she said. However, she said his election was partly the result of those attitudes, and reports from Montana and across the country indicate a spike in activity since Election Day.
"There are folks who feel really emboldened by what has happened in the last week to air their bigotry," Rivas said.
A Missoula resident who received two bundled fliers provided a photograph to the Missoulian. Both show crudely designed text printed in black on 8 1/2-by-11-inch sheets of paper.
One is titled "The Jewish Run Media" and said Jews brainwash the public, who then elect corrupt politicians. The flier asks for a $5 donation for an American Nazi Party information kit.
"The Jews' purpose is to destroy us and our families from the inside out, slowly and gradually perverting us with their own special kind of poison," reads the text in all capital letters.
The flier closes with "the 14 words" – "We must secure the existence of our people and a future for white children."
Another flier demands "Free healthcare for the white working class," also in all caps.
"For a free national health service for all, tax the bankers, tax the rich! National socialist revolution for America! We demand health and justice."
The tagline is the American Nazi Party's website.
The national director of media outreach for the American Nazi Party did not immediately respond to an email Friday afternoon. A Montana contact was not listed on the website or literature.
In Montana, the Flathead has been a focus of activity by white supremacists trying to draw to the state a population with similar leanings, Rivas said.
Missoula also has seen its fair share of activity, especially around the year 2000, she said. However, a couple of times a year, off and on for the past few years, the network will receive reports of action by the far right in Missoula.
"There's at least been a spike for the time being," Rivas said. "I can only hope it wanes, but I do think that the white supremacist movement has themselves claimed Donald Trump as their candidate, so they feel, I think, very empowered right now."
Councilwoman Emily Bentley said she is looking to Republicans who were elected into office to speak against the rhetoric and violence.
"I've personally been asking them to show leadership and speak out against this hate. It's so awful," Bentley said.
She said the Trump supporters she knows do not support hate or the Nazi agenda.
"I feel strongly that most Trump supporters, especially the silent supporters, did not vote for bigotry and hate but voted in spite of it because they were suffering," Bentley said.
"I know that most of the country does not feel this way, and it is our job to reject it every step of the way."
Rivas, with the network, agreed the correct response is to "say no."
"It's really important for people to say no, that it's not appropriate to target others based on their identity, and that to reinforce who we are, which is a democracy where all people should have the right to exist and live their lives and be part of a community," Rivas said.
She also encouraged people to organize and come together to make spaces where human rights are valued. She suggested people use the Montana Human Rights Network as the resource it has been designed to be for more than two decades.
"At least we feel prepared to do the hard work it's going to take to create welcoming communities and a progressive state and country again," Rivas said.
Get local news delivered to your inbox!
Subscribe to our Daily Headlines newsletter.