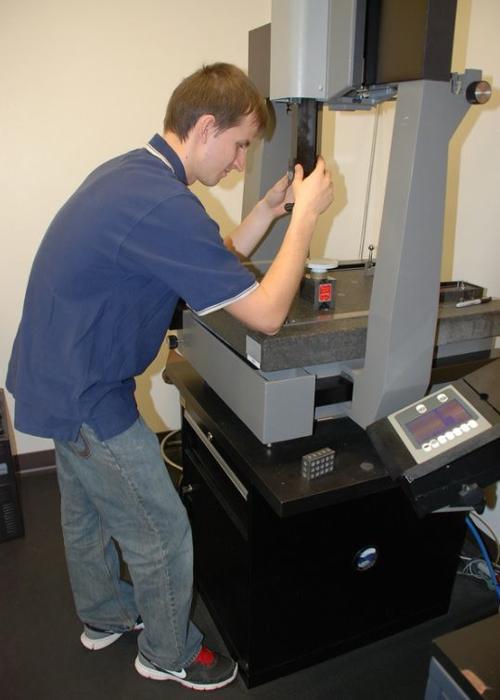 Ken Johnson, of CM Manufacturing, has been working with Big Sky High School and Missoula College for the last several years to develop a 15-credit, one-year machining degree for high school students. He's had the help of guidance counselors, administrators and teachers at both institutions, and the first class is underway.
"I feel the private sector needs to work with Missoula College in order to solve the shortage of skilled labor," Johnson explained. "We need to get this moving forward. This is something that goes back 10-12 years. We have a lack of skilled workers out there."
The business world doesn't have the luxury of waiting for the government to step in with programs to educate young people in industrial skills, he said.
"The wheels of bureaucracy move at a snail's pace," he said. "We don't have time to wait."
Johnson sent his son Liam through the training program first as a test case to see if he could make it work with his high school schedule. It worked, and now several other students are in the program.
Jordan Peterson of Missoula College was involved in developing the requirements, while Zack Reddig and Jeffrey Johns at Missoula College helped develop the core classes. Matt Clausen, Big Sky High School's vice principal, helped to work out the schedule for students along with guidance counselor Aine Franczyk.
Johnson said he hopes more students will consider careers in the trades, rather than going to a four-year college and taking on a huge amount of debt for job prospects that don't pay as well.
"High school students aren't aware of the career paths you can take," he said. "High schools need to do a better job of talking about the trades."
The west campus of Missoula College, in the Target Range neighborhood, is where students learn things like welding, diesel mechanics, truck driving and computer numeric control (CNC) machining.
"I'm an advocate of promoting skilled trades," Johnson said. "Missoula College is underfunded, I think their faculty is underpaid. It's an ongoing battle, and the issue is getting the appropriate resources."
Wages are going up because there's a shortage of skilled labor, he added.
"I was talking to a 23-year-old guy who is in an apprenticeship for plumbing. He's making $65,000 a year and didn't have to go to college," he said.
Missoula companies are having a hard time finding the right workers with the right skills and retaining them. Jason Rice, the incoming president of the Missoula Area Chamber of Commerce's board of directors, said the workforce shortage is the biggest hurdle area businesses face.
Sarah Wimmer of the Missoula Job Service told the Missoulian this spring that the number of open jobs went over the 1,000 mark much earlier this year compared to years past.
"It's an employee's market," she said. "They have the opportunity to pick and choose where they want to go if they're looking for a better job, and employers are begging."
Get local news delivered to your inbox!
Subscribe to our Daily Headlines newsletter.