There is anxiety about gentrification but also optimism for development in Missoula's so-called Opportunity Zone, according to city officials who discussed the area in depth on Tuesday.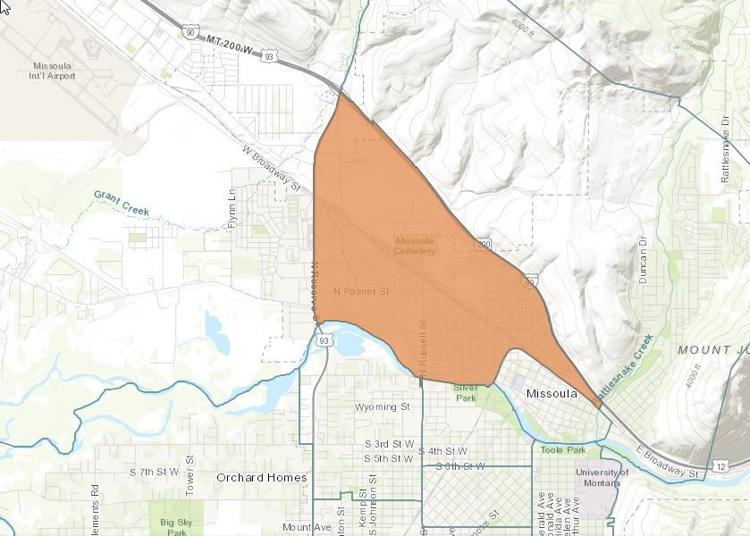 On Tuesday, local experts held a panel discussion about the challenges and opportunities facing that area during the InnovateUM conference at the DoubleTree Inn.
Eran Pehan, the director of the city's Office of Housing and Community Development, said one developer she knows is already planning on building an affordable housing project of some type in the area using the tax incentives along with Low Income Tax Credits.
She said Missoula's Opportunity Zone was designated because it was identified as a place with lower incomes and barriers to redevelopment.
"Unlike the downtown core or other areas, that was an area that was unlikely to develop at a pace matching other areas on its own without this specific investment," she said. "So I think it's an incredible tool. But there are inherent risks. Northsiders and Westsiders have incredible pride in ownership over their neighborhoods, as they should."
"So it's important that we have a collaborative approach to this development."
Missoula City Council President Bryan von Lossberg, who lives on the Northside, said he immediately got three texts from different constituents the morning the Missoulian ran an article explaining the Opportunity Zone.
"The first text included a picture of the newspaper and said it's never good to be in an Opportunity Zone for rich people," von Lossberg recalled. "That's an important sentiment to hear and listen to and to share. It captures the angst on the ground. In this period of profound rapid change and development, there is wonderful optimism but also a profound sense of anxiety."
Von Lossberg said having a lot of "public processes" is the key to making sure development doesn't force out long-term residents on fixed incomes by increasing property values and taxes.
"We're fortunate to have the expertise we have in Erin's office," he said. "We have resources like the (Missoula Redevelopment Agency). We can lend their expertise to this work."
Two of Missoula's Urban Renewal Districts overlap with the Opportunity Zone, providing even more tax incentives to developers. The URD II encompasses a portion of the Westside, and the Scott Street/North Reserve URD encompasses a large portion of the Northside.
Taxpayers who invest inside these zones are eligible to benefit from capital gains tax incentives. In essence, many U.S. investors and corporations have unrealized capital gains in stocks and funds, estimated by the IRS to be a combined $6.1 trillion. Many investors are reluctant to pull their money out of funds and stocks and invest in commercial and housing projects because they would have to pay large capital gains taxes.
But the new Opportunity Zones legislation allows them to defer a significant portion of that tax if they invest inside the zones. The money has to first flow through an Opportunity Fund. Investors can sell property or equity (real estate sold doesn't have to be in an Opp-Zone) and invest in any Opportunity Fund they want.
If the investment in the Opportunity Zone is held for longer than five years, the investor only has to pay 90% of the deferred capital gain. If they hold it for more than seven years, the investor only has to pay 85% of the deferred capital gain. There are additional benefits to holding on for more than a decade.
You have free articles remaining.
Rachel Reilly of the Economic Innovation Group said communities need to implement rules to make sure that when investors pull their money out after five to 10 years, the community doesn't lose out.
"Investors want to exit out of deals," she said. "They want their money. So how are we determining what terms of the exit are planned so any benefit to the community is retained, so the jobs and businesses stay in the community? You need to make sure the affordability of housing and covenants don't expire in year 10, and all of the sudden you lose that. It takes thoughtful planning now."
She said that while people are concerned about gentrification, the Opportunity Zones aren't the only cause of that.
"Opportunity Zones have attracted attention, but private investment happens every single day," she said. "The Opportunity Zone puts a spotlight on it. But investment into communities in and of itself is not a bad thing. It's the planning process that is crucial."
Pehan said that subsidized affordable housing probably won't see explosive growth in the area because those rely on grants from the U.S. Department of Housing and Urban Development.
"The level of subsidy needed to make HUD plans affordable, I don't think those are the type of assets that are going to be invested in and replaced by the Opportunity Zone," she said.
But, she said, if investors build more market-rate housing, that could bring up the total supply of housing and possibly drive down prices.
"Creating more housing provides relief on total supply and can help with displacement issues, but (HUD grants and Opportunity Zones) are two different tools," she said.
Ross Keogh, a local attorney who's done work with a local investor in Missoula's Opportunity Zone, said the zones aren't a "golden ticket," but still increase the return on a project from 5% to perhaps 12% or 13%. He said his client sold a business and used the capital gains from that sale to invest and redevelop an old warehouse in Missoula's Opportunity Zone.
"That's a local Montana investor taking advantage of the capital gain and deploying that capital back into a Montana community," he said. "That's what's exciting to me is there are a lot of people in our community who are in a position that they can make investments."
He said people need to remember that what get's rehabbed and redeveloped and built will increase the city's tax base and provide jobs and income.
"What the incentive also has built into it that also gets overlooked is a big part of that gain you get is when the investor exits," he said. "The investor wants to exit 10 years out. So that's really the opportunity for that capital to continue to exist in the community.
"And in Montana, with our history of capital exploitation and all that, that's an important part."
A few people in the crowd expressed concern that rapid development by wealthy investors would turn Missoula into Boulder, Colorado, a town that's seen so much growth recently that it had to put a moratorium on development.
"I'm also conscious that sometimes we look a lot like Boulder, but I like that I was able to ski last Friday at our local ski hill with some friends," Keogh said. "And I think it's important that we talk as a community about how this incentive doesn't change our area."