At 4 in the afternoon, the unmarked bar on North Higgins is full. Customers found their way in and took their place along a wooden stretch that extends from the entrance to a kitchen known as the Dino Café.
A man on a date with his wife took off his hat, showing his gray hair. He asked the bartender for a beer and a vodka cranberry. The couple managed to find two empty stools near the pool table, where a man racked billiard balls for another game by himself.
Some sipped their drinks alone, and others leaned over the bar to tell the bartender about the latest national news.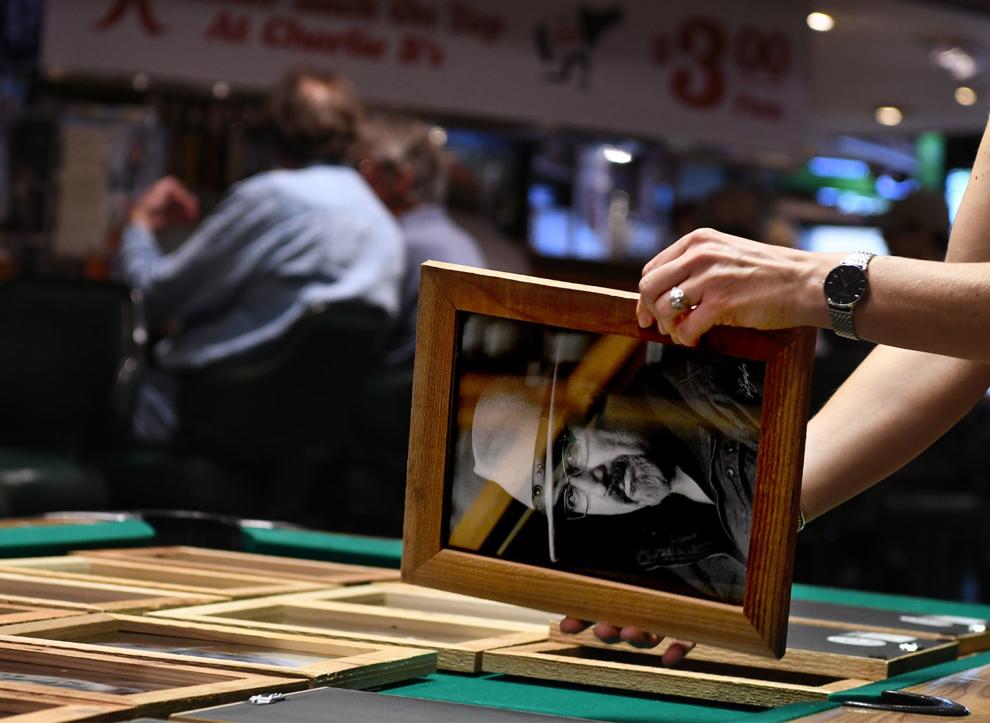 Music on the stereo mixed with the conversations like bitters in a glass of bourbon: Creedence Clearwater Revival, The Band and Stevie Ray Vaughn.
The regulars of Charlie B's enjoy themselves. Across the walls of the bar, rows of gray faces stare at their backs.
The portraits show regulars of the bar's past, spanning five decades, two owners and hundreds of patrons. They form a black and white ring that documents who called the bar home. Across from the Dino Café, a break occurs in the ring.
Photographer Erin Berzel has taken down the larger 16x20 portraits from their usual spot and has them laid across the bar. Working with Windex and a razor, she's removing the paint spots and giving the frames a shine. She's preparing them for new neighbors.
In December 2018, Berzel started taking portraits for a new class of regulars to be added to the hundreds of faces captured by photographer and bartender Lee Nye. Now that she has her 66 photos framed and ready to hang, she wanted to make sure the rest of the regulars looked their best.
"It's what these photos deserve. It's what Lee deserves and each of his subjects, too. They are sparkling now and I feel like people will see them in a whole new light," she said.
The new portraits will be showcased Saturday in an event at Charlie B's called "The Regulars." No new portraits made it into the collection without the approval of the bar's owner, Charlie Baumgartner.
When he decided to make new additions, he didn't want just anybody on the wall, and he didn't want just anybody taking the photos. Baumgartner, the owner since 1980, commissioned Berzel, who has been coming to the bar since she worked next door at Break Espresso as a student at the University of Montana.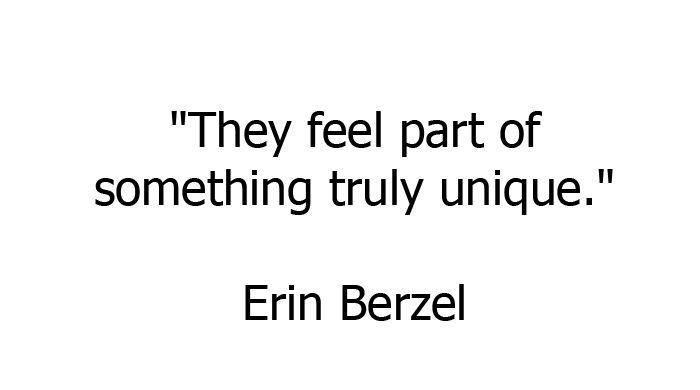 She moved to Oregon after graduating in 2002, running a photography business for 15 years before she returned to Missoula with her husband. She brought the idea of adding new portraits with Baumgartner over a beer at the bar. After he agreed, Berzel carried on what Lee Nye started, using a Nikon D810 instead of a Rolleiflex.
"To be photographed requires a certain vulnerability, but so does being an artist. I have so much respect for Lee Nye and the legacy he created. Photographing this new generation of regulars at Charlie B's and seeing this project through is probably my greatest achievement. I've never felt so proud," she said.
"Also, I thank Charlie for giving me this opportunity and trusting me."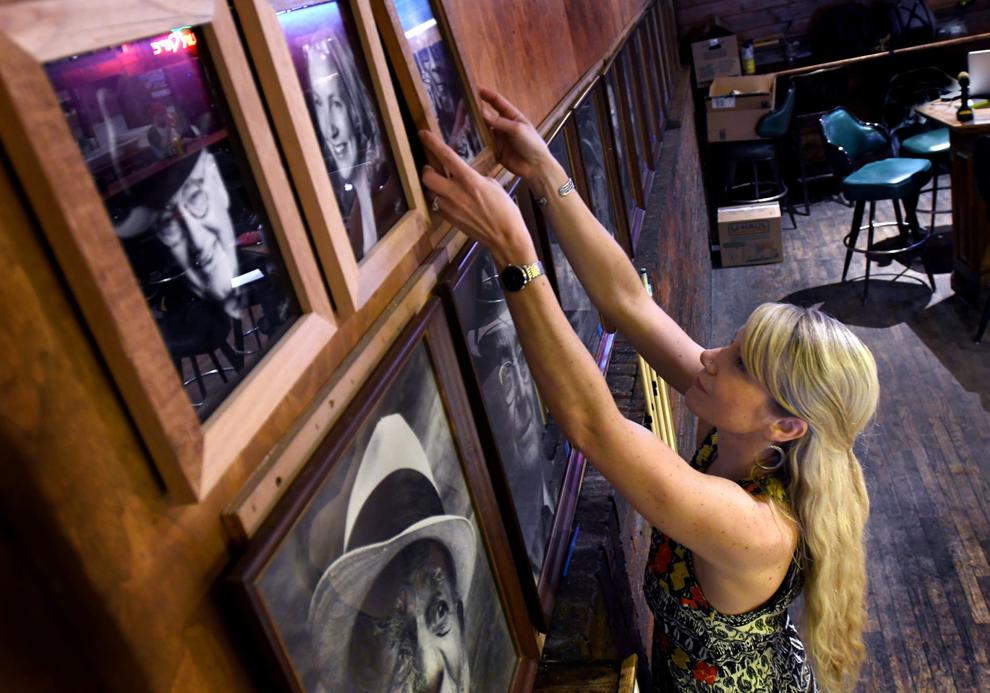 John Harrigan, who worked for Republic Services for 27 years before retiring, will be one of the newest portraits. He'll be joining his brother, George Daly, who earned the distinction in the early '90s.
He arrives at Charlie B's at opening time. He said that's the time for the retirees. In the afternoon, the working men, like he used to be, will take their spots until dark. From then until closing, he said, the kids take over.
He'll be bringing George, who recently went through surgery, to the gallery Saturday. He and his brother came to Montana and refined gold and silver for several years. For the past few weeks, Charlie, the bartenders and the other regulars have asked about George, who has been missing from his corner seat at the bar.
"Hey, Goody," Harrigan said, shouting down the bar. "What do you think of my brother George?"
A goateed man in flannel looked up.
Harrigan and his brother also have friends, gone now, but remembered on the wall. He pointed away from the bar, where three rows of portraits spread from the entrance, and he listed names as he moved his finger along: Rob, Earl and Irv.
"Everybody was a character, has a story set in old Missoula," he said.
He said it's an honor for his portrait to be hung at Charlie B's, because he knows how exclusive it is.
"It means the world to me to earn that man, Mr. B," he said.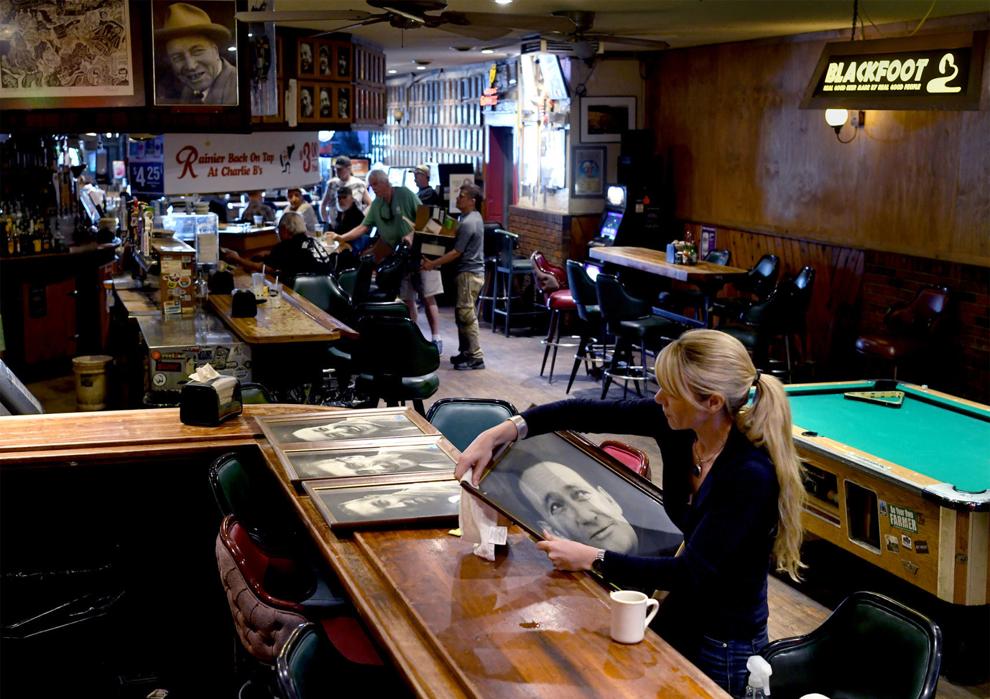 The photo of his brother, George, has remained his favorite portrait since it took its place. But his favorite memory took place years ago, when Baumgartner decided to cook steak and eggs for everyone who remained in the bar after closing.
Doug Grimm posed in front of Berzel as her first subject. It took him 52 years to make it onto the walls of the bar. Despite being friends with Lee Nye, Grimm's youthful looks didn't fit in with the cracked, hard faces that made up Nye's portfolio.
"He told me, 'I want interesting faces, Doug. And you look like a kid,'" said Grimm.
Now 80, Grimm has a face that fits in with the writers, railroad workers, painters and loggers. While his contemporaries of the 1960s drank cheap beer and tore into the wall of liquor behind the bar, he sipped on Pepsi.
"I really can't stand the taste of alcohol," said Grimm.
That didn't stop him from being immersed with the artists that filled the bar in 1960s and '70s, or meeting the woman who would become his wife.
During his nearly 50 years of teaching ceramics, Grimm came to what was Eddie's Club, and then Charlie B's, to get a break from his students.
"When you teach ceramics, you get a constant line of a dozen people who all have questions. I could come here in between classes to regain my sanity," he said.
Grimm now spends his afternoons with the rest of those who make their way in at 4 o'clock. He sips his Pepsi, thumbs through a newspaper and watches one of the three flat screens.
Born in Butte, Grimm came to Missoula in 1946 with his mother and father. They built a house on a lot in the Rattlesnake, with the creek running through the backyard.
"I've sat outside and listened to that creek for 73 years," he said.
While Grimm sat a table near the entrance to Charlie B's, a man sitting across from him mentioned a video posted online that showed the bar, then Eddie's Club, on a packed Saturday in 1972. He asked Grimm if he'd seen it.
"I was in that video," said Grimm.
One man has stayed off the wall, but keeps his place at a stool at the bar.
A 41-year-old Bob Hayselben walked into Charlie B's and immediately found his place at the bar.
"August 1, 1986," he said, remembering the day he entered the bar after moving from Seattle.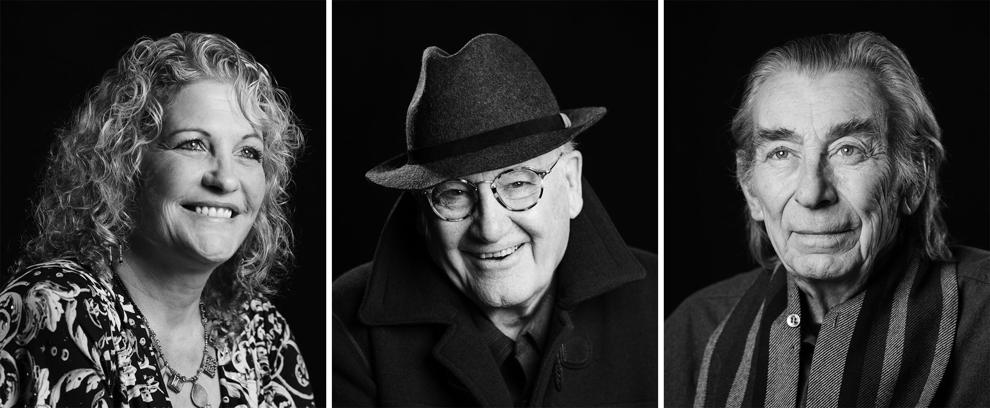 Hayselben, now 71, has worked as a chef, painter, sculptor and musician. He comes to Charlie B's because it's where he can find his friends.
"There's Reuben, Dennis and Sloan. Even that guy at the end of the bar, who I kind of want to punch right now, they're all my friends," he said.
Hayselben resisted offers from both Baumgartner and Berzel to have his portrait taken. He said his pride keeps him from joining the immortalized regulars, but he's happy to see more of his friends, like Doug Grimm, join the old ones.
"There's Pete," he said, motioning with his scotch and water to a portrait of a balding and bearded man with a wide smile.
He played guitar with the Vietnam veteran.
"Then there's these two old cowboys," he said, directing his finger to a shot of two men on a ranch.
Next to the cowboys, a man stood in a frame next to a felled tree that came up to his shoulders at the trunk.
"And Ray, another Vietnam vet. A real hero," he said.
Hayselben and the rest of the regulars filter in and out of Charlie B's, open from 8 in the morning until last call at 2 a.m. Like the portraits that hang around them, they have earned their permanent place at what one regular called "a corner of space and time." 
"They feel part of something truly unique," Berzel said.
"Every single regular here contributes to making this the unique microcosm that exists 'on the corner of space and time.'"