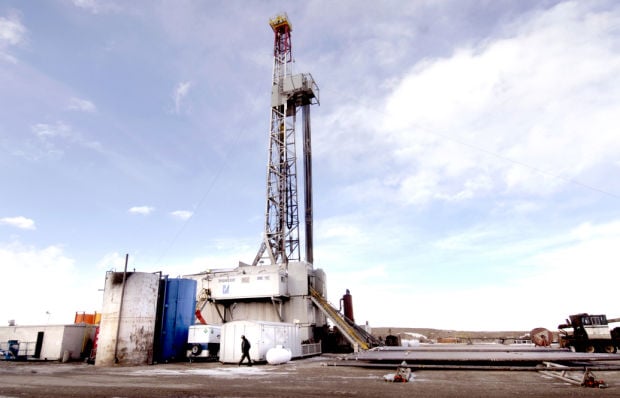 A Denver-based energy exploration company that has been searching for oil and gas on the Blackfeet Indian Reservation alongside Glacier National Park announced Tuesday that it would cease drilling and shut down the project.
The company, Anschutz Exploration Corp., released a statement saying that "drilling and testing have located some resources, but not enough to support further exploration or development investment," and called the sudden move a "business decision."
The company, which is owned by billionaire Philip Anschutz, has drilled 14 exploratory wells, and analyzed multiple hydrocarbon-bearing reservoirs, according to the statement.
Anschutz has been active on the reservation for more than a decade, and notified the Blackfeet Tribal Business Council of its decision Monday.
"We appreciate the commitment that everyone has made to work for success on this large project; however, there are other projects in our company that require our attention," Christopher Hunt, chairman and chief executive of Anschutz, said.
The oil and gas play has been met with criticism due to its proximity to Glacier National Park's boundary and various sacred tribal sites, and because of the unknown effect that hydraulic fracturing, or "fracking," will have on natural resources and wildlife, both on the reservation and inside the park.
"I think it is good that this is slowing down," said Jack Gladstone, a tribal member and a member of the Blackfeet Headwaters Alliance, a nonprofit group working to preserve the headwaters of the Missouri River. "We need to act as stewards of our water resources and, fundamentally, we felt that the surface and ground water originating on and flowing through the Blackfeet Indian Reservation are of paramount importance to the future well being of our people. We have to consider the potential that fracking would irreparably damage these water resources."
A spokesman for Anschutz said the company will surrender leases on all lands that are not within a spacing unit for a producing well.
"We will continue to operate the five or so producing wells for now," Anschutz spokesman Brent Temmer said.
You have free articles remaining.
The company will reclaim drilling sites and access roads of non-producing wells. Reclamation includes plugging and decommissioning wells, removing surface equipment, regrading, replacing topsoil and reseeding, he said.
The decision to discontinue drilling comes days after the Missoulian published a story about a petition opposing a hospitality company with direct ties to Anschutz that is expected to bid on Glacier Park's upcoming concessions contract.
In addition to ventures in oil, railroads, telecommunications and entertainment, Phil Anschutz owns Xanterra Parks and Resorts Inc., the nation's largest park concessionaire, which manages lodges in numerous national parks in the American West and currently holds the primary concession contract for Yellowstone National Park.
The petition was endorsed last week by Blackfeet Tribal Business Councilman and state Sen. Shannon Augare, and had more than 5,000 signatures as of Tuesday evening. The entreaty urges signees: "Do not award a lucrative concessions contract for Glacier National Park to billionaire Phil Anschutz while he is threatening the future of the park with his fracking on abutting land."
The company's leasehold of nearly 600,000 acres is on the western third of the Blackfeet Nation, adjacent to Glacier National Park. Two other exploration companies with leases on the remaining reservation lands halted their operations earlier.
Conservationists, park officials and some tribal members had previously asked Anschutz to conduct baseline water quality testing and wildlife surveys before beginning full-field exploration along the Rocky Mountain Front so as to determine the effects of fracking on the ecosystem.
Park officials raised concerns about degradation to air and water quality, wildlife and the viewshed. They also expressed dissatisfaction with the limited scope of the company's environmental assessments to date, and pressed Anschutz to disclose its intentions for full-field development and submit to a broader assessment.
Others have suggested that economic development on the reservation will be buoyed by protecting natural resources, and that the financial gains would be greater and more sustainable.
"This isn't the end of an economic development conversation on the Blackfeet Indian Reservation, it is actually the beginning of a sustainable economic development conversation in Indian country that emphasizes a whole portfolio of opportunities, including natural energy development with an eye toward natural resource protection," Michael Jamison, Glacier program manager with the National Parks Conservation Association, said. "This has incredible potential to help drive a sustainable economy into the future. We have already started that conversation, and this gives us the breathing room to continue that conversation."