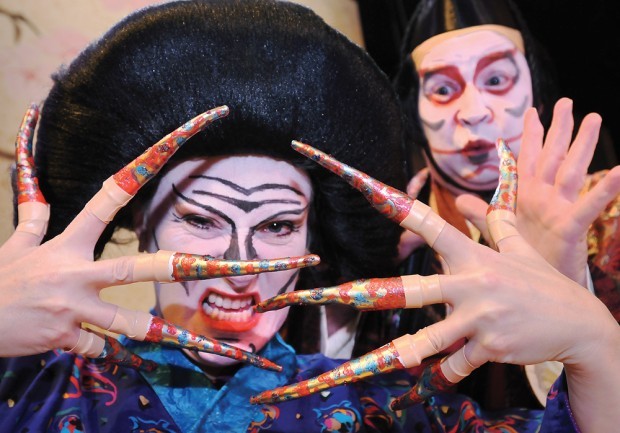 On Sunday night, MCT Community Theatre wrapped up its two-week run of Gilbert and Sullivan's satirical operetta, "The Mikado," with a frolicking performance at its home theater on East Broadway in Missoula.
On Monday morning, MCT executive director Michael McGill set about the hard business of mending all that had gone awry over the weekend, when word spread across the Internet that MCT's production advocated the beheading of former Republican vice presidential candidate Sarah Palin.
What began with a single letter to the editor, published in last Friday's Missoulian, quickly erupted into a nationwide controversy after dozens of political bloggers picked up the thread and ran with it - some adding their own colorful (and inaccurate) amendments to the story.
In the face of it all, McGill had one simple message on Monday.
"In retrospect, we made a mistake," he said. "Anybody that gets singled out in such a way as that, whether it might be (President Barack) Obama or Palin or whomever, it's inappropriate. I take full responsibility for that."
At the center of the controversy was a single couplet, inserted by director Curt Olds into a song sung by the character Ko-Ko, a pacifist executioner. Listing off those people whom he intends to behead, the singer in the Missoula production noted, "That crazy Sarah Palin needs a psychoanalyst / She never would be missed, no she never would be missed."
"It's very common practice to amend those lyrics," said McGill. "It's how they were amended in this case that's an issue. There's a lot of misinformation about what happened, but I don't want to shirk our responsibility for what did happen.
"The important part to me is that the apology is clear and that the responsibility is taken by this organization."
The controversy over the lyrics came into the public eye when the Missoulian published a letter from Clinton resident Rory Page, who attended the production on Sunday, Jan. 23. In the letter, Page said she took "great offense" at the Palin reference, particularly given the context of the recent shooting of Rep. Gabrielle Giffords, D-Ariz., and 18 other people in Tucson, Ariz.
"We are in the midst of a crisis that took place in Tucson where many started pointing fingers at that horrible right wing with all their hatred and targeting and standing for the Second Amendment and on and on and on," Page wrote. "So here we are in a lovely play with beautiful voices serenading us and we have to hear that it is OK to call for the killing of Sarah Palin because we don't like her and no one would miss her. Unbelievable."
In the letter, Page demanded an apology from MCT.
On the same day that Page's letter was published, McGill issued a written apology, which was forwarded to local media and posted on MCT's website. In his letter, McGill said the Palin reference would be removed from all further performances of "The Mikado."
Despite MCT's fast retreat, the issue quickly went viral on the Internet over the weekend, spurred by a Friday blog post by Wall Street Journal online opinion editor James Taranto. In a short opinion piece titled, "Curt Olds, the Lord High Executioner: Eliminationist rhetoric against Sarah Palin," Taranto argued that the Palin reference was an example - though he did not name others - of widespread hate speech in the arts world.
"This incident is shocking but not surprising," Taranto wrote. "For all the bogus accusations being thrown at Rush Limbaugh, Glenn Beck and Sarah Palin, genuinely hateful political rhetoric is commonplace in the art world, even in art that is not overtly political."
Political bloggers around the country quickly followed Taranto's lead.
Anthony Martin, a South Carolinian who runs the Liberty Sphere blog, posted an entry titled "Children's play in Montana calls for beheading of Sarah Palin," in which he wrote, "The play's director decided at the last minute to add a bit of 'humor' to the production by including a scene which ... subjected children to a call for Sarah Palin's beheading."
Numerous Montana-based commentators also picked up the story, including Aaron Flint, host of the Billings-based talk radio show "Voices of Montana," which airs on KGVO-AM 1290, KGRZ-AM 1450, and KLCY-AM 930 in Missoula.
On his blog, "The Flint Report," Flint accused MCT of "absurd and hateful rhetoric," and encouraged theater-goers to videotape the production in order to "expose these people."
Ironically, the strongest defense of MCT's altered script also came from afar, courtesy of Jack Marshall, an attorney from Alexandria, Va., who runs the Ethics Alarms blog.
In several posts to his own blog as well as comments posted to several others, Marshall argued that the Palin reference was exactly what Gilbert and Sullivan might have written themselves, if they were still alive. Marshall lambasted MCT's critics for "complete ignorance of the historical and cultural context of a few lines in a song, misapplied to a political satire in which violence is used with the levity of a Roadrunner cartoon, connected without logic or perspective to an event, the shooting in Tucson, as far removed from Gilbert and Sullivan ... as the shooting in Tucson was removed from, well, Sarah Palin."
The onslaught left Curt Olds deeply shaken on Monday. The Butte native and University of Montana graduate said he never anticipated that the Palin reference would spark anything more than laughter.
"It's pretty much required that you update those lyrics, and so that's what we did - as I've done every time I've done this show in the past," said Olds, who has performed the role of Ko-Ko in more than a dozen professional productions around the country. "It's part of doing 'The Mikado,' that you make those references relevant to modern times."
Also included in Olds' amended list of targets for execution, as sung in the Missoula production: people who drink expensive frappuccinos from Starbucks; Missoula drivers who don't understand how to navigate roundabouts; members of the audience; and the oboist in the orchestra.
Palin was the only modern person mentioned by name in the song.
Olds said he added the Palin reference early in the rehearsal stages of the production, more than a month prior to the incident in Tucson. He said it never crossed his mind that the Giffords shooting - and the subsequent controversy over Palin's list of electoral "target" districts - might make the reference impolitic, until Page's letter appeared in the Missoulian.
"Sarah Palin was in there because she goes beyond politics; she's one of the most well-known human beings in this country," said Olds. "I have no ill feelings about her at all; I included her because she's a well-known celebrity, and that's in keeping with the spirit of the song. ... I've never heard a word of complaint or any type of letter coming out of including her in the song (in the past)."
Olds said that W.S. Gilbert's original lyrics demand updating because they reference several long-forgotten political and celebrity figures of late 19th century Britain. Gilbert himself updated the list several times over the years, and encouraged others to follow suit after him.
Anne Basinski, a voice professor and director of the opera program at the University of Montana, said most modern productions of "The Mikado" feature amended lyrics in Ko-Ko's list-song.
"If you did a survey of 'Mikado' performances of the past 50 or 60 years, it would be extremely difficult to find a performance where the original text was done," said Basinski. "As far as who or what is inserted into the song, the object is to look at who's getting lots of press and attention, and they get their nose tweaked a little bit."
Such historical precedent for the production's creative liberties didn't make life any easier around MCT's offices as the controversy heated up. On Sunday, Michael McGill called Missoula police to request extra patrol around the company's facility on East Broadway.
McGill later said the request was purely precautionary and wasn't precipitated by any specific threat.
"That was just a situational awareness thing I decided to do," said McGill. "There were some impassioned responses to what was going on, which led me to feel that the police department, for sensible reasons, should be made aware."
Moving forward, McGill said the incident has already spawned a new policy at MCT, requiring that the executive director be made aware of any additions or deletions made to scripts produced at MCT Community Theatre.
As to the specific criticisms leveled at MCT, he said he was particularly concerned by those that confused the community theater production with the company's activities as a provider of educational children's theater programs.
But he said the best thing he and his company can do at this point is move on and learn from the experience.
"We made a mistake," said McGill. "Oh man, we made a mistake."