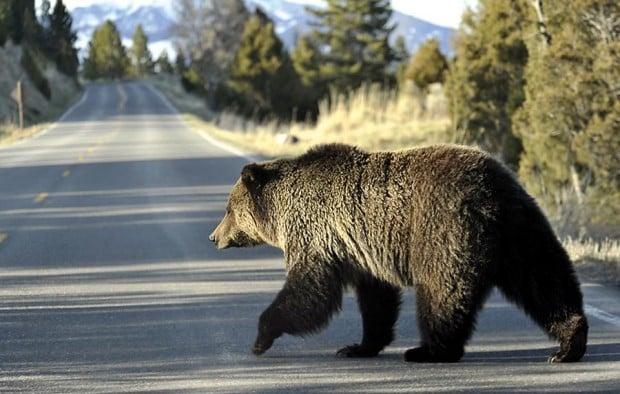 If we care about keeping grizzly bears alive, perhaps we should worry less about how they die.
The idea won a serious listen at last week's Interagency Grizzly Bear Committee work session in Missoula. Since 1983, when the group of state and federal bear managers started meeting, grizzly survival has been the top job. Now science and public opinion may be heading in a new direction.
"We need to rethink our grizzly messages for the Greater Yellowstone area," Steve Schmidt of the Idaho Fish and Game Department told the committee. "This population is recovered. We are now transitioning into management. Some bears are gonna die. That is a natural consequence of bears expanding their distribution."
Schmidt chairs the IGBC's Yellowstone grizzly committee, which oversees bear recovery in one of the two largest bear habitats in the continental United States. Between 2004 and 2008, grizzlies have stretched their active range around Yellowstone National Park by 34 percent. And most of their conflicts with livestock, hunters and cars are now taking place on the developed fringes of that range.
"The bears in the Yellowstone area are filling up their logical habitat," Schmidt said. "We also believe as a committee that bears have met or exceeded their social carrying capacity. The public appetite for further expanding this bear population is very small. And the political appetite is nil."
Scott Talbot of the Wyoming Game and Fish Department agreed.
"Last year we moved 65 bears," Talbot said. "Our average is 28. And we are seeing a significant increase of bears outside socially acceptable areas. There used to be large amount of public support for bears. Now we're seeing a big decline, plus growing legislative interest. That's very concerning to us."
Montana's Legislature has already put forward five bills aimed at bear management, compared to just one so far on wolves.
"The flavor of hearings has been 'we're going to draw a line beyond which bears won't be allowed,' " said Ken McDonald of Montana's Department of Fish, Wildlife and Parks. "The big problem is it's eroding local support for grizzly bear restoration management. Our carrot has been 'let us manage them.' But people got pretty soured on that promise because of the way the wolves are being managed."
The tide is turning at a time when the assembled bear managers think they ought to be celebrating. The Greater Yellowstone and Northern Continental Divide ecosystems both have robust bear populations, with more than 800 in the northern range and about 600 in the southern.
Satellite tracking tells us where they live and roam. DNA analysis details their family trees. Isotopes from their hair reveal the balance of meat and vegetables in their diet, as well as their access to human food. As several researchers remarked during the two-day conference, grizzly bears are about the best-understood wild animal on the planet.
"We've been very successful recovering animals," said Jim Unsworth, Idaho Fish and Game's deputy director. "But have we contemplated when enough's enough? With a listed species, I don't see a mechanism to deal with too many of something. It's always a question of not enough."
IGBC biologists developed a conservation plan that would manage grizzlies after they are removed from federal Endangered Species Act protection. That occurred in 2007, but a federal district court lawsuit put the bears back on the ESA list in 2009. That decision has been appealed to the 9th Circuit Court of Appeals with a decision expected in late 2011.
Part of that lawsuit revolved around how bears adapt to the decline of a major food source: whitebark pinecone seeds. IGBC research from past years shows that in good cone years, grizzlies can pick up the bulk of their protein needs from the seeds. But whitebark pine forests have shrunk drastically throughout the Rocky Mountains, first from a fungus epidemic and then from pine bark beetle infestations.
Grizzly study team leader Chuck Schwartz of the U.S. Fish and Wildlife Service said the Yellowstone bears have shown they can adapt to changing food sources. For example, grizzlies used to gather around certain creeks to gorge on spawning cutthroat trout. But the cutthroat have been nearly wiped out of Yellowstone by a lake trout invasion.
"The bears are no longer eating fish because the fish aren't available," Schwartz said. "But a lot of the area around the spawning streams burned in the 1988 fires, and elk have moved into that area. Now we're seeing the grizzlies are concentrating on elk calves in the burned area. The bears have diet-shifted."
Whitebark pine seeds remain an important factor in bear survival, Schwartz said, but the issue has become politicized.
"One thing that bothers me the most, is we've gotten very much into a polarized, point/counterpoint debate, with agencies fighting to delist, and the environmental community fighting to keep the bear on the ESA," Schwartz said. "There's no middle ground. The press portrays the government saying the world will be fine without whitebark. I've never said that. What we can say is, 'Here are the relevant statistics from 24 years worth of data.' To think we're not concerned about the potential change in whitebark pine is erroneous. I blame the press."
The bigger challenge to bear survival, researchers agreed, was their incursion into human areas on the fringes of their wilderness habitat. That prompted the provocative suggestion that population surveys discount or don't count those bears killed outside of core habitat areas.
Idaho Fish and Game's Schmidt said his meetings with ranchers and other landowners on the edge of Yellowstone revealed growing resistance to bear conflicts. Part of the problem, he said, is there's no place left to relocate a problem bear that's far enough to ensure it won't be back killing cows or chickens in a few days.
"The public views these as 'federal bears,' " Schmidt said. "They have no ownership of these bears because they're still listed. Without state management and a chance to participate in how they're managed, and the opportunity to harvest once in a while, they will oppose all the conservation efforts we've worked on so hard in the past."
"We've gone from 200 bears (in the Greater Yellowstone Ecosystem) in 1983 to over 600 today," Schmidt said. "We need to focus on the health of this population and less on the bears that need to be removed. Bears on the fringe aren't essential to the health of the population. We need to start communicating that idea now."