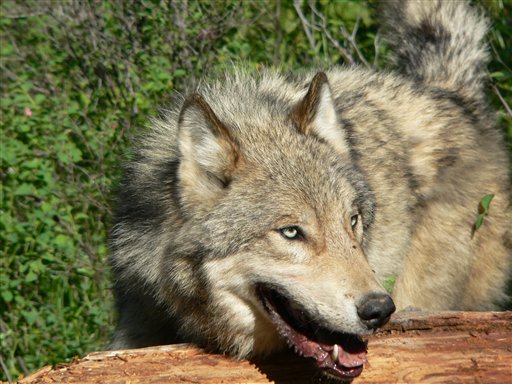 Strongly disagreeing with his own decision, U.S. District Court Judge Donald Molloy on Wednesday upheld a congressional rider removing gray wolves from Endangered Species Act protection.
Barring a successful appeal, the decision means wolves are delisted in Montana and Idaho, and those states may go ahead with their scheduled wolf hunting seasons this fall.
Idaho's season begins Sept. 1, with an unlimited quota, while Montana's is expected to start Oct. 22 with a 220-wolf quota.
"If I were not constrained by what I believe is binding precedent ... I would hold Section 1713 is unconstitutional because it violates the Separation of Powers doctrine," Molloy wrote in his 18-page decision.
But he added higher courts have held that "so long as Congress uses the words 'without regard to any other provision in statute or regulation that applies,' or something similar, then the doctrine of constitutional avoidance requires the court to impose a saving interpretation(.)"
The case, which pitted the Alliance for the Wild Rockies, Center for Biological Diversity and several other conservation groups against Interior Secretary Ken Salazar, questioned whether Congress could end the debate over taking wolves off the endangered species list by changing the law.
In April, Montana Sen. Jon Tester and Idaho Rep. Mike Simpson successfully amended a must-pass appropriations bill to remove wolves from federal protection, adding that their change "shall not be subject to judicial review."
That moved the wolf debate from a specific question - whether the U.S. Fish and Wildlife Service legally allowed Montana and Idaho state wildlife agencies to take over wolf management but kept Wyoming under federal control - to a test of one of the highest principles in U.S. government.
As Molloy put it, "the way in which Congress acted in trying to achieve a debatable policy change by attaching a rider ... is a tearing away, an undermining and a disrespect for the fundamental idea of the rule of law."
In an email statement Wednesday afternoon, Tester praised the decision.
"Returning Montana's wolves to Montana management was the right thing to do, and we did it in a responsible way with utmost respect to existing law and to our Constitution," Tester wrote. "Now that the court has agreed, it's time to move forward with Montana's wolf management plan for the sake of our livestock, our wildlife, and for better management of wolves themselves."
Center for Biological Diversity director Kieran Suckling said Molloy essentially provided directions for reversing the government's case.
"If you have to lose a court case, this is about the best possible way to do it," Suckling said on Wednesday. "He lays out the pathway for environmentalists to appeal the decision to the Ninth Circuit and have it overturned."
But with the clock ticking on the 2011 wolf hunting season, Suckling said he didn't know if or how fast an appeal might be mounted.
"We've got to consult with our co-plaintiffs and look at it," he said. "I can't commit to that yet."
Rocky Mountain Elk Foundation president David Allen was pleased with the decision.
"There is precedence for this type of legislation to be upheld," said Allen, whose organization was one of several hunting groups that unsuccessfully tried to have a say in the case. "All in all, this is a good first step. We believed this was a states' rights issue from day one. It's putting wolf management back in the states' hands where it belongs."
In his ruling, Molloy also raised the question of future wolf problems. A major issue at his July 26 Missoula court hearing was whether anyone could sue over new wolf management problems or attempt to relist the wolf if its population declines too far.
"He leaves that open here," Suckling said. "I think if a new wolf listing decision can be made, we can start again from scratch and aren't held back by the rider. I'm sure the opposition would say the opposite - that the rider forever bans any wolf listing. But if the states end up killing so many wolves that even Fish and Wildlife Service becomes convinced it needs to intervene, at this point that's undetermined. We can only hope and pray it will never get so bad."
Molloy repeatedly wrote that he felt tied down by untested law, but that he had to follow the court's tradition of respect for congressional action. However, he warned that future moves would get greater scrutiny.
"It is not the role of the judiciary to write the law," Molloy wrote. "In my view, the Ninth Circuit's deference to Congress threatens the Separation of Powers; nonspecific magic words should not sweep aside constitutional concerns."