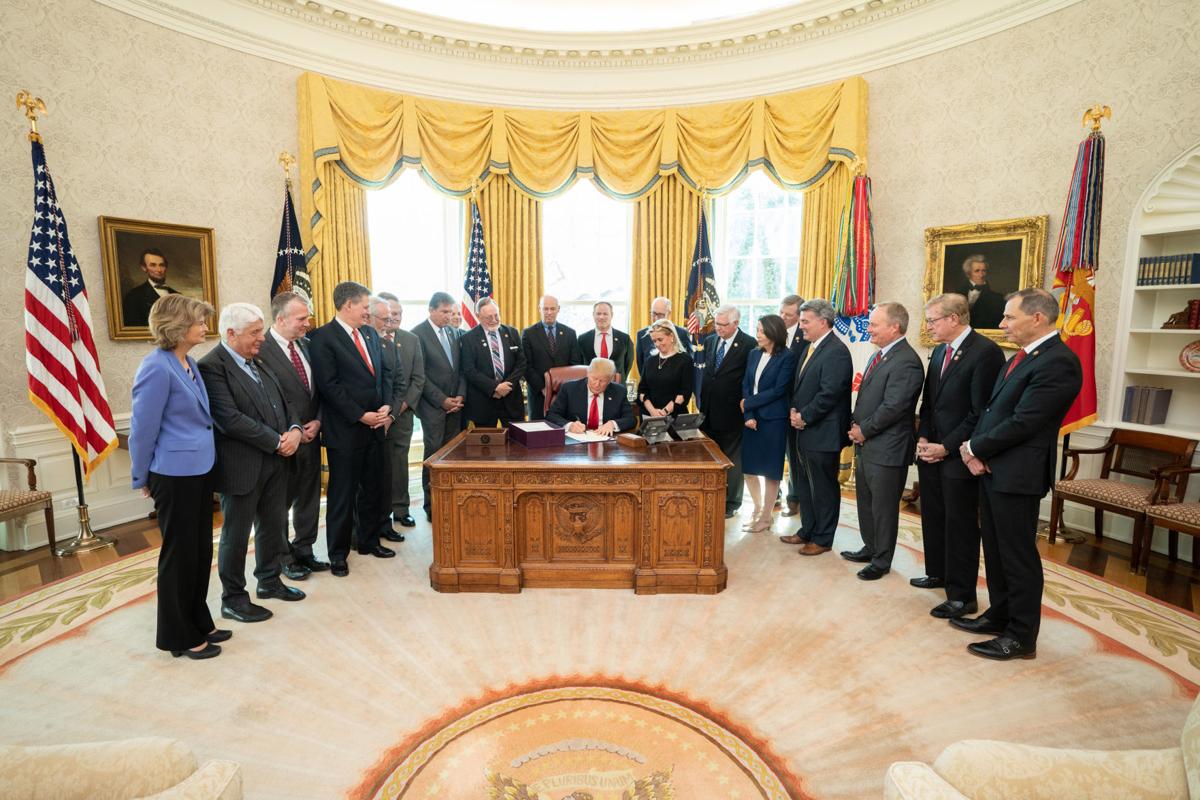 President Donald Trump held a private signing ceremony in the White House for a major public lands bill the day after his budget proposal removed nearly all the money from its most popular provision, the Land and Water Conservation Fund.
Congress overwhelmingly passed S. 47, now named the John D. Dingell Jr. Conservation, Management and Recreation Act, by votes of 92-8 in the Senate and 363-62 in the House. The Michigan Democrat was the longest serving representative in Congress and left his name on the Dingell-John Act which funds sport-fishing activity through a tax on fishing and boating equipment.
Congress permanently reauthorized LWCF after letting the 54-year-old program expire in 2015, and appropriated $435 million for fiscal 2019. Trump's 2020 budget proposal not only recommends no new money for LWCF, it pulls back about $23 million of what was appropriated this year.
Montana Sen. Steve Daines and Rep. Greg Gianforte, both Republicans who voted for the Dingell Act, attended Tuesday's White House ceremony. In a conference call with reporters on Tuesday, Daines repeatedly declined to comment on what Trump said about the bill or its lack of funding for LWCF.
"He didn't say anything," Daines said of Trump. "It wasn't a funding or appropriations discussion. It was as a signing ceremony for a public lands package. It's not that often you have the Oval Office full of Republicans and Democrats celebrating the passage of a good bipartisan piece of legislation. (The appropriations decision) kicks off this week and will be a discussion we'll have all the way through until the end of the fiscal year, which will be Sept. 30 this year."
The White House did not release any comments from Trump about the ceremony other than a signing statement where the president raised constitutional concerns about congressional participation on a memorial commission and the Interior secretary's discretion to change hunting seasons under the Migratory Bird Treaty Act.
Montana's Democratic Sen. Jon Tester also voted for the Dingell Act. But he criticized Trump's budget plan.
"It is easy to understand why folks hate Washington when politicians cheer on the President as he signs a bill to authorize LWCF just one day after trying to gut its funding," Tester wrote in an email on Tuesday. "I hope the President's cheerleaders put money where their mouth is and fully fund this critical conservation initiative."
Both Tester and Daines sit on the Senate Appropriations Committee, which will have major say on Congress' final budget numbers. Congress has routinely rejected presidential budget proposals from both political parties.
"President Trump knows that federal lands are meant to provide both peace and prosperity for the American people, and signing this bill allows us to continue managing public lands in a balanced way," Acting Interior Secretary David Bernhardt said in a press release after the ceremony. "This bill is extremely beneficial to the American people and I look forward to working with Congress and local communities to implement the many local conservation wins within the bill."
The Interior Department oversees the Bureau of Land Management, which in turn has the largest share of public land in the United States under its authority.
The Dingell bill included a provision aimed at opening access to federal land surrounded by private property. However, the Trump budget removed $10 million from the fund BLM would use to acquire those access points and authorized no funds for Forest Service acquisitions, according to an analysis by the Theodore Roosevelt Conservation Partnership.