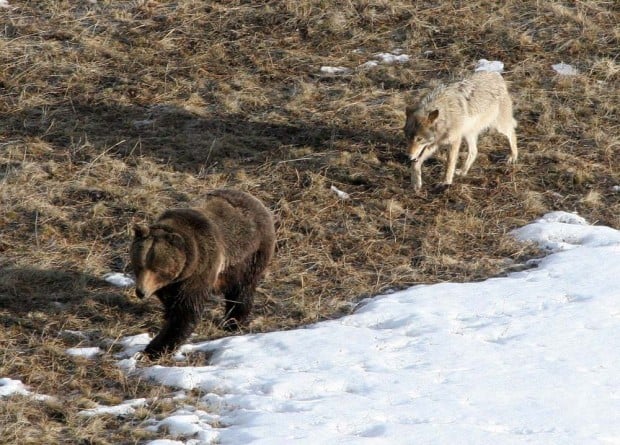 Despite mortality rates averaging 25 percent - more than three-quarters of them human-caused - gray wolves are thriving in most of the northern Rocky Mountains, according to a recently published tri-state survival analysis.
However, they're doing poorly in Glacier National Park and the Bob Marshall Wilderness of western Montana.
With data from 711 radio-collared wolves, it is the largest study ever conducted on wolf survival.
"The purpose of this paper was to report on the condition of the wolves before delisting," said Doug Smith, wolf biologist for Yellowstone National Park and lead author of the study. The work involved 14 top wolf authorities examining data up to 2004. The paper was published in the Journal of Wildlife Management.
"We acknowledge that a weakness in the paper is that the situation has changed since 2004," Smith said, most notably Yellowstone's wolf population had plunged to less than 100 wolves at the end of 2009, a 23 percent drop from 2008.
The delisting of wolves in Idaho and Montana in May 2009 was challenged only a month later in federal court by environmental groups. They argue that Idaho's and Montana's management plans don't go far enough to protect and maintain wolf populations. The two states opened their first wolf hunting seasons last year. Some hunters and stockmen would like to see the wolf population severely cut, or even eliminated. States are trying to find some middle ground.
U.S. District Court Judge Donald Molloy will hear oral arguments on the case on June 15. Wolves are still listed as endangered in Wyoming because the U.S. Fish and Wildlife Service rejected the state's management plan. Wyoming has sued to remove the listing.
Suzanne Stone of Defenders of Wildlife, one of the groups suing over delisting, said the population requirements are the group's biggest concern. Fifteen breeding pairs and 150 wolves in each of the three states are set as minimum populations.
At the end of 2009, 1,700 wolves, including 115 breeding pairs, were estimated to live in the Northern Rockies. The initial recovery goal was to have a minimum of 30 breeding pairs and 300 wolves equally distributed among the three states for three years. That goal was reached in 2002.
"People think we're complaining about how many wolves are out there," Stone said, but instead the groups are more worried about what will happen to wolf populations under state management, especially with a high hunter harvest.
Smith said the finding of the paper supports keeping wolves off the endangered species list, adding that a "light harvest" of wolves by hunters will help create openings in wolf populations that prompt other wolves to fill any vacancies and create more interbreeding.
"Harvesting will remove breeders. That's what we want to promote genetic connectivity," he said.
One of the surprises of the study was how poorly wolves were doing in Glacier National Park and the Bob Marshall Wilderness. The region was the first in the northern Rockies to be naturally colonized by wolves that migrated south from Canada. In 1982, researchers believed that the survival of wolves in the northern Rockies would be keyed to populations thriving in the Glacier-Bob, Yellowstone National Park and central Idaho's wilderness - large blocks of public land.
"But there's not one wolf pack entirely contained within Glacier National Park," Smith said. "In Yellowstone, probably three-quarters of the wolves are in the park. It's probably the same in central Idaho."
The reason is that the Glacier-Bob wolves' food base - elk - migrate out of the park and wilderness in winter. The wolves follow the elk, sometimes onto private land, where they may kill livestock. So the wolves' mortality rate is higher than other populations, averaging about 32 percent. In Yellowstone and central Idaho, the mortality rate is closer to 20 percent.
Since 2004, however, the wolf population has rebounded in the Glacier-Bob.
"It's assumed that's because of dispersal by wolves from central Idaho," Smith said. "That's the big news about what's happened after the study."
The study also confirmed that wolves in peripheral areas, close to agricultural lands and people, don't do well. Wolves that target livestock are sometimes collared in order to find them if there are other such incidents. The study found that wolves collared for such purposes have a much poorer survival rate than those collared for monitoring.
Smith writes that 30 percent of wolf kills are from legal control, 24 percent were from illegal kills, 12 percent were from natural causes, 21 percent were from other causes such as strife or vehicle accidents, and 12 percent were from unknown causes.
"It's no surprise that most of the kills are due to control," said Ed Bangs of the U.S. Fish and Wildlife Service. "High mortality rates are associated with private lands."
Bangs said it's a social question whether the state wants to remove wolves near ag lands through hunter harvest or by Wildlife Services' federal trappers.
"Despite a high level of mortality - 85 percent of which is by people - the wolf population still grew," Bangs said.
Bangs said the findings also indicate that wolves that disperse to other areas where there aren't large blocks of public land are going to have a hard time surviving.
Pups, yearlings and wolves dispersing outside core areas had lower survival rates. In the Glacier-Bob, only 39 percent of the pups survived annually, compared to 76 percent and 89 percent in Yellowstone and central Idaho, respectively. The study also found that wolves in smaller packs (fewer than five wolves) in Yellowstone had a higher mortality rate compared with small packs in central Idaho.
Carolyn Sime, wolf project leader for Montana Fish, Wildlife and Parks, said the study contains important data worth considering when devising the state's wolf management plan. Chief among them is that close coordination among the states is important.
"What happens in Montana can affect Idaho, and Montana and Idaho have the potential to affect Wyoming," she said.
Sime noted that since the end of the study period, between 2005 and 2008, the wolf population continued to grow in Montana despite mortality rates as high as 30 percent.
"It speaks to how robust the species is," she said.
Bangs agreed. "Wolves are incredibly adaptable, robust animals," he said. "The bottom line is wolves are here to stay. Our population here is always going to do really well."