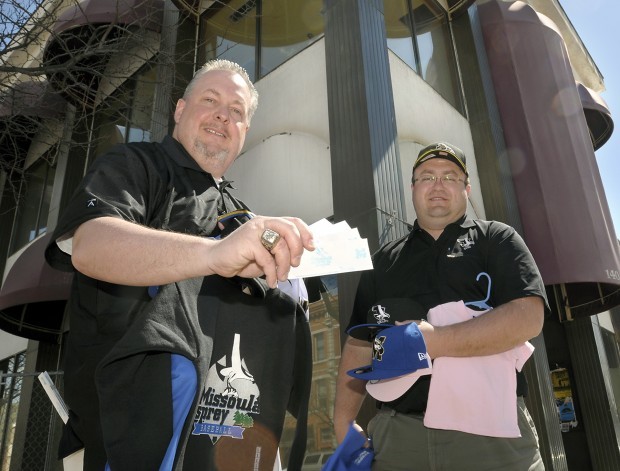 The Missoula Osprey organization is flying the coop at its Alder Street location and is ready to land in the middle of downtown Missoula, where its owners are planning to add a creative twist to business operations.
The team's administrative and main ticket offices are relocating to the corner of Higgins Avenue and Main Street, and will be joined there by Destination Missoula's Visitors Center and the offices of Glacier Country Tourism.
Those combined forces will create the MSO Hub, a complete visitor "experience," Osprey executive vice president Matt Ellis said.
As the busy summer season nears full throttle, Ellis hopes mixing the tourism destination and retail elements will write a recipe for success.
The Osprey organization bought the building at 140 N. Higgins Ave. in March. It's now being remodeled and refurbished. Outside, the purple awnings are being taken down. Inside, the second floor is being turned into office space for the three organizations; the first floor is being redesigned for the retail ventures.
MSO Hub is set to open on June 1. Osprey tickets go on sale June 4.
The 4,500 square feet of first-floor retail space will include a host of Missoula and Montana souvenirs, and large selections of Grizzly athletic wear and Osprey merchandise. The box office inside the retail space will be the official ticket outlet for the Osprey. Ellis is working on making this component a "community box office," where people can get tickets for local events and concerts.
"We can be another outlet for (venues). Anyone and everyone who wants to sell tickets in our store can," Ellis said.
An entire room will be dedicated to Made in Montana products, but retailers are still being sought for that section. Lounge space and TVs will be set up throughout the retail space.
Destination Missoula and Glacier Country are moving from their current locations at the MonTEC building on East Broadway into the much more visible downtown location.
"Putting us in the middle of downtown will really help us show everyone what we can do for them and for people coming into town," said Barb Neilan, Destination Missoula executive director.
The visitors' center will include a kiosk manned by a full-time visitor information travel counselor. In the coming months, the organization is hoping to add an interactive component and hotel reservation system to the center.
Neilan hopes the downtown kiosk can be a prototype for future visitor sites around the city.
"I just think it's a really great opportunity to show how partnerships can really boost the economy and how different organizations can come together to not only help each other out, but help the economy of Missoula," Neilan said.