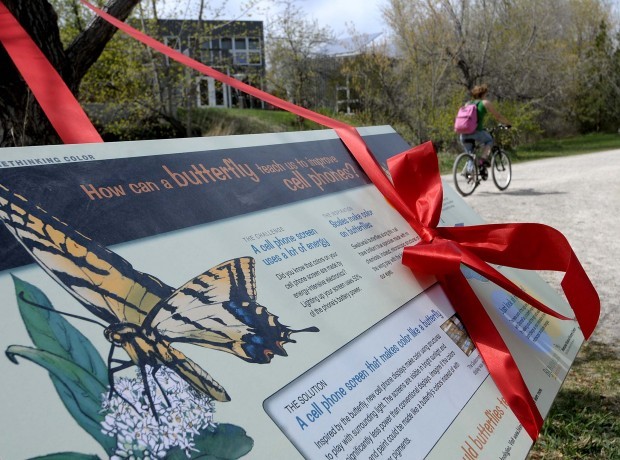 Casual strolls along the Clark Fork River just got more educational.
A quintet of new signs east of the Orange Street Bridge points out some fascinating lessons we can learn from local critters. One explains how a kingfisher's bill shape helps it pierce the surface of the water without alerting the fish beneath. The same principle can be used on the front of high-speed trains to make them less noisy while gaining
10 percent more speed with 15 percent less energy.
"We took five organisms you could find right here along the river, and showed how they contribute to five products we use," said Byrony Schwan, director of Missoula's Biomimicry Institute, which produced the signs. "It gives people a different perspective why we should protect biodiversity."
Another sign shows a microscopic creature called a water bear, which has the remarkable ability to replace all the water in its body with a sugar solution when it goes dormant. In this state, the water bear can survive for years, impervious to extreme heat or cold or radiation, until it gets wet again. Vaccine makers are borrowing the same technique to store medicine in microscopic glass balls that don't need refrigeration, but release
their contents upon injection into a patient.
The Biomimicry Interpretive Trail is one of several improvements coming to Missoula's riverfront trail system this summer. New mileage markers have already been installed on some portions to help exercisers gauge their efforts. Other natural history signs are planned
for Silver's Lagoon in McCormick Park.
The city government got help from the Biomimicry Center, the Montana Natural History Center, Run Wild Missoula and the state Department of Fish, Wildlife and Parks to add the signs to the routes. Mayor John Engen and representatives from all those groups cut a ceremonial ribbon to debut the Clark Fork Natural Park signs on Wednesday afternoon.
The sign they all posed by featured the color-creating abilities of the common butterfly, whose wings are covered with tiny prisms that change hue according to the angle of the light. Artist Emily Harrington used a special paint on the signs to mimic the effect. Manufacturers are using it in cell phone screens, too, to make details visible in strong sunlight while using less energy.