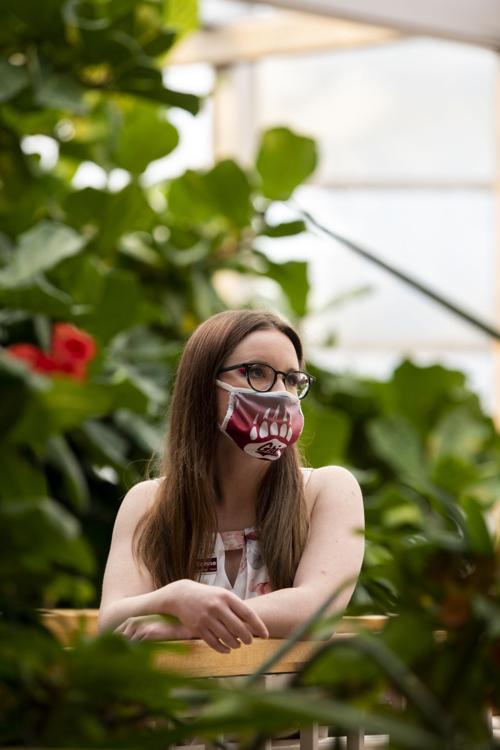 Not long after being hired as part of the University of Montana's event planning team, Julia Toone was tasked with a massive challenge.
The school needed someone to lead the charge on registration for COVID-19 vaccination clinics at the Adams Center, a job that was sure to be complicated, but vitally important.
Toone didn't hesitate to step into the role, helping to marshal volunteers, work through logistics, and act as an onsite contact person for clinics hosted by the school.
She has no doubt her efforts and those of her colleagues helped save lives. That is not to say it was simple. And her job isn't over yet — she continues to help fill vaccination slots through Curry Health Center.
"Nobody has experience running vaccinations. We plan weddings, we plan graduations and then all of the sudden we're planning a vaccination clinic," said Toone, who graduated from UM last summer with a degree in organizational communication, a minor in English and a certificate in health communication.
Toone and other organizers, as well as volunteers, helped in a variety of ways to make clinics in Missoula County run smoothly. The list of contributors is long and includes a two-year-old Community Emergency Response Team in Missoula, the All Nations Health Center, the Missoula Fire Department and a variety of other organizations.
Volunteers were not hard to find, Toone said. An internal email in her office, for example, ended up finding its way to local members of the Church of Jesus Christ of Latter-day Saints, as well as a group of women who had heard about the need for volunteers because one of their daughters worked at Curry Health Center.
"They were rock stars," Toone said. "And it started with an email and quickly spread because people were looking to help out."
Most of the volunteers that Toone, as well as Tim Jacobs — who coordinates the Community Emergency Response Team — found were not asked to actually vaccinate people. The Community Emergency Response Team is not funded by any government source, but does trainings to help prepare for wildfires, floods or other natural disaster relief efforts.
They did paperwork, made sure insurance cards were in order and greeted people, among other duties.
This helped take the pressure off emergency responders who would otherwise fill those roles, Jacobs said. His team numbers around 20 people, but had more than 60 spot volunteers who worked mostly at the Partnership Health Clinic vaccination site at the Missoula County Fairgrounds.
Toone had around 40 volunteers, many of whom did double shifts, she said. While UM did not have a spring break this year, students did have three days off from class interspersed around the time the vacation period would normally have happened.
Some students took those days to help with the clinics. It was a similar case for Jacobs, who had volunteers take time out of work schedules to lend a hand.
"I was astounded at the number of spontaneous volunteers, that once they heard the opportunity, they just signed up or got ahold of us and said, 'Hey, how can I help?'" Jacobs said. "It was just really amazing."
Niels Maumenee and Steve Snyders were two of those volunteers. Maumenee had been looking around for a way he could positively impact the community, he said.
He saw the Community Emergency Response Team was looking for volunteers and signed up, working as a greeter at several of the mass clinics.
"It's pretty incredible to see how this citizen-run volunteer organization can then participate with what is essentially a health care organization and the two can collaborate in a way that's effective," Maumenee said.
"It kind of reminded me of the ways that Montana is so good at managing crisis," he added. "... everything was taken care of from the top down and everybody knew their job. And it all worked together."
Snyders heard about the opportunity with the Community Emergency Response Team at a work meeting. He checked in on people waiting in line and made sure their paperwork was in order.
Lines moved quickly at the vaccination clinics, Snyder said, which he felt was one of the major victories of the effort. He also saw vaccinators go out to cars for people who were not able to get inside to get a shot.
"There was definitely one person who stands out — she was in tears she was so happy to finally get vaccinated and she was so excited to be there," Snyders said. "I think some of those above and beyond services kind of caught some people by surprise. And then many people just commented on how quickly and smoothly it went."
Firefighters and other emergency responders were pulled off regular duties to help vaccinate people as well, said Missoula Fire Department Capt. Kory Garman.
Garman acted as a safety officer with the Western Montana All Hazards Management Team, which became better known as the Vaccine Coordination Team during the pandemic.
Nurses also volunteered in droves and even on their days off, he said. Mobile clinics for homebound individuals were also used and between 50 and 100 people were vaccinated this way.
According to state data, 100,518 COVID-19 shots have been administered in Missoula County and 45,518 people are fully immunized. 
"There's nothing more rewarding than helping somebody else out," Garman said. "It's really about helping out other people. And I think that's the most rewarding thing. It's not about you, it's about other people.
"And I think that's the most rewarding thing that there is in the world, is giving."
Jordan Hansen covers news and local government for the Missoulian. Contact him on Twitter @jordyhansen or via email at Jordan.Hansen@Missoulian.com