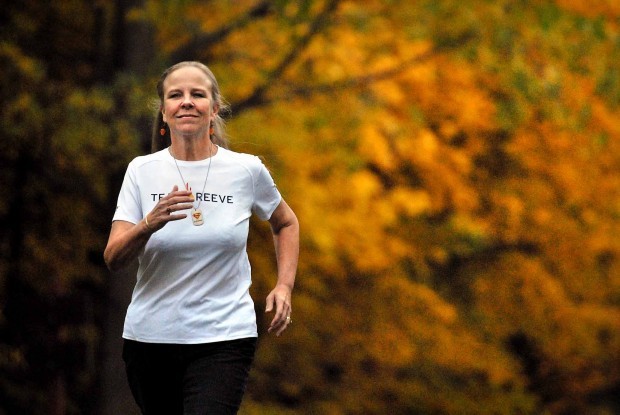 For Kimberly Dredger, the journey toward a new vision of herself began with a picture of someone else.
The picture was of former Missoula Police Sgt. Bob Heinle, paralyzed and in a wheelchair, crossing the finish line of the Missoula Marathon with his wife, Lisa, who ran the race to raise money for spinal cord research.
In that picture, of an officer shot in the line of duty, Dredger found the genesis of a personal transformation.
"It's easy to just sort of slip into a sedentary life of sitting on the couch," she said Monday. "That's what had happened to me."
Lisa Heinle and a handful of others ran the 2009 marathon wearing a shirt that said Team Heinle. The money they raised benefited the Christopher Reeve Foundation.
Inspired by the picture, the 54-year-old Dredger started training for the 2010 marathon. She, too, raised money for the Reeve Foundation, an effort that had the full support of Lisa Heinle.
But something else happened to Dredger as she walked and ran all those miles, something she hadn't seen coming.
It started when she first made contact with the Run Wild Missoula organization and folks at Runner's Edge.
"From the very start, they treated me like an athlete, which I am certainly not," she said. "They were just completely supportive, even when I didn't know what I was doing."
The mind, though, is a powerful motivator. If someone says you're an athlete, then maybe, just maybe, you start to see yourself that way.
An athlete doesn't sit on the couch. An athlete doesn't eat for comfort instead of fitness. An athlete gets up, even when she doesn't want to, and trains.
So Dredger trained. She finished the marathon, raised some cash for the Reeve Foundation, then found herself wanting more.
Not just wanting more money for the Reeve Foundation's research, but wanting something more for and of herself.
When she started her initial marathon quest, she weighed 220 pounds. She's lost 60 pounds since then.
"There's never been a time in my life when I could touch my body and feel bone," she said. "But I can do it now."
The change wasn't just physical. No longer cooped up in her house, Dredger's eyes reopened to the wonder that is Missoula.
"By being outside, I remembered what a wonderful, gorgeous place we live in," she said. "I realized that I was blessed to be here. It really changed my mental outlook and approach to life."
With one marathon down, Dredger started training for another. And if you're going to walk a marathon, you may as well do it in New York City.
So on Nov. 7, Dredger will be in the Big Apple, walking once again for the Reeve Foundation, but also for herself.
She's already raised $3,000 for the foundation, but would love to make her goal of $5,000.
"I know it's not just about the money," she said, "but I want to raise as much as I can."
Dredger started her quest to help others, not realizing how much help she herself needed.
Now the foundation has benefitted, but so, too, has Dredger.
"It really does feel like a transformation, and I feel very lucky to have been part of it," she said.