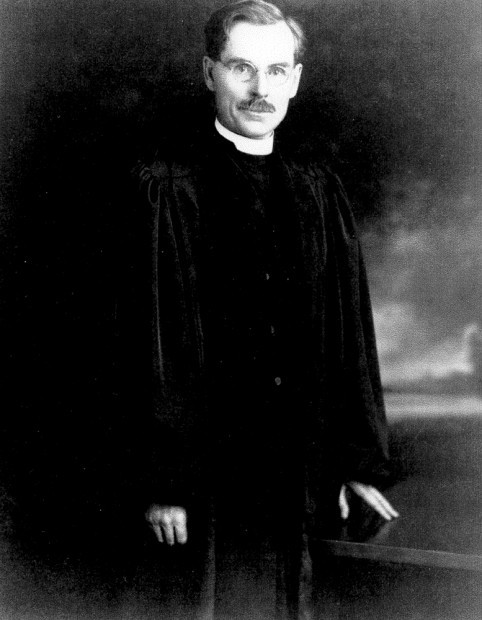 Kelly Oates recalls the Sunday a female visitor to Missoula lured her husband to the First Presbyterian Church, where Oates' husband Jack was pastor until 2005.
"She wanted to come and see the church that Norman Maclean's father once preached at, so she told him all the windows had fly-fishing patterns on them," Oates said. "When he got here and they did not, he was not a happy camper."
"In our family, there was no clear line between religion and fly fishing," Norman Maclean wrote at the outset of his 1976 novella, "A River Runs Through It."
It was a line that launched a million casts in Maclean's "great trout rivers" of western Montana, and not a few trips of curiosity to the towering brick church on South Fifth Street West.
The circle will be completed on Sunday, when a monument dedicated to the Rev. John Maclean and his son's book will be unveiled in front of the church. Church members Thelma Hogan and Tom Finch conceived of the commemoration, which comes 100 years after Maclean became pastor in Missoula. He and wife Clara arrived in February 1909 from Clarinda, Iowa, with young sons Norman and Paul in tow.
The boys grew up in Missoula and both graduated from high school here.
John and Clara stayed until 1925, when he accepted the job with the Presbyterian statewide synod in Helena. After his retirement in 1933, with the boys both grown, the Macleans returned to Missoula. They lived the rest of their lives here in a house that's no longer standing, across South Higgins from Hellgate High School.
The reverend died in late 1941 at age 78. Clara, 10 years his junior and herself a remarkable leader in the church and the family, died at 79 in 1952. Both are buried in the Missoula Cemetery, as is Paul, around whose murder in Chicago in 1938 Norman constructed the plot of "A River Runs Through It."
Norman's son, also named John and an accomplished author himself, will be on hand at Sunday's ceremony to speak about his grandfather. He lives in Washington, D.C., but often returns to Montana and the family cabin on Seeley Lake that the Rev. Maclean built in 1920.
The program and monument also pay tribute to Missoula architect A.J. Gibson, a friend of the Maclean family and a devout Presbyterian himself. Gibson drew up the architectural plans for the sanctuary of the current church, which opened in 1915.
The Daily Missoulian ran an account of Rev. Maclean's first sermon in Missoula in its Monday, March 1, 1909, edition. It included the entire text of his talk, which Maclean began, "By the providence of God and our faith in one another, I am here this morning to begin a ministry among you as pastor of this church.
"There is no denying the fact that there is risk involved, risk to you and risk to me. But if God is in this affair, as I believe He is, the balance is altogether in favor of blessing and success."
Jim Habeck, a retired UM botany professor and researcher for the church's Maclean Memorial Committee, said the sermon was delivered at a small church north of the Clark Fork River. It stood at the southeast corner of what is today Pine and Ryman, now the site of Garlington, Lohn and Robinson law offices. The Maclean family lived a block away in the church's manse, which was built by Gibson in 1898.
You have free articles remaining.
Missoula was awash in progress in 1909. A second railroad, the Milwaukee, reached here within a month of the Macleans' arrival. The Higgins Avenue bridge, washed out in the monstrous flood the previous June, was replaced by a new modern span. An electric streetcar system was in the works, as were the first paved streets.
Maclean's Presbyterian congregation was also growing, and by 1910 he and Gibson were on a committee looking into building a larger one. In 1912, lots were purchased on the south side of the river at South Fifth and Myrtle streets, and the current church was finished three years later.
"This was where the population trend was coming," said Pat Habeck, Jim's wife and publicity chairwoman for the memorial committee. "The downtown was fine for the commercial, but people who worked downtown didn't want to live there."
Churches in those days were not only spiritual centers but social centers, she explained. The congregation wanted a facility that would serve more than just Sunday services.
The new church, said Habeck, was used daily - by the Brotherhood Club, the University Bible class, Boy Scouts and half a dozen women's groups.
"I think of the times he led the church through," Kelly Oates said. "World War I was just on the horizon, and that was such a definitive war in human history. But it was also an interesting time with a Presbyterian pastor's son in the White House."
Woodrow Wilson, she said, ran on an anti-war platform and "then watched it all dissolve over there and ultimately get involved."
What lessons would he have drawn, what words would he have delivered on the Sunday after the unsinkable Titantic sank in 1912? she wonders.
And always, fly fishing ran through Maclean's life. Norman described him in the early paragraphs of his novella as "a Presbyterian minister and fly fisherman who tied his own flies and taught others."
A fisherman in waters backed by towering mountains is depicted on the new monument at the church Maclean helped build nearly a century ago. It memorializes a man "whose love of God, family and creation inspired the story 'A River Runs Through It.' "
The story, in turn, enraptured thousands and put Missoula on the map as a Mecca for fly fishing.
Oates said when she travels and tells someone she's from Missoula, Montana, she's often asked: Isn't that where "A River Runs Through It" was set?
"I tell them yes. And that's the church I go to."