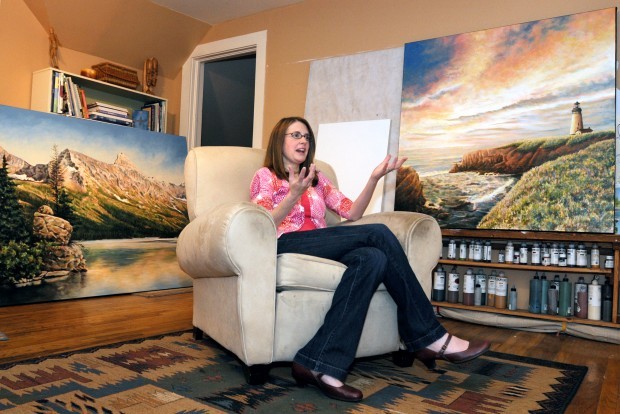 Hadley Ferguson knew that raising a child while maintaining her busy career as a working artist wouldn't be easy. Still, as her daughter neared her third birthday last autumn, Ferguson began feeling that something just wasn't right.
Her hands, for example: They just weren't as strong as they had been. And her right leg was "kind of dragging." Her appetite disappeared as well: In just a month, she lost some 20 pounds.
Life itself seemed like a drain.
"Fatigue was really the No. 1 thing," recalls Ferguson, who, at 33, should have been in her energetic prime. "After 11 in the morning, I couldn't do anything; just breathing was tiring."
Thus began an eight-month odyssey for the Missoula artist, whose evocative and meticulous painting style is widely familiar, thanks to her massive multi-panel mural, "The Heart of Missoula," which hangs on the exterior wall of Allegra Printing near the corner of Broadway and North Higgins Avenue.
She saw specialist after specialist, in Missoula and as far away as the Mayo Clinic. None could figure out what was causing her problems, even as the symptoms became progressively more acute.
Finally, on July 13, Ferguson received word of a diagnosis that few would ever wish on anyone: Parkinson's disease. A degenerative brain disorder caused by a loss of dopamine-producing cells, Parkinson's has a reputation as a devastating disease that causes progressive loss of balance and motor control, posture degeneration, tremors, and other serious and potentially life-threatening issues. Rarely manifested or diagnosed in people under the age of 50, the disease has no known cause or cure.
Yet Ferguson was far from despondent when she finally learned what ailed her.
"It was a huge relief, actually," Ferguson says. "At least then I knew I had the tools to make myself better and that I wasn't just totally crazy."
Indeed, as she sat in her University-area home on Thursday morning, Ferguson seemed to defy her own description of the issues she faces on a daily basis. Energetic and quick to laugh, Ferguson said her current regimen of exercise and medications has allowed her to return, for the most part, to life as normal.
She even says that some important aspects of her life are better than ever.
You have free articles remaining.
"The Parkinson's has given me a new sense of connection with family and what I do, and in that sense I think my art is better than it was before the diagnosis," she said. "I'm working more efficiently in less hours, taking my time and acknowledging that there will be changes over time. I don't know what'll happen 10, 20 years down the road, but I'm ready to go with the flow with it."
The Missoula artist now frames the journey of the past year as merely the prologue to her newfound focus: helping raise funds to find a cure for Parkinson's.
The day after her diagnosis, Ferguson learned about a fundraising event in Portland, Ore., hosted by the Brian Grant Foundation. A former NBA basketball star who was diagnosed with Parkinson's in early 2009, Grant has since begun spearheading efforts in the Northwest to help fund research into the causes and treatments of Parkinson's.
A lightbulb flashed for Ferguson. She picked up her brush and began painting. Within days, she had completed "Standing Strong," a 4-by-4-foot acrylic painting of seaside cliffs topped by a lighthouse. As soon as the paint dried, Ferguson sent the canvas to Portland, to be included in the fundraising auction.
"What inspired me was to do something that would tie back to Parkinson's and have an Oregon theme," said Ferguson. "To me, a lighthouse on a cliff seemed like a strong image in that way."
Unfortunately, the canvas shrunk on the trip, and couldn't be properly restretched in time for the auction. So Ferguson is now hoping to sell the painting locally, with proceeds going to the Brian Grant Foundation.
It's the first step toward an overarching plan to begin devoting her work to the cause of finding a cure. Ferguson plans to hold a local fundraising event next autumn. In the meantime, once she pays off the bills from her extensive testing last winter and spring, she hopes to begin donating a portion of all proceeds from her art sales to Grant's foundation; she is also raising money for Team Fox, an online network that supports the Michael J. Fox Foundation.
"I'm hoping maybe my part will be to bring some of the resources available in big cities like Portland to Montana so that people can have those here," said Ferguson.
Only time will tell if those efforts will come in time to shield Ferguson from the worst ravages of the disease. But she remains upbeat.
"I'm very lucky. I really am," she says. "If I'm going to get diagnosed, this is the time to do it. They're making incredible inroads."
Be the first to know
Get local news delivered to your inbox!