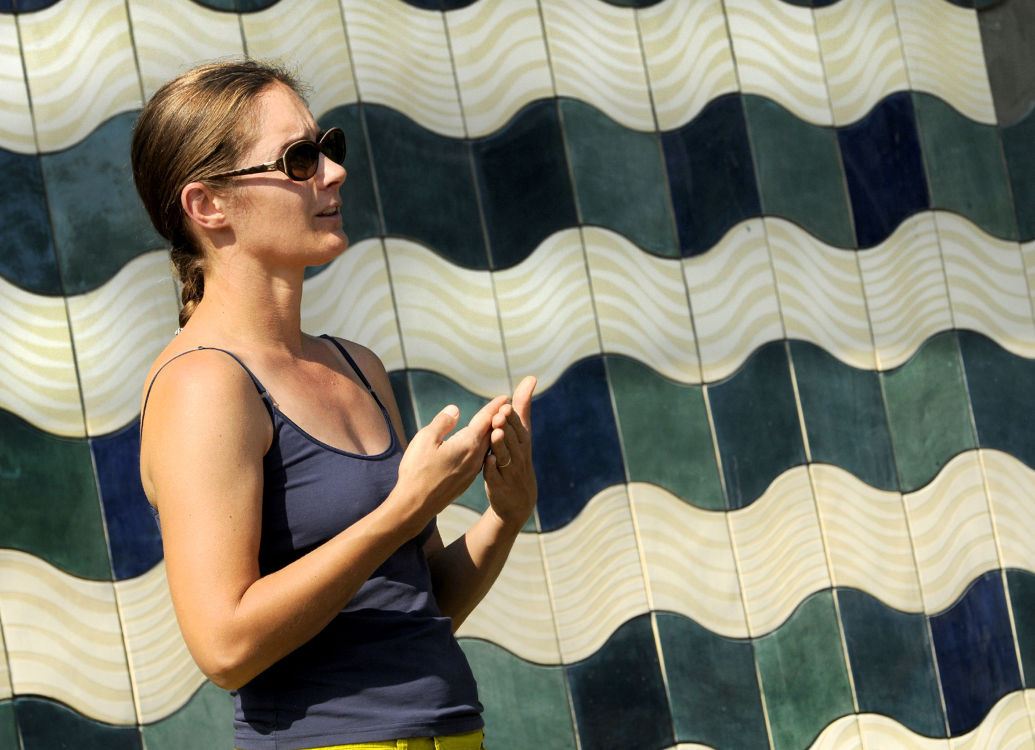 There's a new fork in Rattlesnake Creek.
The city's latest piece of public art, Alison Reintjes' ceramic tile mural titled "Rattlesnake Ripple," brightens the wall of the storage building in Pineview Park next to Rattlesnake Elementary School.
Reintjes has been installing the piece for the past week, where it's drawn many questions from passers-by.
"I'd say probably 70 (percent) to 80 percent of the people who walked by have stopped and talked to us and asked questions," Reintjes said.
Rows of blue and green tile are ribboned with white ripples, which themselves are capped with white wave patterns.
In her artist statement, Reintjes explains how the ripples refer to "the seasonal water currents, cycles and flows in nearby Rattlesnake Creek."
She also references the area's past and present.
"Rattlesnake Creek is important to local tribes, was the site of Missoula's earliest settlement, has a strong history of mining and logging, and has been reinvented as an important recreation area and natural setting for the city of Missoula," she wrote.
The city of Missoula's Percent for Art ordinance covered $5,600 of Reintjes' commission, and the remaining $4,400 was paid for with private donations from neighborhood residents.
That money bought 230 tiles, each one about 8 inches square, making up a mural that measures 14 1/2 by 6 feet.
Bill Bevis, a neighborhood representative on the Percent for Art board, said the design is "pure and simple."
"It's a place that badly needed improving," he said. Previously, the playground equipment faced a blank, drab wall of the utility building.
"It's an excellent site to redeem what was the most ugly part of the park," he said.
Now the ripples are framed by the treeline, with the creek not far away.
Reintjes began work on the mural the first week of May after learning her project had been selected.
Getting the right materials proved to be a time-consuming aspect of the mural.
She ordered a custom tile cutter from Portland, Oregon, where she also bought her clay.
"I needed to use a clay that had been successfully used in tile applications in the past," she said.
She used test tiles to check the thermal shock and moisture absorbency of the material.
"Every day, I would boil the tiles for two hours so that would force as much moisture as could possibly be absorbed into the clay," she said.
"Then I put them directly into the freezer, and they would be in the freezer overnight, and then the next morning I would take them out and put them in a pot and boil them again for two hours," she said.
After the tiles had stood up through eight cycles, she knew they would be able to stand up to the Montana weather.
She went against her usual practice and used commercial glazes, which she said have been tested to ensure they won't result in cracks.
"Rattlesnake Ripple" is the second large-scale work by Reintjes in the past two years.
In 2014, she completed "DoubleColumn," a 25-foot-tall geometric sculpture constructed from about 230 12-inch ceramic tubes, arranged in double-helix-like shapes.
It was exhibited in the Missoula Art Museum's three-story atrium, and subsequently was purchased by the owners of the Russell Smith Federal Courthouse. (It's on display in an atrium there as well, although viewers must go through security to see it.)
That piece was something of a personal test to see if she would pursue public art projects like "Ripple."
She wanted "to see if I liked working at that scale so I could apply for public art projects, and also to give me the chance to demonstrate that I could pull a project of that size off," she said.
Two studio assistants helped her bring "Ripple" to completion: Tyler Nansen, a recent MFA graduate of the University of Montana art program, and Amy Halko, a professional potter from California.
"It's a surprising amount of work to wedge and roll out that many slabs," she said.
Nate White, who has experience with masonry and stone work, did the tile setting.
Bevis said Reintjes was also selected for the Pineview Park work because she "had a track record and a very detailed budget and seemed to be an experienced ceramicist, so we thought she could accomplish what she advertised."
"And we're very pleased with the result that's now up," he said.