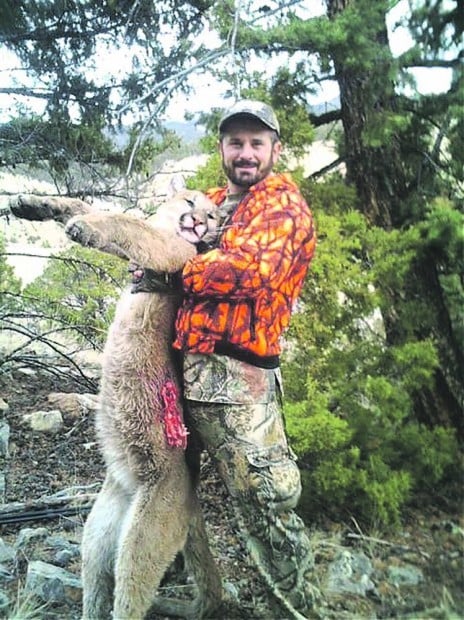 Duane Cole believed he was on the menu when a mountain lion confronted him during a hunting trip in the Elkhorn Mountains near Boulder last month.
"I'm 64 years old and hunted since I was a little kid behind my dad," he said. "I'm a trail runner, backpacker and I've hunted by myself. I always heard they were more scared of you. I was 100 times more scared than it was."
The incident left the Colstrip parks and recreation supervisor shaken. His son - Florence resident Shane Cole - shot the lion, but not before a game of cat and mouse, Cole being the mouse.
The encounter comes on the heels of another Montana hunter's run-in with a lion near Wise River on opening day of the general big-game season. That lion was also shot.
According to Montana Fish, Wildlife and Parks, there is no statewide accounting of such encounters and shootings of lions.
"We have a couple a year," said Sam Sheppard, FWP warden captain in Bozeman.
It was a series of unusual events that put Cole in a pickle. He was elk hunting with his 41-year-old son Shane.
The son had a bull tag, while dad could shoot a spike bull with his general tag. Since Duane was hoping his son could fill his bull tag, he decided to leave his rifle in the truck rather than shoot a spike and possibly ruin Shane's hunt.
Since the walk they planned wasn't far, Duane also left his CamelBak backpack, which contained pepper spray, in the car. He was going to leave his cell phone, too, since there was no service. But Shane suggested they take their phones along in case they got service farther up the mountain and couldn't find each other.
The father and son then split up, walking parallel ridges about 900 yards apart. Along the way uphill, Duane picked up a straight piece of dry cedar as a walking stick.
"I can't remember picking up a walking stick before in my life," he said.
After walking a ways up the ridge, Duane turned around for no reason and saw the mountain lion about 10 to 12 feet away, crouched down and staring intently.
"I could tell he was ready to launch."
Shouting and shaking the stick, Duane tried to scare the animal off. But it didn't move. Then Duane threw the stick like a spear, hitting the lion in the ribs. It ran behind a cedar tree but didn't retreat farther. Duane quickly stooped down and picked up rocks, throwing them at the lion and shouting.
"All the things we tell people with bears, it's the opposite with lions," FWP's Sheppard said. Those confronted by a lion should stand tall, talk confidently, don't turn your back - and fight if attacked.
Finally Duane remembered the cell phone, pulled it out and called his son. With directions from Duane, Shane came on the run to help his father. The cat remained staring at Duane, so he backed down the ridge. When Shane arrived, he was winded from the run. The two were standing just out of sight of the cat. When the two started walking, they spied the mountain lion sitting on a boulder about 35 feet away.
Duane asked his son to shoot the lion, but he wouldn't do it, thinking it might be a female with kittens, so they kept on walking.
"We'd gone about 50 to 100 yards. I was paranoid at that time," Duane said. "I looked back and saw it coming in fast and low, straight at us from behind."
Duane yelled at his son, who turned and shot, hitting the lion in its side as it turned. It ran about 50 feet and died. Shaken, the hunters called Fish, Wildlife and Parks and were told to remove the lion's head and give it to the warden. They covered the body with branches and left it. Hunters are not allowed to possess the remains of a mountain lion killed in self-defense.
Duane said the cat, identified by a FWP warden as a juvenile, was about 6 feet long from head to tail and weighed about 100 pounds.
Looking back on the incident, Duane said he was scared but calm. At the height of the encounter, though, he completely forgot he had a 6-inch knife in his vest.
Although the father and son kept hunting the next day, Duane's experience haunted him.
"Every time I'd go under an old-growth tree or boulder, I'd take my rifle off safety," he said.
And he remains shaken by the incident.
"I always thought they'd hear me coming and get out of the way," he said. "But some of them won't get out of the way. In fact, they think we're dinner."