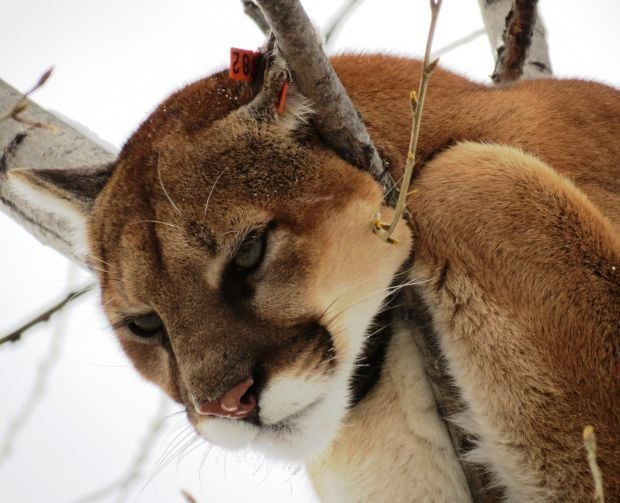 WEST GLACIER – A park ranger shot and killed a mountain lion in Glacier National Park over the weekend, ending the lion's attack on a dog in the employee housing area at West Glacier.
Glacier spokeswoman Denise Germann said the attack began at about 5 p.m. Saturday, when a park employee returned to her residence.
"Her two dogs unexpectedly raced out of the car" when she opened the vehicle's door, Germann said. The woman went after the dogs, and while one returned to her quickly, one was engaged by the mountain lion.
"Other housing residents heard the dogs, lion and employee yelling, and ran to offer assistance," Germann said. "A shovel was briefly used unsuccessfully to separate the mountain lion and dog."
The two animals tumbled over an embankment near the Flathead River as they fought.
Another resident arrived armed with bear spray, and also began throwing rocks and logs, to no avail.
The lion had the dog pinned down near the river's edge when the ranger arrived.
The ranger shot the lion, then rescued the dog when the frightened and injured pet jumped in the river.
"After confirming the mountain lion was down and wasn't moving, the park ranger entered the river to bring the dog to safety," Germann said. "Others helped to get the injured dog to the riverbank."
The dog was taken to a veterinarian, where it required "many" stitches, but is expected to make a full recovery, Germann said.
A necropsy will be performed on the mountain lion to determine its health and age.
Germann said mountain lions have been observed in the employee housing area near park headquarters in West Glacier this winter, and one was hazed after being seen near homes and offices.
The area has had signs warning of mountain lion activity posted all winter. Rangers believe more may still be in the area.
Glacier will "continue to implement management actions in the area as appropriate," Germann said, "including posting the area to lion frequenting, educational outreach to employees and visitors, area and/or trail closures, hazing and possible removal."
She offered the following advice to anyone who encounters a mountain lion in Glacier: Make noise. Do not run. Talk calmly, avert your gaze, stand tall, and back away.
"Unlike with bears, if attack seems imminent, act aggressively," she said. "Do not crouch and do not turn away. Lions may be scared away by being struck with rocks, sticks, or by being kicked or hit."
Although primarily nocturnal animals, mountain lions have attacked in broad daylight. They rarely attack humans, but it does happen, with children and small adults most vulnerable.
Germann also reminds people that, while pets are allowed in developed areas of Glacier, they must be kept on a leash no longer than 6 feet, and must at all times be kept under physical restraint, or caged, including while in open-bed pickup trucks.
Pets are not permitted on trails, along lake shores, in the backcountry, or in any building. They are allowed in frontcountry campgrounds and picnic areas, along roads, in parking areas, and in boats on lakes where motorized watercraft are allowed.
Get local news delivered to your inbox!
Subscribe to our Daily Headlines newsletter.