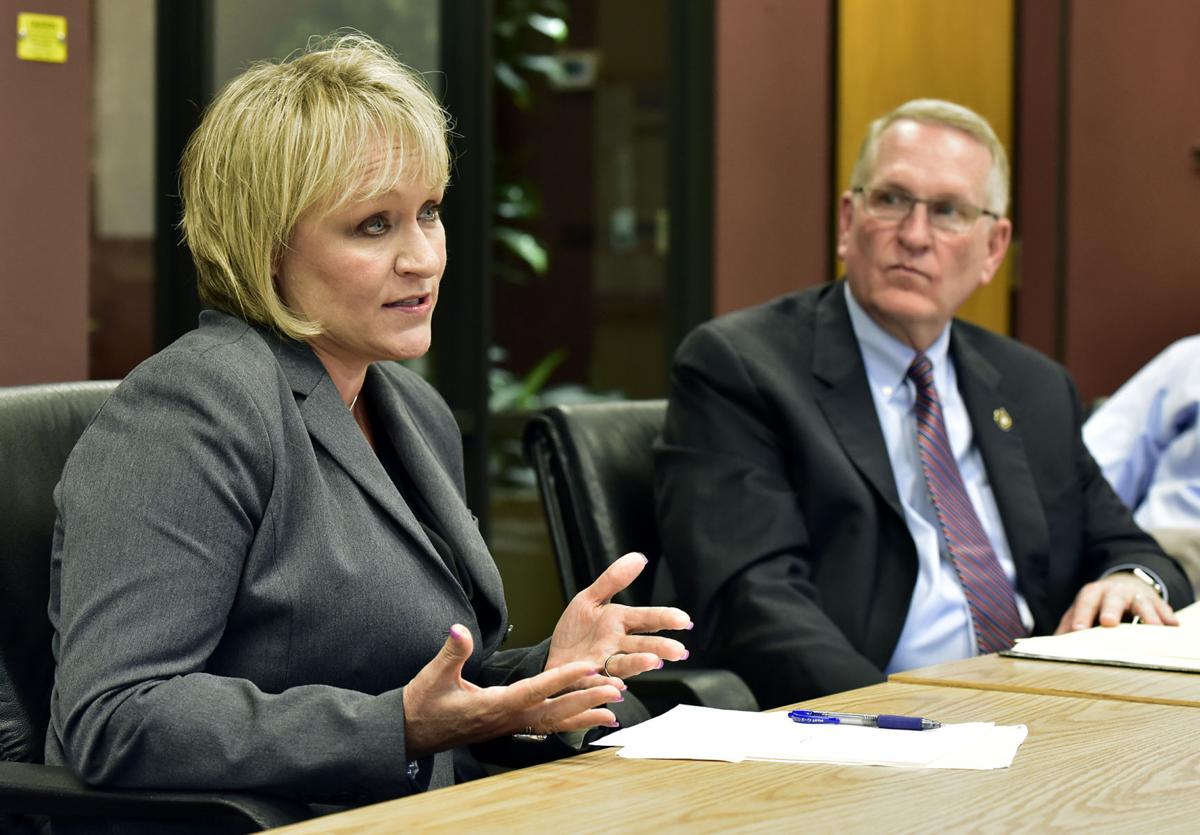 The Missoula County Attorney's Office is in full compliance with an agreement made two years ago to improve the way sexual assault cases are handled by local prosecutors, Montana Attorney General Tim Fox announced Wednesday.
His office's oversight of the issue has ended, Fox said.
In June 2014, Fox's office entered into an agreement with then-County Attorney Fred Van Valkenburg and the U.S. Department of Justice, ending a feud between the county prosecutor and the federal agency.
"This is a big day for her and the team," Fox said of County Attorney Kirsten Pabst, elected after Van Valkenburg retired. "I think this is a big day for the community. This all began in a way that felt like the black cloud. We found the silver lining."
In 2012, the Department of Justice launched an investigation into the way the county attorney's office, as well as the Missoula Police Department and University of Montana, responded to sex assault reports.
On Wednesday, Fox said news stories about rape and sex assault cases originally drew the federal agency's attention to Missoula. The issue became the subject of a 2015 book by Jon Krakauer "Missoula: Rape and the Justice System in a College Town."
In 2013, UM and the city police department entered into agreements with DOJ that listed a series of stipulations, trainings, procedure overhauls and audits they were required to undergo. Last year, the DOJ announced both agencies had fulfilled their obligations.
Since signing onto the agreement the county prosecutor's office, under Pabst, has developed better policies for handling sexual assault cases, participated in additional training for its attorneys, formed a special victims unit to prosecute sex crimes and hired additional staff to better communicate with victims.
With all of its changes and reforms, Fox said he believes the Missoula County Attorney's Office represents "the model for the rest of the country, not just Montana."
Pabst said the special victims unit, which she formed after taking office at the start of 2015, will add a fifth attorney in October.
"These cases take exponentially more time and preparation to handle," Pabst said. "It's a skill set nobody is born with, you have to learn that."
Since starting the special victims unit, Pabst's office has located one of its attorneys at the Missoula Police Department, helping investigators in the early stages including meetings with victims and writing search warrants.
"The police have gone out of their way to commit to doing things right," Pabst said.
One of the victims unit attorneys, Suzy Boylan, also compiled a guide for handling of sexual assault cases that Fox said has since been distributed to prosecutors offices across Montana. Attorneys in the victims unit are also taking part in training sessions for law enforcement and prosecutors in the state.
As part of the agreement, Pabst hired an investigator and a victim witness coordinator who connects victims of sex crimes with services and acts as a point of contact.
Jenny Daniel, coordinator of the multi-agency JUST Response program that focuses on sex assault, domestic violence and child abuse in Missoula, said Pabst's office has been a very active contributor.
"They've been really involved, they are at all of our meetings and work on training and providing a prosecutor's perspective on these important issues," she said.
In a letter sent to Fox at the end of June, Anne Munch, hired to assess the progress made by the Missoula prosecutors office, congratulated Pabst and her staff on their efforts and accomplishments, in particular saying they have dramatically improved the way they treat victims.
In 2014, during the first quarter Munch monitored cases in Missoula, she found prosecutors took an average of 35 days to contact a victim after a case was referred to them. In her most recent quarterly report, issued in February, Munch said that time period had shrunk to less than a day.
Under the agreement, the county attorney's office was required to undergo an independent review by Fox's office, a process Pabst and the attorney general said they intend to continue.
Pabst said her office has also contracted with a trauma counselor both to help them better understand the behaviors of the victims of sexual violence and to work with attorneys on how to handle the stress of working on such cases.
While the attorney general and county attorney said Wednesday's announcement was a milestone they added there is still a lot of work to be done.
"Today is truly a celebration but it's also the starting line," Pabst said.
Fox said a continued focus on outreach and education, as well as reexamining sex crime laws in Montana, are paramount, points Munch also highlighted in her letter as areas Pabst's office should continue to work on.
"Societal bias, misconceptions and victim blaming make these hard to prosecute," Fox said.
Pabst said the prosecutors in her office take every opportunity they get to go to schools and social organizations to discuss domestic violence and sex crimes.
Fox said his office will support bills in the next Legislature to reform criminal laws, including a better definition of consent in sexual assault and rape cases. Pabst said it would be helpful to change the law from having to "prove a negative" to simply having to show that affirmative consent was given.
She said her office also supports changes in what it means for a person to be incapacitated and therefore not able to provide consent. Under the current statute and how courts have interpreted it, Pabst said to show a person was incapacitated due to drugs or alcohol, "We have to show essentially that they are passed out."