Missoula's whirlwind economic expansion has been the talk of the town since the end of the Great Recession, with new banks, restaurants, hotels and construction cranes popping up seemingly daily. But perhaps no single project embodies the city's transformation more than the unveiling of plans last week by local businessman Nick Checota for a $100-million, 60,000-square-foot events center with a hotel, condos and restaurants overlooking the Clark Fork River downtown.
But Checota's ambitious new project, integrated into a plan for developing the prime piece of downtown real estate that city planners have been working on for 30 years, stands out. That's because, apart from the eye-popping price tag and visual design, its location on the downtown riverfront coupled with the fact that it will be utilized for public events that draw tourists will make it particularly influential on the community's future, for better or worse.
Reactions to the plan range from a fear of change to a concern over parking to excitement for economic development. There are questions to be answered, such as whether Missoula's ongoing development will "lift all boats" towards prosperity, as Mayor John Engen said last week, or if the new amenities will be enjoyed only by the well-to-do.
Like most rapidly-growing cities, Missoula is facing a severe affordable housing shortage, wage gains that don't keep up with housing prices, high rates of homelessness and rising property taxes. City officials will be under pressure to make sure the benefits and drawbacks of growth are spread equitably.
So far, however, the reaction to Checota's announcement on social media and at a Missoula City Council meeting last week has been mostly positive.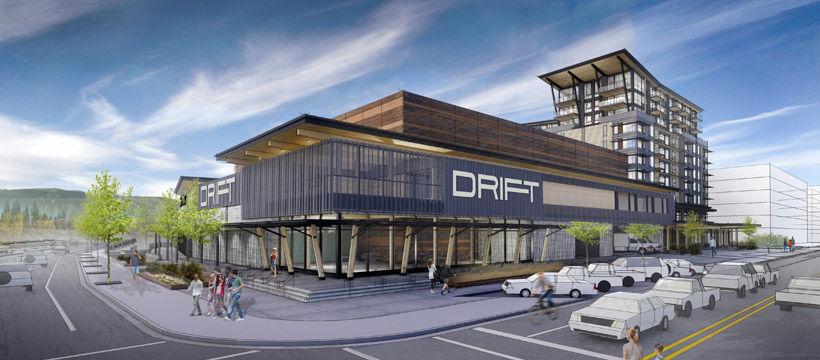 'A huge boon'
"This is a huge boon for Missoula," said Barb Neilan, the executive director of Destination Missoula, the local convention and visitor's bureau. "It's an amazing project all the way around, and it's going to make a huge economic difference to Missoula. This elevates us to another level."
The closest similar facilities to what Checota is proposing would be the First Interstate Center for the Arts in Spokane, Washington, along with the Spokane Convention Center.
Checota's plans will be different, of course, but he has said he wants his project, called the Drift, to host conventions, performing arts shows of all kinds, traveling Broadway plays, comedy acts and banquets. Checota says his state-of-the-art venue will be designed to accommodate 6,000 people standing, 3,000 people seated or 1,000 people at a banquet with tables, something Missoula can't handle year-round at the moment. The Wilma Theater, for example, can handle about 200 people seated at tables.
"We see the Drift as a transformational project for Missoula and its downtown riverfront," Checota said. "The development not only establishes an entertainment civic center on the river, but will serve as an economic engine for all of downtown."
Ellen Buchanan, the director of the Missoula Redevelopment Agency, said the project is at the top of a long list of projects that have received Tax Increment Financing in blighted areas.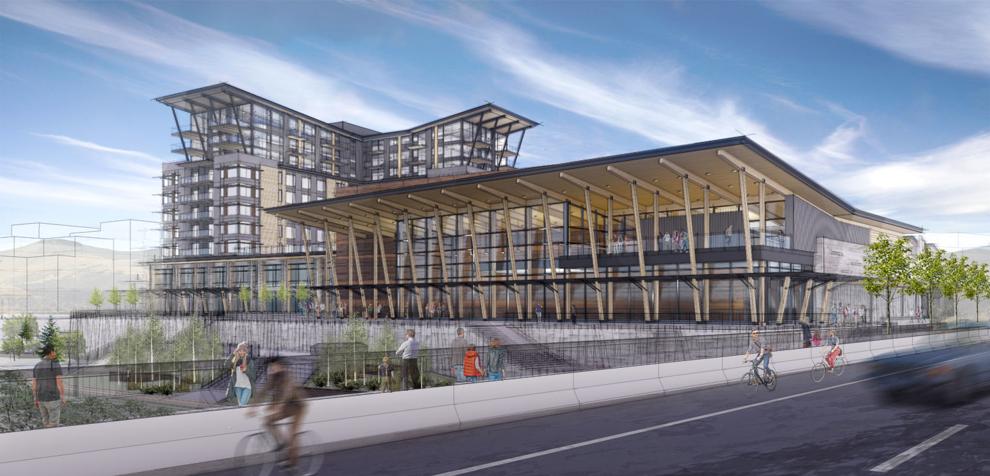 "With respect to MRA overall, you've seen us get involved over the last 10 or 15 years in larger and larger economic development projects, and this is the kingpin," she said. "This is the largest of all of them."
Spokane touts arts
Neilan noted cities like Spokane and Boise have separate convention centers and performing arts centers. Checota's room will be designed to accommodate both types of events, so she said there has to be "some give and take" in comparing it to what's happened in those cities, but it will still be a vast improvement over what is here now.
Ben Stuckart is the city council president for the City of Spokane and was born and raised there. He worked for a ticketing company that sold tickets to Spokane's performing arts center and was around when taxpayers voted to approve bonds for expanding the convention center.
"A performing arts center adds to the vibrancy of your city," he explained. "It increases the pride in the town. You have big signs all over saying 'Les Mis' or 'Rent' is coming. And tourism is free money for a community."
He thinks Missoula is enhancing an already solid position.
"Missoula's already doing good, reputation-wise," he said. "It's a Mecca for all sorts of outdoor activities and is known for really good bikeability and walkability. To add in a venue that will attract more people for tourism will really enhance the city."
Stuckart has seen the economic impact studies done for the Spokane facilities.
"I think in hotel stays, it's great," he said. "We notice here, when we get traveling Broadway shows, the hotels will fill up, and we see people all over town. The economic impact studies are pretty clear: They have a monstrous impact."
He added that Spokane is awash in parking, "probably too much surfacing lots," so he doesn't think the tourists coming for events cause parking headaches for locals. Checota will be building a two-level, 400-space parking garage underneath the events center.
The Missoula plans also call for one fine-dining restaurant, one fast-casual restaurant, a 200-room boutique-style hotel, 45 residential condominiums and 10,000 square feet of additional event space. Boise has a population of 150,000 more people than Missoula, and its convention center is a little larger, while its largest performing arts center can only hold 2,000 people seated, for comparison.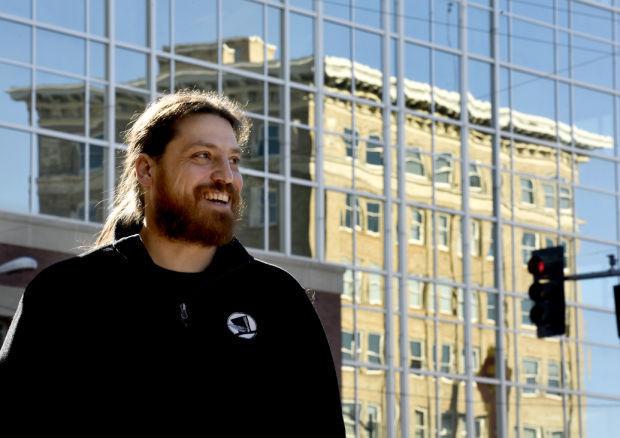 "We are expanding on Missoula's growing reputation as a music destination in the Northwest," Checota said. He said he would argue that Missoulians spend more per capita on entertainment than "any community in the United States" and have shown a "truly amazing" level of support for live music. His company sold about 100,000 tickets last summer.
He noted that about 35,000 people come from outside Missoula to his other venues in town every year, and he guesses that number will be up to 50,000 a year when the Drift is complete.
Stuckart said Spokane city leaders realized long ago that ongoing investment and maintenance is important to keep a venue attractive to traveling acts, so he applauded the decision by the City of Missoula to assign that responsibility to Checota.
Drift elicits praise, questions
At a city council meeting last week to approve an agreement to use Tax Increment Financing for the project, Mayor Engen said the project will infuse Missoula with jobs and visitor spending.
"Not all jobs are created equally, but I think that when you look at the impact of construction jobs here for one thing, when you look at the impact of management, professional-level jobs that this project brings to the community, then I think that all boats are lifted," he said. He also said that he's more than happy that a "hole in the ground" is being turned into a place where nonprofits can host events.
"Missoula more and more, in no small part thanks to Nick, is becoming an experiential economy, and I'm happy to be the Austin (Texas) of the Northwest," Engen explained.
City council member Gwen Jones was also upbeat.
"I think this a really positive development, and this is a dormant asset (the vacant lot at the corner of Orange and Front) that we've all driven by for years," she said. "So to turn this into something that starts kicking into gear for this town is great. And it's just time, and we've got the right pieces now, and I'm excited."
Kevin Hunt of Missoula was the only member of the public to speak critically about the project at last week's city council meeting. He questioned why TIF funding wasn't used for badly-needed affordable housing and said rising property taxes cause people to move out of buildings, which causes them to be demolished and then the area is declared blighted, thereby necessitating the use of ever-more TIF.
"Is it in the public interest to cede virtual monopoly on the major cultural entertainment events to essentially what sounds like one person, or one entity?" he asked.
Other commenters told the city they thought it would be a great project.
Workforce housing possible
Buchanan, with the MRA, said now that Farran Realty Partners is focused on developing the rest of the five acres on the Riverfront Triangle site, she's hoping to see "workforce housing" developed, which is something Missoula's Downtown Master Plan calls for.
Housing has "always been part of the plan" for the site, she noted. And she said because Checota has a successful track record of seeing major local construction projects through to completion and making them economically viable, his involvement in the Riverfront Triangle project will boost the chances of success for the Farran group's plan for housing, retail and office space nearby.
"The riverfront (housing) stuff will likely be a little on the higher end, but on Orange Street, you have the possibility of seeing workforce housing and housing for folks who work in the complex," she said. "We've got the opportunity to see significant office space developed, which is an employment center for people who want to live there."
"We invest in a lot of nonprofits and small projects that don't get press conferences," Behan said.
Joyce Dombrouski, the chief executive of Providence Montana, the nonprofit that just announced a $126 million expansion of St. Patrick Hospital across the street, said a "vibrant hotel and events center is a positive step for Missoula and the Downtown Master Plan." She noted there will be "short-term growing pains" associated with traffic and congestion for both projects, but they'll do everything they can to alleviate "aggravations" during and after.
Buchanan noted the KettleHouse Amphitheater keeps hotels and businesses packed with people in the summer, thereby boosting local jobs, tax revenue and spending, and the Drift will multiply that effect into the shoulder seasons and winter. 
"We hit a home run," she said.