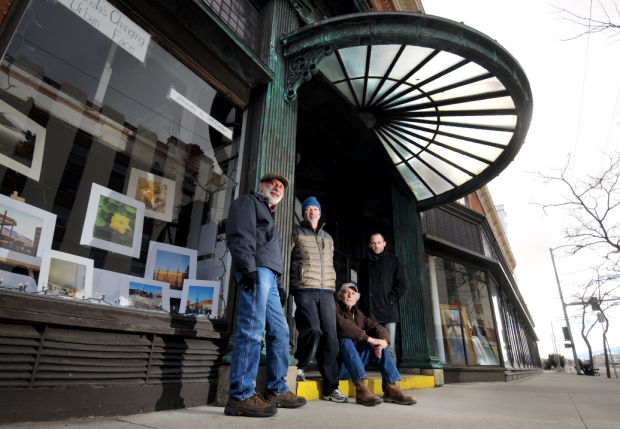 Early in his freshly minted biography of A.B. Hammond, Greg Gordon tells a story that circulated among San Francisco lumbermen after the 85-year-old timber baron died in 1934.
The legend goes that Hammond – "with a shock of white hair, neatly trimmed goatee and impeccably dressed, just as he was in life" – sat up in his coffin when attendants approached.
"Six pallbearers?" he thundered. "Fire two, and cut the wages of the others by 10 percent."
If it's hard to like him now, imagine how the world beheld Andrew Benoni Hammond when he trod the earth and cut his swath in the decades on either side of 1900.
Hammond spent much of the far side in Missoula before moving onto even bigger things on the West Coast. Gordon, who got his Ph.D. at the University of Montana and is now an assistant professor in environmental studies at Gonzaga University in Spokane, said Missoula has largely purged Hammond from its memory banks.
He'll spend the essence of his talk Saturday at Preserve Historic Missoula Night in Heritage Hall at Fort Missoula chewing on why.
"Here's a guy who more than anybody else was responsible for Missoula being what it is," Gordon said in a telephone interview earlier this week. "Missoula's existence as a railroad town, a university town and a commercial center are all more dependent on Hammond than anybody else.
"So why has the town sort of turned its back on him, both historically and contemporarily?"
There are remnants of Hammond left around town, including a good-sized collection of his descendants – grandsons and great-grandchildren of Andrew's older brother George. The two, born in New Brunswick, went to work in the Eastern woods together in 1864 and came to Montana in 1867. Years later George Hammond was placed in charge of timber operations and another brother, Henry, supervised the Big Blackfoot Milling Co. as the lumber town of Bonner took shape.
George Hammond ranched in Ovando on what's now Jim and Colleen Stone's Rolling Stone Ranch, where just last Saturday U.S. Secretary of the Interior Sally Jewell and Sen. Jon Tester stopped off to discuss Crown of the Continent conservation initiatives.
There's a new face on the old lumber mill in Bonner that Hammond helped launch in the mid-1880s. The distinctive Florence Hotel in downtown Missoula? A.B. Hammond's wife's name was Florence.
And of course we've still got the Missoula Mercantile, vacant for the time being but at one time the seat of almost unfathomable financial, commercial and political power in Montana and points west. A.B. Hammond was at the core of that clout.
"He used the Missoula Mercantile Co. to fund his Oregon railroads, and he used it to build the largest redwood lumber company in the world in California," Gordon said.
There was some suspense this week just up the street from the Merc at Fact and Fiction, until 50 advanced copies of Gordon's book titled "When Money Grew on Trees: A.B. Hammond and the Age of the Timber Baron" arrived – just in time for Saturday's program at Fort Missoula.
Gordon, 51, said the subject of A.B. Hammond was broached to him when he was looking for a dissertation subject for his doctorate degree in history in 2007. Coincidence or not, the suggestion came from Dan Flores, the A.B. Hammond Chair in Western History at UM since 1992.
"I looked around and did some research on Hammond and realized that he was a pretty big player in Montana history and nobody had really done very much on him," Gordon said. "The only thing out there was about how awful Hammond was. Why did everybody hate him so much? So he seemed like an interesting character and that just sort of snowballed."
Gordon was helped by Dale Johnson, former archivist at UM's Mansfield Library, whose own dissertation in Montana in 1976 served as a starting point for a broader look at Hammond's life. Gordon presented the 611-page result in 2010. He's now in his third year at Gonzaga.
"When Money Grew on Trees" is based on his dissertation, but Gordon said he has trimmed it down and edited out the more academic arguments.
"Really I wanted to write it for anybody who was interested in Montana history," he said.
Indeed the book covers a broad spectrum of the state's early development. But it starts off with a delightfully specific scene.
Chapter One is titled "Standing at the Crossroads." It describes a poignant scene in mid-October 1891 when Charlo, hereditary chief of the Flathead Salish, led his people across the Higgins Avenue Bridge from their abandoned homeland in the Bitterroot Valley toward the Jocko Agency.
Hammond was 42 at the time, a thin, handsome man with a close-cropped, slightly graying beard and "dressed in a well-fitted suit with wide lapels, a four-in-hand tie, and a stylish bowler," Gordon writes. "As a frontier capitalist, Hammond's star was ascending; in another 10 years he would be one of the premier lumbermen on the West Coast."
Charlo rode proudly sporting "buckskin leggings, a beaded sash over one shoulder with bracelets and anklets to match, a wool jacket over a red vest, and his signature plug hat," Gordon said. But in contrast to Hammond, "Chief Charlo was destitute, despondent over the loss of territory, and desperately trying to keep his people from starvation."
Hammond could survey the heart of his far-flung domain at the junction of Higgins and Front as the mile-long procession of Charlo's people and their horses passed.
It included Missoula's four largest buildings – the year-old First National Bank on the southeast corner and the even newer four-story Hammond Building block on the southwest; the luxurious Florence Hotel to the north and, across Higgins, the Missoula Mercantile Co., the largest department store between St. Paul and Portland.
"Not only did Charlo's and Hammond's individual paths cross on this day – so did the cultures, economies, and eras that each inhabited," Gordon observes. "The Missoula and Bitterroot Valleys were a microcosm of the profound and cataclysmic changes that occurred throughout western North America at the close of the nineteenth century."
A century later, we may not like A.B. Hammond any more than his contemporaries did. But Gordon wants to make darn sure we don't forget him.