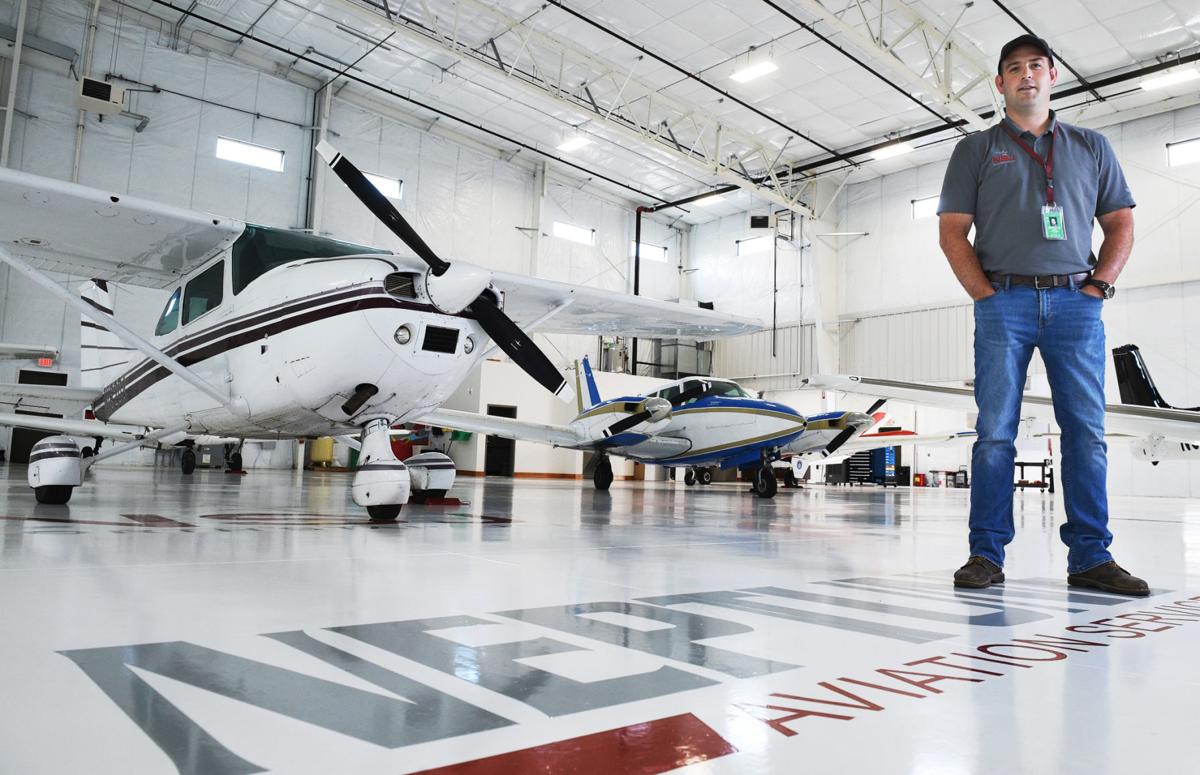 It's a different world here on Kynan Spethman's side of the Missoula airport.
You're far away but well within eyeshot of the familiar terminal where commercial airline travelers queue up.
Spethman is general manager of Northstar Jet on the airport's east end. Here are two cavernous hangars and rows of private ones. Vast expanses of asphalt and grass. Line crewmen who buzz around gassing up aircraft and doing the dozens of other unappreciated tasks they do.
And airplanes, airplanes and more airplanes.
On a quick tour last week, Spethman pointed out the parked twin-engines and turboprops and the private Boeing 737 that belongs to a local billionaire industrialist.
And he did his best to explain the difference between Northstar, the company he manages, and Neptune Aviation, which is headquartered here, too.
"There is no difference," Spethman said. "We are Neptune."
Once separate corporations, the two merged in 2013. In the past, he said, Neptune was known for its heavy air tankers and aerial firefighting. It still is. Northstar was the fixed base operation, one of two FBOs at the airport (Minuteman Aviation is the other.) It still is that, though "all those efforts have been combined into one company," he said.
The kingdom of Kynan Spethman revolves around general aviation — servicing and parking private aircraft, taking care of their pilots and passengers, providing annual inspections and hangar space, and teaching people how to fly airplanes and, these days, drones.
In addition, Neptune is in the charter business and offers two scheduled flights to Billings each week. Most of the commercial airliners across the way get their fuel from Northstar line crews.
And those Christmas packages that come in or go out aboard UPS and U.S. Postal Service planes?
"We load and unload 'em," Spethman said. "That happens on our ramp."
That whole world will be turned topsy-turvy this week, and Spethman's eyes dance at the telling.
Missoula International Airport is hosting what promises to be the largest airplane fly-in ever held in Montana, and Northstar/Neptune is devoting most of its campus to it.
Starting Thursday, upwards of 500 private aircraft are expected to land and park on that end of the airport. More than 125 of them have registered to camp near their planes, while the others will be filling up Missoula's motels and restaurants. The fly-in officially starts on Friday, and for that day and the next, the Maryland-based Aircraft Owners and Pilots Association (AOPA) has a full schedule of workshops, exhibits, aircraft displays, dedications, a barnstormer party, flight simulators, film screenings, a pancake feed and ice cream social, a Short Takeoff and Landing competition (STOL) and fly-outs to some of the most gorgeous slices of western Montana and Idaho.
The event is free to the public, and an ideal way to get a peek into Spethman's world.  
It's one of four regional AOPA fly-ins in 2018. Spethman is one of several people who worked hard to get it, and now are working even harder to make it come off well. The AOPA has a highly competitive process to select its fly-in sites, and Missoula was initially turned down.
You have free articles remaining.
"We were thinking this would be really cool to bring to Missoula and do something totally new that hasn't been done in Montana before," Spethman said. "So three years ago we put in an application and got shot down. They said Montana was way too low in population density and there's no way we could get enough planes to Missoula, to Montana, to make the event worthwhile. 
"We said, 'All right, we disagree. We think we could host a great event here. We think we've got a bunch of passionate people who would be super-excited about this.'"
Neptune has hosted a company event that has attracted 5,000 people. The Missoula enthusiasts knew something else: "The Northwest is full of pilots and aircraft owners who are willing to travel," Spethman said. "Montana could be a great not only fly-in location but an opportunity for a vacation for folks that want to come for the weekend."
Another application the next year was sweetened when Neptune offered its two largest hangars for an exhibit hall and main stage, saving the AOPA tens of thousands of dollars on tent rentals.
"That kind of turned the tide a little bit," Spethman said.
More pieces fell into place, and when AOPA representatives visited Missoula last August they were sold.
The interest and local support has been overwhelming. Spethman said the largest AOPA fly-in to date was Bremerton, Washington, in 2016 with just under 700 airplanes. If the early forecast for good weather holds, Missoula could challenge that number.
Meanwhile, Northstar is working with its clients to clear out the hangars and find new places to store their airplanes. It being Father's Day weekend, the normal routine at Northstar will pick up as well, and Spethman said those operations can't be ignored.
"It'll be a wild and crazy week for us. It's going to be a neat thing for Missoula and for Montana in general," he said. "I think it'll pave the way for Montana when people see that, hey, something like this can happen in a low-population density and still be a wild success."
Spethman's path to this end of the airport began with a dilemma that's not all that unusual. He graduated in 1997 from Hellgate High School, where he started for Coach Eric Hays' basketball team and was Missoula's top javelin thrower during track season.
He wasn't ready to go to college, so he went to work and in 1999 fulfilled a longtime dream of getting his pilot's license — at Northstar.
"It was just something I always wanted to do," he said. "I wasn't going to college at the time. I was working. I was young. I just said, 'Hey, I'm going to do this thing,' so I did it."
Six months of flight school got him acquainted with the crew at Northstar. When he did enroll at the University of Montana a couple of years later, he looked to the west of town for a part-time and weekend job.
Spethman's first job at Northstar was with the line crew, moving, parking and fueling airplanes.
"We're heavy into the customer service area, so we're meeting and greeting folks, helping them with their luggage, that personal service thing so you get the red carpet treatment," he said. "That sort of blossomed into a full-time job, and 17 years later, here we are, doing something like this."
Spethman has been general manager at Northstar since 2011. He commutes from his home in Potomac, where he and wife Dannielle are raising Harrison, 9; Hadley, 7; and Kinsly, 4.
His career on the "other" end of the Missoula airport serves him well.
"There's a lot of fun folks involved in aviation," Spethman said. "It's exciting, all these people who are drawn to it. It's a dynamic, exciting industry whether it's the latest and greatest jets or the other things involved. And who doesn't like cool airplanes?"