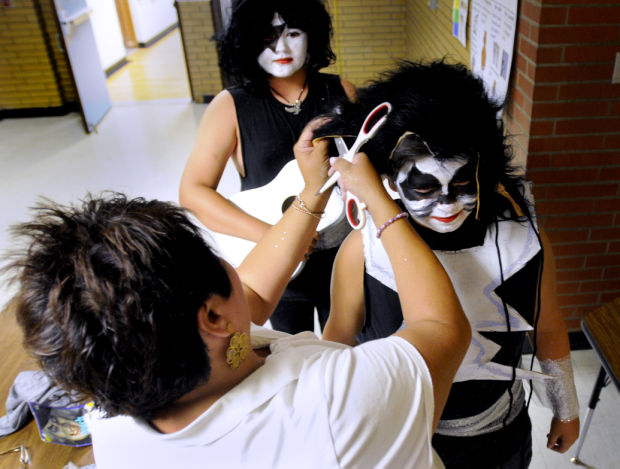 A pie in the face and a KISS spoof made a crowd of parents roar with laughter during a talent show and awards ceremony on the last day of a six-week summer arts and leadership camp for Missoula's at-risk youth.
Funded by Missoula County Public Schools and administered by WORD, the camp provided nearly 70 children in fourth through eighth grades a summer to remember.
"It was awesome," gushed Zoe Michael, 10. "This is my first year and I would do it again."
"It's really fun, we have really fun activities and I liked meeting new friends," said Jenaya Twite, 10.
In and around playing games, riding horses, rock climbing, whitewater rafting and going on an overnight camping trip, the campers learned how to do other life-shaping things.
"I learned how not to be mean," Twite said. "I learned how to be respectful, how to be responsible, how to be safe, and how to be a learner."
For 19 summers, Missoula businesses have helped the school district and WORD offer the free camp to at-risk children and to children from low-income families.
"Over the years we have grown, and we have had different partners through the years, but what makes this camp possible is the direct support from the school district," Claire Fawcett, WORD program director.
"This is made possible with a mash of different grants and with a lot of community support."
It takes about $50,000 to operate the camp, which enrolled 70 children, but served 58 on any given day.
Because of family circumstances – some have transportation challenges, others are without permanent housing and move around frequently – not all of the enrolled kids participated in the camp for the full six weeks, Fawcett said.
"This is a unique camp – there's no other like it," she said. "We provide the gear through the district and the food bank provides the meals and backpacks filled with food, which the children take home, filled for the weekend."
The goal of the camp is to provide a safe mentoring environment for the campers while they gain confidence by improving their social skills and physical activities, said Ben Brewster, camp director and volunteer coordinator for WORD.
"We do things like arts and crafts, sports, play Native American games," Brewster said. "And we do a scavenger hunt, which utilizes the bus system and is sort of a back-door education to expose kids to Missoula, so they know where they are going and so they can use the bus and don't have to be dependent on parents for transportation."
Brewster has directed the camp for the past eight summers, and each year he is moved by how much the campers and their families appreciate the opportunity.
"They are grateful for everything," he said. "And we are grateful for the opportunity to serve them – to give them a safe place to come to have fun and to express themselves."
There are too many standout camp moments to mention, Brewster said.
"But one of them is when a kid goes rock climbing or whitewater rafting or gets on the back of a horse for the first time. It's wonderful to see a child who is hesitant because it is new and kind of scary, and then they come back after they have done that thing and thank us for the opportunity."
For Tara Merys, the camped allowed her oldest daughter, Heaven, 13, a chance to be a kid and to get a break from her five younger siblings.
"It's been really good for her," Merys said. "She has really enjoyed it and I feel it has been good for her because it is something that keeps her busy doing constructive things – to help find individuality away from the family."
Cole Fussell, 11, is already planning on coming back next summer.
"It's something to look forward to next year," he said. "It's just the right amount of time, six weeks, and I look forward to seeing all my camp friends again."