A 5-month-old infant who was found early Sunday buried alive face-down under sticks and debris near Lolo Hot Springs is doing well.
"He suffered some minor scrapes and bruising but overall is in good health," an update from the Missoula County Sheriff's Office said Monday morning.
The child was found at 2:30 a.m. Sunday after an intensive foot search of more than six hours in temperatures that dipped to the mid-40s. The sheriff's office said he'd been buried for more than nine hours after allegedly being abandoned by Francis Charlton Crowley of Oregon.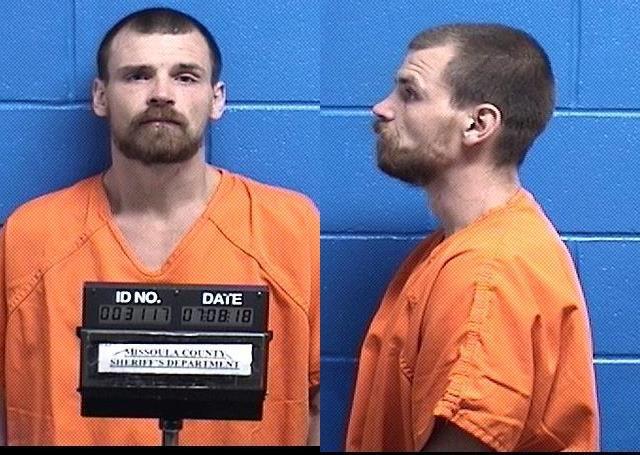 Crowley, 32, was arrested Saturday night and charged with criminal endangerment. Further charges are expected to follow. He is being held on $50,000 bond.
A court hearing first scheduled for Monday was pushed back to Tuesday afternoon to give the Missoula County Attorney's Office time to put reports together.
Crowley had previously spent time in the Missoula County jail after he was arrested June 13 on a fugitive warrant from Oregon.
"They ended up deciding not to extradite him so he was released," said deputy county attorney Jason Marks, who didn't know when Crowley was released.
A 2014 Associated Press report from The Dalles, Oregon, reported that Crowley had been a cellmate of Dustin Kimbrough at the Northern Oregon Regional Corrections Facility in The Dalles. Kimbrough was sentenced to 20 years in prison for plotting to kill two relatives and the district attorney who had prosecuted Kimbrough for burglary and identity theft. 
Crowley, who was already "something of a frequent flier in local jails," according to the Oregonian of Portland, was locked up at the time on charges of felony burglary and possession of methamphetamines. When Kimbrough asked for Crowley's help finding a hit man, Crowley went to law enforcement and later produced a three-page letter Kimbrough wrote detailing how much he would pay and how to execute the killings, according to the Oregonian.
The letter began, "Dear stranger, I have a job for you."
Kimbrough's lawyer attempted to discredit Crowley, arguing that at his first meeting with deputies Crowley "presented a list of 21 other inmates that he was willing to provide information about in exchange for a deal of some kind," according to the Oregonian story.
The Oregonian reported that Crowley was given probation on the burglary charge, but he was sent to prison on new burglary charges in 2013. It wasn't immediately known when he was released on probation. Kimbrough unsuccessfully appealed his conviction last year.
The weekend case near Lolo Hot Springs, about 35 miles southwest of Missoula, was widely reported by national news outlets and on social media.
"For all of us at the sheriff's office, this is what we call a miracle," a Sunday press release said.
Monday's bulletin said the child has been referred to Child and Family Services. Inquiries were directed to the state Department of Public Health and Human Services in Helena. 
Spokesman Chuck Council said DPHHS couldn't respond to specific questions about the case due to confidentiality and medical privacy.
"However, when the department receives a call to the Child Abuse Hotline, we respond and investigate accordingly," Council said. "The department is grateful to the concerned citizens and team who helped find this baby."
According to the sheriff's office, the two officers who found the baby will be available Tuesday to answer media questions regarding the search operation.
Deputies were called to the Lolo Hot Springs at approximately 8 p.m. Saturday after receiving reports that a man was acting strange. The sheriff's office said additional callers indicated the man threatened people, said he had a gun and was reaching into his pockets. The man had left the area when deputies arrived and learned that the 5-month-old who had been left in his care had not been seen for several hours.
Officers looking for Crowley received notification from 911 that the man had returned to the hot springs. Crowley was apprehended, but appeared to be under the influence of drugs and was not making sense when he was questioned, the sheriff's office statement said.
Crowley indicated the baby was possibly buried somewhere in the mountains. Officers from the U.S. Forest Service, Bureau of Land Management, Montana Highway Patrol and Missoula County were joined by the Missoula County Search and Rescue in a ground search.
A sheriff's deputy heard the faint cry of a baby and found the infant buried under sticks and debris. He was clothed in only a wet and soiled onesie. The temperature was approximately 46 degrees.