LOLO – Truth be told, it doesn't look like much.
The original Lolo fire station, built by volunteers in 1959, is encircled by chain link fence on a dead-end street west of U.S. Highway 93. It's made of hand-hewn logs with an interior space that a newly restored 1961 Harvester International fire engine all but fills.
But to Cheryl Hanson it's akin to the Holy Grail.
"Everybody these days talks about their bucket lists," Hanson said. "Getting this back into the hands of firefighters was on my bucket list."
Her mission was shared by Chief Bill Colwell and the Missoula Rural Fire District, who recently accepted possession of the building from Charter Communications after negotiations that, through the fault of neither, stretched out for more than a year.
The MRFD board, of which Hanson is secretary and past chair, plans to make it a museum of sorts, with the shiny red engine its centerpiece.
"We've got quite a few scrapbooks we've been collecting over the years, some that go back to the 1960s," Colwell said. "There were quite a few that were collected at the different stations."
Add some "digital things" created over the past eight years or so and the old fire house will one day be a showcase that celebrates the history of the 55-year-old rural fire district that's headquartered at South Avenue and Reserve in Missoula.
Hanson, whose family has roots to Lolo dating to 1910, has longtime ties to the local fire station.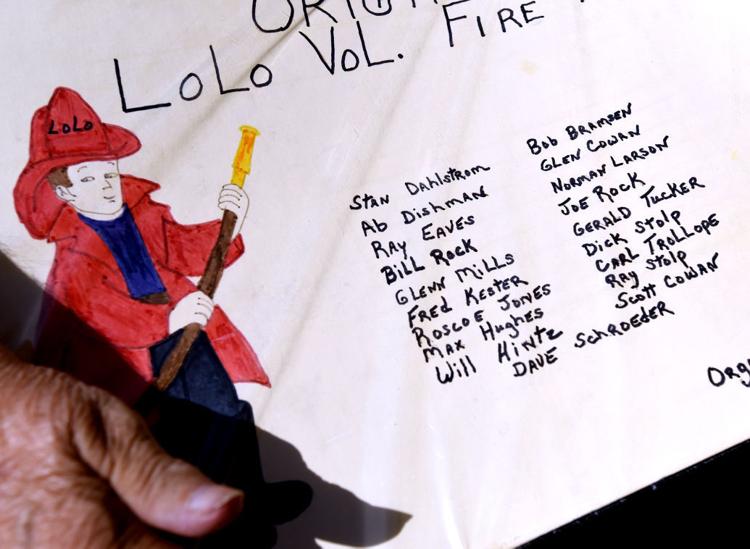 The first one, she said, was built after a pickup parked in her grandfather Fred Kester's barn south of Lolo Creek "blew up and blew him out of the truck."
"How this ornery old guy made it out OK I don't know. But it was his barn burning and also a house burning that would have sat kitty-corner from the fire station that got all the people in Lolo together to start a volunteer fire department," Hanson said.
Kester, Hanson said, was among the 19 original volunteers. Ray and Dick Stolp were two others, and Hanson believes it was the Stolps who furnished the logs for the station in 1959.
It was built on the rise across from the junction of U.S. Highway 12, only to be moved to its current location on West Lewis and Clark Drive a few years later when Don Tripp built his truck stop on the site. It's now occupied by a Town Pump store. 
Lolo Volunteer Fire petitioned to become part of the Missoula Rural Fire District in 1973, and it's official name is Fire-Rescue Station No. 5. In 1985 the log station was replaced by a modern fire house on the west side of Highway 93, some three-tenths of a mile to the south.
Colwell hasn't been able to pinpoint the date, but at some time after the new fire station opened, the old one came into possession of Missoula's cable television provider at the time. Subsequent cable franchises – TCI Cablevision, AT&T, Bresnan and Optimum West – used the building for storage until Charter Communications moved into Montana in 2013.
Meanwhile, Cheryl Hanson was digging into her bucket list. It took some sleuthing to determine ownership of the nondescript building that represented so much firefighting history to her hometown.
Charter had discontinued use of the building, and was agreeable to dealing when approached by Colwell and the MRFD board. The property was part of a block that had a lien against it.
"It was quite a hassle to get this piece freed so they could do what they wanted to do with it," Colwell said. "I kind of thought we'd lost the opportunity, but then the lien was cleared and it came together real well."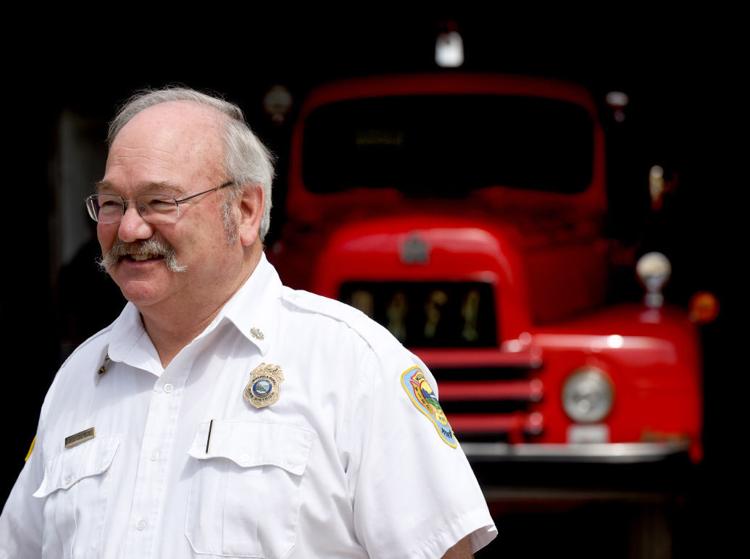 The classic red fire engine that occupies the bigger part of the old station has a history of its own. It was one of the first purchased by Missoula Rural when it was established in 1961. District firefighters reclaimed the truck in 2008 from the West End Volunteer Fire Department in DeBorgia, where it sat hidden and forgotten under layers of rust and pine needles.
The district turned to the Montana State Prison for a restoration it could afford. Memorial grants helped fund a rehabilitation effort led by inmate Brian Dean Adolf. It was completed last summer, in time for the engine to appear in Patriots Day and University of Montana homecoming parades in September, and was stored at the Florence fire station over the winter.
Last Saturday the engine was part of a long procession of fire vehicles across Missoula during a celebration of the life of fallen firefighter John Fidler, after which it was backed into its new home in Lolo.
Getting the old fire house ready for more relics is the next step. Fundraising is already underway by the Missoula Rural Volunteer Fire Fighters Association and the International Association of Fire Fighters Local 2457, as well as the fire board. None of the district's tax funds can be used. 
Colwell said the fire truck project and consideration for the historic Lolo station project are made possible by memorial donations from the families of the late Richard Bertlin, John Jirsa and Albert Dufresne. 
The historic station won't be manned, but it'll be opened to the public on special occasions.
Money is needed for such short-term projects as asbestos removal from the chinking, an electrical inspection, window replacements and repair of the overhead door, Colwell said. Long-term projects include replacing the big door, building a new side entrance, getting the overhead heater up and running before winter and perhaps refinishing the logs.
Hanson's grandchildren – Austin, Alexis and Layne Miller, who range in age from 11 to 8 – stitched together a four-quilt throw blanket emblazoned with firefighting themes to be raffled off. That's raised about $140 so far.
"It was supposed to be mine," Hanson said with a laugh. "You've heard about kids wrapping people around their fingers? I'm super-glued."
Sometime soon Missoula Rural Fire and Lolo will have itself a fitting tribute to their respective histories.
"We're happy to play a role in this," said Brian Anderson, Charter's director of regional communications. "But really we're just happy to see the property going back to the firefighters and giving them a place to preserve a piece of their history."