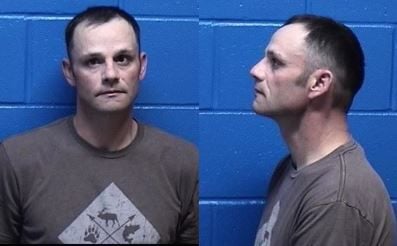 A man made his initial appearance on Friday afternoon after being arrested for allegedly sending sexually suggestive messages to a 12-year-old girl's social media account.
Matthew H.D. Fehr, 44, appeared in Missoula County Justice Court on two charges of sexual abuse of a child. Bail was set at $25,000.
On April 27, law enforcement agents set up a fictitious profile of a 12-year-old girl, "Jane Doe," on several social media services, according to charging documents. The account used a profile photo of a young girl who looked to be about 12 or 13.
Via Instagram, the fake account received direct messages from an account with the username of "goldpanner7676," who later identified himself as "Matt" to Jane Doe. Matt was later identified as Fehr.
From April 27 to April 29, Fehr continued to correspond with the fake account via Instagram, according to court documents.
Within the initial messages between Fehr and Doe, Doe made her age clear and the two kept messaging, according to charging documents. During those conversations, Fehr asked Doe to meet him for dinner and invited her to his hotel room to watch Netflix.
Fehr sent several photos of himself to the girl throughout these messages, court documents said. Law enforcement was able to determine that Fehr was staying at a Missoula hotel located at 1021 East Broadway St.
Throughout their exchanges, Fehr encouraged Doe to meet him in person and said she should sneak out of her house and away from her parents to do so. Court documents say Fehr then sent more sexually suggestive messages.
On April 29, Fehr and Doe made plans to meet in the evening at a fire pit near the hotel. Law enforcement agents watched Fehr approach the fire pit at the scheduled meeting time and arrested him, according to court documents.
Fehr admitted to officials that he was trying to meet up with a 12 or 13-year-old at the hotel, court documents said. Fehr told law enforcement he lives in Helena but had been in Missoula for work since April 26.
He denied that he was trying to bring Doe back to his hotel room and that his conversation with her was "sexual," but acknowledged that he made "sexual comments," court documents said. He was arrested.
Prosecuting attorney Carrie Garber said that a significant bond was warranted given the seriousness of the offense.
"The facts of this case are quite chilling," Garber said during Fehr's initial appearance. "He presents a huge danger to the community. This sort of conduct allows individuals like the defendant to prey on a vulnerable population of girls who are young."
Garber requested bail be set at $100,000 and Fehr have no contact with any minors except his son and no use of or access to social media or dating websites.
Defense Attorney Sarah Lockwood noted Fehr's lack of criminal history. She requested he be released on his own recognizance and that bond be set at $20,000 or less. She emphasized his lack of criminal history and said Fehr did not realize he was messaging with a 12-year-old.
Garber said there was significant evidence that he did know he was talking with a minor, and the agents behind the fake account had made Doe's age very clear.
Fehr was released from the Missoula County Detention Facility on Friday evening. His next scheduled court appearance is for May 10 in Missoula County District Court.