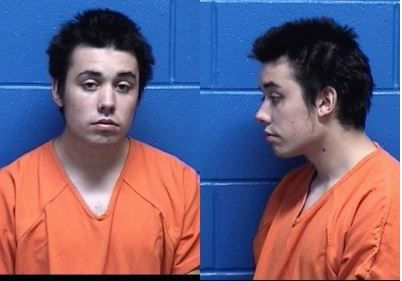 Bail was set at $500,000 for a Missoula man arrested on suspicion of firing shots downtown early Wednesday morning and injuring one person.
Grason S. Lamb, 23, made his initial appearance in Missoula Justice Court Thursday afternoon. He has been charged with one count of attempted deliberate homicide and three counts of criminal endangerment, all felonies.
Several Missoula police officers patrolling downtown heard gunfire about 2 a.m. Wednesday, according to charging documents. Another unit advised them a victim had been injured.
Responding officers observed a group of people running northbound on Ryman Street. They said their friend had been shot and that the suspect was east from where they were, just north of the parking garage near the Bodega Bar and Badlander.
An officer saw a man had a bullet wound on the back of his upper left thigh, and blood was on his shorts.
The group pointed in the direction of the man they believed to be the suspect in front of the Badlander, where officers saw a man in a plaid shirt walking north and a second man in all black with a backpack walking toward the man in the plaid.
Officers saw the man in black reaching in his pocket as he "refused commands to stop," prompting them to run at the man and take him to the ground, court documents said. He was identified as Lamb.
The butt of a handgun stuck out of Lamb's pocket. It was removed and secured.
The victim was transported to Providence St. Patrick Hospital, where he spoke with officers. He informed them he is a firefighter who had just gotten off fighting a fire and was at the bars in downtown Missoula with friends.
As they were leaving the Bodega Bar, the victim and his friends noticed someone yelling and saw a man pull a gun from his pants, fire it once toward the ground and then start shooting in the direction of the group of people, court documents said. The group did not know who Lamb was and had no prior interactions with him. They corroborated that the shooter was wearing black clothing and had a backpack.
Officers located spent shell casings in the alley across from where the shooting is reported to have happened. They also found a bullet impact location on the exterior wall of the Bodega Bar, along with a bullet appearing to have blood and human tissue on it.
When interviewed by detectives, Lamb stated he had "gone shooting earlier in the day" and did not consent to have his hands swabbed for gunshot residue. He then told detectives that about two weeks prior, he had been assaulted by a Bodega bouncer (the owner of the bar confirmed Lamb and a bouncer had been in an altercation several weeks earlier). In the conversation, Lamb continually referenced his dislike for the Bodega and the bouncer he had allegedly been in a fight with.
Lamb said he had been drinking the night of the shooting at multiple bars, but couldn't remember anything about 25 to 30 minutes before he was arrested.
Surveillance footage from several businesses obtained by law enforcement show Lamb walking past an entrance to the parking garage, drawing his gun and shooting it in the direction of the Bodega Bar. As Lamb shoots, the man in plaid is seen on video looking shocked at what happened.
Missoula County Chief Criminal Deputy Attorney Matt Jennings represented the state at Thursday's hearing.
Jennings asked that bail be set at $500,000, saying the only thing separating this incident from a national-level mass shooting was Lamb missing his targets.
The public defender's office requested a $50,000 bond, saying an extended period of time in jail would harm the business Lamb runs. He also noted Lamb's minimal criminal history.
"This is not me. I don't have a desire to hurt anyone," Lamb said when asked if he wanted to address the court. He said what happened was a misunderstanding.
Lamb's arraignment was set for 9 a.m. Sept. 20.