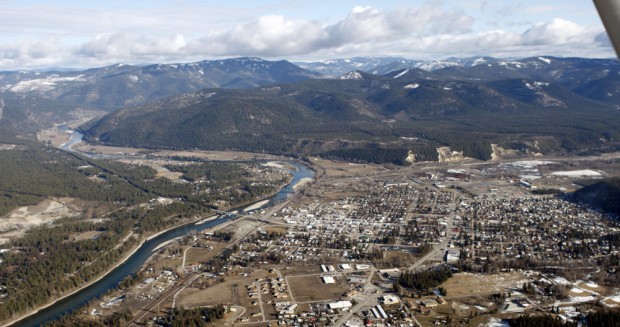 LIBBY – The last time U.S. Sen. Max Baucus visited the Center for Asbestos Related Disease clinic in Libby, the organization was housed in a trailer home and served only a fraction of its current patients.
"It's so much better to come in here now as a patient," said 92-year-old Leota Brooks, a board member and patient at the CARD clinic whose entire family has either died from or been diagnosed with asbestos-related disease.
On Wednesday, Baucus, D-Mont., met with Brooks and other board members and CARD providers in Libby to hear their assessment of the state of the program, which was revamped with the help of federal appropriations secured by Baucus and a provision he inserted into the Obama administration's health care reform bill, the Affordable Care Act, which he helped author.
Because of the provision, victims of asbestos-related disease in Libby are now eligible for a range of federal health care benefits, including services not normally covered by Medicare. The provision provides funding for screenings as well as Medicare coverage for all Libby residents with asbestos-related disease.
"Patients receive the same benefits they would if they turned 65," said Tanis Hernandez, administrative director at CARD.
Under a special Medicare pilot program, the government also pays for services not included under Medicare, such as home care, medical equipment, counseling, help with travel, and medications not covered by Medicare prescription plans.
"Providing Libby victims with the consistent, reliable health care they are entitled to under the law is the least we can do to help right this outrageous wrong," Baucus said.
CARD, a community-based nonprofit organization, was established in 2000 to provide asbestos screening and health care to patients sickened through asbestos exposure. More than 400 Libby residents have died of asbestos-related disease in the past several decades and thousands more are sickened from breathing asbestos fibers, which for decades were released into the air by a vermiculite mine operated by W.R. Grace and Co.
In 2009, U.S. Environmental Protection Agency Administrator Lisa Jackson issued a public health emergency finding at the Libby Superfund site, which is considered one of the nation's deadliest Superfund cleanup projects. Victims of public health emergencies are entitled to ongoing health care by law.
Since the extent of asbestos-related disease came to light in late 1999, the CARD clinic has acquired a caseload of more than 2,800 patients and continues to grow.
The extension of services to patients diagnosed with asbestos-related disease include full Medicare benefits, specialized care through the Medicare Pilot Program for Asbestos Related Disease, and ongoing asbestos screening.
During the first year that funding became available for screenings, 783 patients have been screened, and 74 percent of them have been under the age of 65. Of the new patients screened, 46 percent – or 363 patients – were diagnosed with asbestos-related disease, said Tanis Hernandez, administrative director at CARD.
The screenings and Medicare coverage are critical services for the affected population, Hernandez said. But many hurdles in affordable care remain.
For example, 25 percent of the new patients are ineligible for the Medicare Pilot Program because they live outside Lincoln or Flathead County. The pilot program includes benefits not covered under Medicare, like daily living assistance and medical costs.
Another problem that has not been addressed are co-pays on medications, Hernandez said. Currently, the co-pay for an Advair Inhaler, something most patients with asbestos-related disease use, is $40 a month.
"We've still got more work to do, but it's nice to be worrying about those kinds of details rather than about how we are going to keep our doors open," Hernandez said.
In March 2010, the CARD clinic broke ground on a renovation project that allowed the organization to expand, due to Baucus' efforts to secure a $6 million grant for the Lincoln County Health Department and a consortium of at least three health care entities.
"We literally doubled our size," said Michael Giesey, president of the CARD board.
While Baucus commended the staff on its work to grow the clinic, he acknowledged that the work was not done.
"There are obviously issues that we're really going to have to work on," Baucus said, adding that he would see about expanding the Medicare pilot program to patients living outside Lincoln and Flathead counties whose exposure to asbestos occurred in Libby.