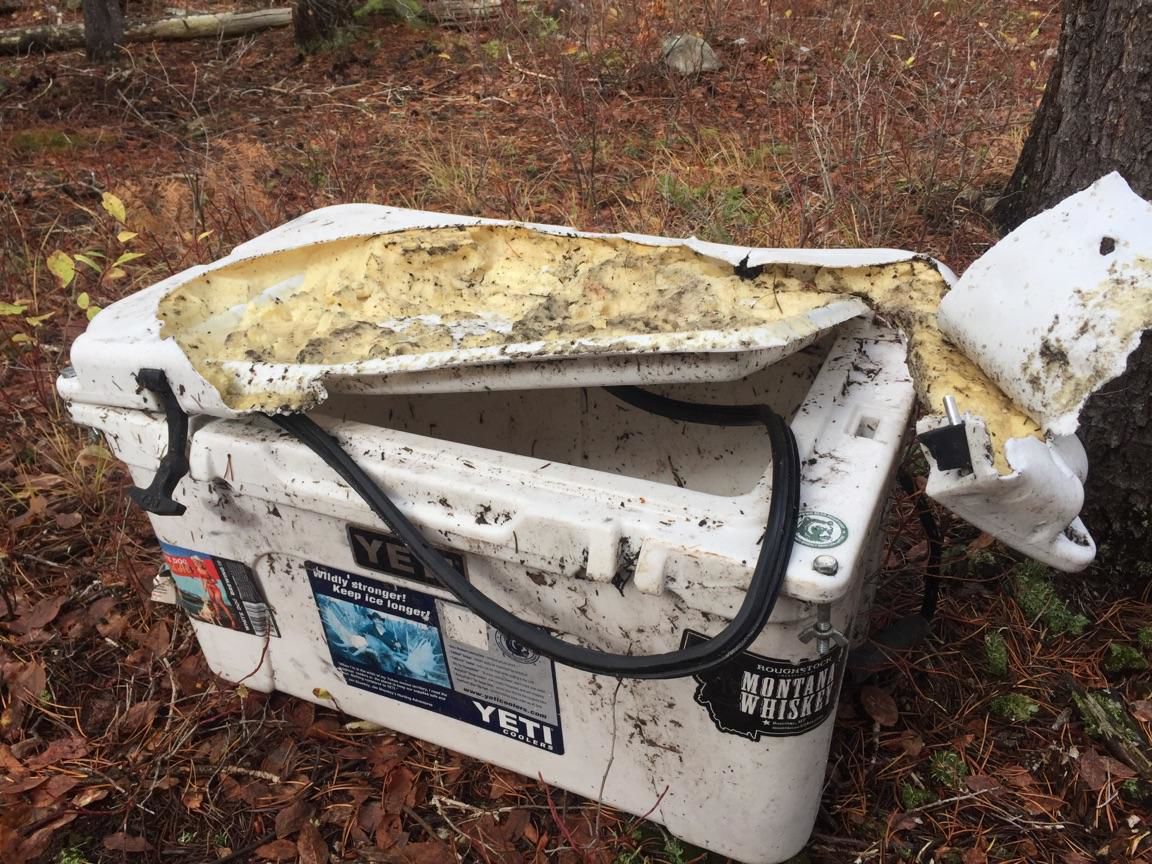 Keeping human food away from grizzly bears remains a top topic for the Interagency Grizzly Bear Committee, but the effort hasn't crossed into the controversy over baiting black bears in grizzly country.
That provoked criticism at Tuesday's summer meeting of the committee in Missoula. Photographs of a grizzly bear inspecting a bait site in Idaho's side of the Bitterroot Ecosystem recovery area and a recently filed federal lawsuit challenging the allowance of bait-hunting have grizzly protection advocates asking why state wildlife agencies are able to allow the practice.
"It's a huge threat in terms of grizzly recovery in occupied habitat and places where bears are expanding," said Bonnie Rice of the Sierra Club's Montana chapter. "It's a threat to the IGBC's goal of encouraging natural connectivity through immigration."
Forest Service regional carnivore program manager Scott Jackson acknowledged the state hunting rule was in direct conflict with long-standing policies requiring backcountry travelers to store food so bears can't get it. Part of the problem, he said, was both Idaho and Wyoming had banned use of bait in the past for regions close to grizzly recovery areas. But in subsequent years, growing bear populations have spilled into new territory, including places where baiting was still allowed. That includes the formerly grizzly-free Bitterroot Ecosystem, where the last known resident grizzly was killed in 1932.
Jackson briefly recounted 35 years of struggle straightening out food storage orders before the IGBC. In the Greater Yellowstone Ecosystem alone, five national forests, two national parks, and one of three state wildlife agencies have separate guidelines, some of which conflict. Montana's Department of Fish, Wildlife and Parks has food storage orders, but the counterparts in Idaho and Wyoming do not.
On June 5, a coalition of environmental groups sued the U.S. Fish and Wildlife Service and Forest Service, questioning why the federal agencies haven't enforced food management policies on the Idaho and Wyoming state wildlife agencies that allow baiting. As noted in the lawsuit, the bait often comprises of "breads, doughnuts, or dog food mixed with syrup," and the hunters often "pour grease on the ground around the bait site, so black bears will step in the grease and leave scent trails for other black bears to cross and follow to the bait site."
The baiting issue aside, Jackson said he also has to work up a plan for standardizing all the rules governing non-hunting food storage in the backcountry. While he has been trying to get all the many national forests to settle on a single direction, that doesn't include the National Park Service, Bureau of Land Management, or state wildlife agencies that also oversee both backcountry users and grizzly bears. The IGBC members directed Jackson to come up with a proposed working group that can address that larger mix of participants.