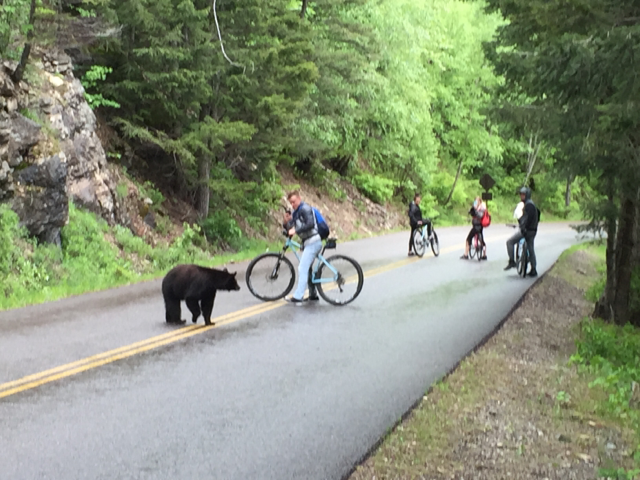 One thing everyone agrees on in Flathead County's grizzly bear habitat: We don't know how to measure risk.
Three years after a bicyclist died in a high-speed collision with a grizzly bear on a forest trail near Coram, the debate over good and bad activity in the Flathead National Forest has reignited.
Flathead Forest Supervisor Chip Weber called out critics of two proposed backcountry races as supporting "a narrowly focused, discriminatory and exclusionary agenda lacking in intellectual and philosophical integrity." The most prominent of those critics, Swan View Coalition Director Keith Hammer, countered that Weber was "running absolutely counter to his own staff and their recommendation that people not run on trails, and they not bike fast in bear habitat."
They both referred to the June 29, 2016, death of Brad Treat, a Flathead Forest law enforcement officer. At Tuesday's Interagency Grizzly Bear Committee meeting, Weber also read a statement by Treat's widow, Somer Treat. She wrote she still ran the trail where her husband died every day as part of how she chose to live her life: "I have especially fought against any association or focus with an agenda, clear or subtle, that would attempt to limit recreation or grizzly bears on public land."
Weber asked the assembled public land and wildlife managers to lead a discussion of risk and recreation. While grizzly bears got the conversation started, Weber said the problem reached much further.
"When you're picking and choosing activities, you ultimately alienate people from conservation issues," Weber said after the meeting. "This is way wider than grizzly bears. It's about how we sustainably exist with wildlife."
Jake Kreilick of the WildWest Institute agreed, but said federal land managers had a credibility problem balancing human activity and wildlife needs.
"It would be nice if the Forest Service adopted recreation policies to limit and govern mountain bikers who recreate in national forests," Kreilick said at the IGBC meeting. "The agency is way behind the eight-ball on this as mountain biking has multiplied throughout the forest system.
"It hasn't looked at the impact on roadless areas and specific wildlife species like grizzlies that rely on roadless areas," he said. "We're not opposed to mountain biking on roaded landscape. We're not for closing trails. We're all for having a deeper conversation about this, Chip. It's way past due."
The present controversy centers on two proposed race events in Flathead County and a mountain-bike shuttle service. Whitefish Legacy Partners wants to stage a 50-kilometer (31-mile) ultramarathon from downtown Whitefish to the top of Whitefish Mountain Ski Resort in October. The Foys Lake to Blacktail Marathon would run between Blacktail Mountain Ski Area and Herron Park southwest of Kalispell in September. The Whitefish Shuttle company seeks to offer guided biking and hiking trips in the Tally Lake Ranger District.
Calculating the relative risks of those activities is an inexact science. And as Weber put it, driving to the trailhead in a car is probably more dangerous than anything, to both humans or bears.
On the other hand, the Forest Service routinely limits human activity on public land for a variety of reasons, many of which have nothing to do with risk or safety. The agency balances the economic value of timber harvest with the ecological impact on wildlife habitat, and restricts how many hunting outfitters or raft companies can guide clients into sensitive areas.
"Weber has set up a straw man here, as though this debate is about ending mountain biking or trail running on public lands," Hammer said. "What it's about is educating the public to act responsibly if they choose to engage in those activities. It's not about letting the public do these activities if that's what their choice is. It's about sending the wrong message through special-use permits for risky behavior and the government endorses it."
The Flathead National Forest has jurisdiction over a major portion of the Northern Continental Divide Ecosystem, the largest and most populated grizzly bear recovery area in the Lower 48 states. The grizzly has been a threatened species protected by the Endangered Species Act since 1975, when just a few hundred were estimated to inhabit the Rocky Mountains between Glacier National Park and the Bob Marshall Wilderness Complex. Today that population is estimated at around 1,000 grizzlies.
Retired U.S. Fish and Wildlife grizzly recovery coordinator Chris Servheen, who led the board of review into Treat's death, also opposed granting special use permits for trail running events, and called for extensive public education on the risk of bear encounters for the shuttle service.
In a letter to the Flathead Forest on the races, Servheen wrote that high-speed recreation like trail running and mountain biking presented special risks to both the people and bears. The Treat recommendations cited Canadian studies that showed "hikers were far more numerous than mountain bikers on the trail, but that the number of encounters between bikers and bears was disproportionately high."
"I recognize that agencies cannot tell the public they cannot run in bear habitat or tell the public they cannot mountain bike … at high speeds in bear habitat, but agencies can refuse to permit and thereby endorse such running and high-speed biking when doing so will contradict years of agency educational efforts to help the public recreate safely in bear habitat," Servheen wrote.
Weber said he respects Servheen's credentials, but disagrees with his advice.
"(Servheen's) focus is grizzly bear recovery and solely grizzly bear recovery," Weber said. "Mine is serving the American public and the needs they want in the context of many wildlife species and an overall conservation mission that's very, very broad."
Individual sporting events like the Whitefish ultramarathon have such minimal impact on grizzly bears, they fall under a categorical exclusion for further environmental review, Weber said. At the same time, those events endear people to their public lands when the numbers of people who want to use them grow year after year.
"There's a broad public out there with needs to be served and not just the needs of the few," Weber said. "We think that greater good for the greatest number will be served. That fosters connectivity with wildlands and a united group of people that can support conservation. And the best conservation for bears is served by figuring out how to have these human activities in ways that are as safe as they can be, understanding you can never make anything perfectly safe."
Hammer rejects the idea that an ultramarathon in bear habitat furthers the purposes of conservation.
"It increases risk that results in bad public attitudes toward bears and increases risk of injury or death to people and bears," Hammer said. "That's not conservation. People are free to ignore the advice, but they shouldn't be getting a special-use permit from the Forest Service that allows them to make money running 200 or 300 people through bear habitat, and using that commercial promotion to imply that's safe and appropriate activity in bear habitat when the experts, including the supervisor's own staff, have said this is not responsible behavior."
For its part, the Interagency Grizzly Bear Committee did not directly answer Weber's request for a forum on risk and recreation. Its executive committee members held a private retreat last week in Seeley Lake where they discussed the future of grizzly management as the bears approach the point where federal protections might be lifted. Committee spokeswoman Ellen Davis said recreation was a major part of the discussions.