The cost of battling the 429-acre Beeskove fire northeast of Missoula has climbed to $4.1 million, and a Type 2 Incident Command Team has taken over management of the blaze.
Fire managers say the cool and wet weather this weekend, including forecasts of severe thunder, hail and windstorms, will not be a season-ending event as heat and sunshine return next week.
"There's still a lot of fire season still left," said fire information officer Drew Ziegler. "Between August and September, we've got a lot of time to dry out."
The fire is burning in a mosaic pattern in steep, unpopulated terrain about five miles northeast of the Rattlesnake trailhead. Firefighters have been making good progress along the south and east flanks while holding the west portion, and heavy equipment is being used to improve breaks in burnable natural fuels in the Gold Creek area.
About 368 people are working on the fire, and a large Incident Command Center has been built on private ranchland in Butler Creek.
Meanwhile, the National Weather Service office in Missoula issued a potential warning for severe thunderstorms Saturday afternoon and evening.
Meteorologists with the Service say with high confidence that heavy rain, with potential flash flooding in urban and burn scar areas, is likely, as are gusty winds up to 40 miles per hour and frequent lightning.
"Widespread showers and thunderstorms are forecast to move from the south to the north over west-central and southwest Montana Saturday afternoon between 2 p.m. and 9 p.m.," the Service wrote in a press release. "Some of these thunderstorms have the potential to become severe, creating wind gusts exceeding 50 mph as well as dropping one-inch size hail or greater. Tree and power line damage will be possible with these wind speeds."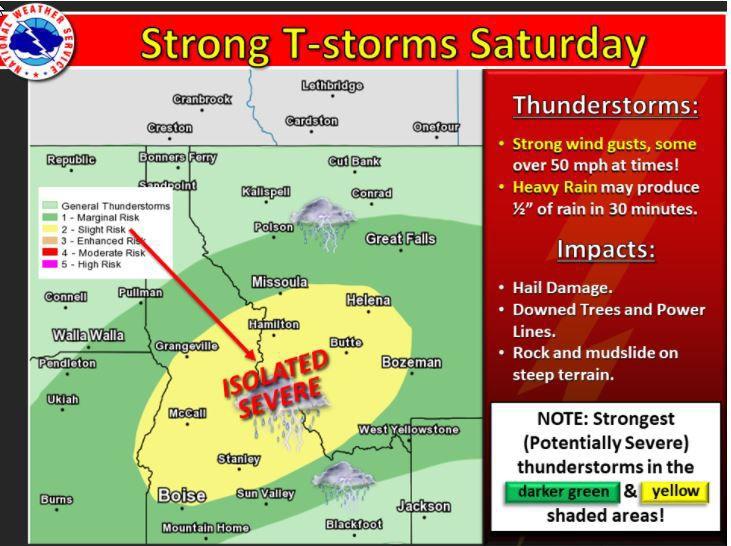 Very heavy rain will accompany even the weaker thunderstorms, producing localized flooding in urban and burn scar areas, and frequent lightning will also occur with these storms.
Ziegler said the rain is a concern for firefighter safety because it decreases visibility and makes roads slick. On July 30, a firefighter sustained a lower leg injury while working on the Beeskove fire and had to be airlifted out. The firefighter was treated and released, according to a Lolo National Forest spokesperson. Ziegler also said the rain will help calm the fire a little bit, but only temporarily.
You have free articles remaining.
"We do expect moisture to greatly impact (the Beeskove fire) as far as fire activity," he said. "But beginning next week, we start that warming, drying trend so it's kind of that boom and bust cycle."
He said areas of the fire could be sheltered from rain by trees, so they'll hold heat better and be parched and susceptible to burning as things dry out.
"Normally I think for this area generally, there's only a season-ending event around the second or third week of September, and that's only 25% of the time," he said.
The fire was started by lightning on July 23. No structures are threatened, but a structure assessment crew is documenting the defensibility of homes and other structures in the Cambridge and Marshall Mountain areas.
Public information officer Cass Cairns said that in the fire area, there's a lot of loose rock fields so much of the area inside the fire perimeter hasn't actually burned or has burned at different intensities, which is called a mosaic burn pattern.
"The fire's not all together. It's spotty," she said. "That is typical in every single fire."
She also said that the fire has reached a complexity level that required the Type 2 Incident Command Team. If it were to start threatening structures or forcing evacuations, it would require a Type 1 Incident Command Team.
Several helicopters stationed at the Incident Command Center have been involved in initial attacks on new fire starts in the area lately.
On Friday, firefighters on the Missoula Ranger District reached 100% containment of the 17-acre Wagon Mountain fire about two miles northeast of the Lolo Pass Visitor Center. Sanders County officials say they were using aircraft to attack a small fair near the town of Plains on Friday as well.