U.S. Sen. Bernie Sanders has announced that he will be campaigning across Montana in May to support the campaign for Congress of Democrat Rob Quist, a folk musician from the Flathead Valley.
"Rob Quist is the only person in this race who understands that we need a government in Washington that works for all Montanans and all Americans and not just the special interests and the billionaire class," Sanders, an Independent from Vermont, said in a press release.
"Congress right now is dominated by politicians who worry about the needs of their wealthy campaign contributors. We need members of Congress like Rob who will work to rebuild the shrinking middle class, who will fight all attempts to cut Social Security, Medicare and Medicaid and will oppose tax breaks for the very rich. Rob is a populist, grassroots candidate fighting for the working families of Montana. I look forward to campaigning with him in May and working with him in Congress."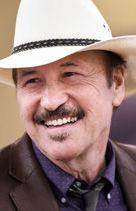 No specific dates or locations for Sanders' appearances have been set.
Quist, who gained fame during his days as a musician in the popular Mission Mountain Wood Band, is a political newcomer. He is a Democrat challenging Republican Greg Gianforte to take Montana's lone seat in the U.S. House of Representatives.
You have free articles remaining.
Mark Wicks, a Libertarian candidate, will also be on the ballot on May 25. The seat has been unoccupied since Ryan Zinke was tapped by Trump to become Secretary of the Department of the Interior.
"I'm excited that Bernie Sanders recognizes that our grassroots campaign is building momentum and has the best chance in decades to take back Montana's U.S. House seat for the rest of us," Quist said. "In the U.S. House, I'll be a voice to protect our public lands, fight for working families, work for better health care, and stand up to Wall Street and special interests."
Sanders made a stop in Missoula last spring during his campaign to be the Democratic nominee for president, which he ultimately lost to Hillary Clinton. Sanders did win the Democratic nomination in Montana, however.
A huge crowd turned out for Sanders' speech on a sunny day in May in Caras Park last year to hear Sanders, who built his campaign around issues such as raising the minimum wage and fighting climate change. Sanders has been a vocal opponent of President Donald Trump's agenda.
Sanders' appearances in Montana on behalf of Quist will not be part of the "Come Together and Fight Back Tour," which the Democratic National Committee announced last week. That tour listed Montana as one of the destinations.
The fight back tour will pair Sanders with newly-elected DNC Chairman Tom Perez.