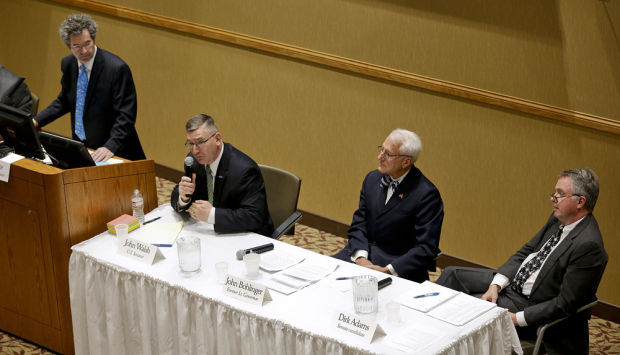 GREAT FALLS – In perhaps the only pre-primary election debate among Montana's three Democratic U.S. Senate candidates, Dirk Adams and John Bohlinger took aim Saturday at Sen. John Walsh, saying he's tainted by "big money" he's accepting from industry-related donors.
"Do not vote for people who take big money," Adams said. "If you don't vote for them, they won't win. … Don't vote for (Republican) Steve Daines. Don't vote for John Walsh. … It's in your hands to signal with your vote that you do not want big money in your campaigns."
Walsh, however – appointed to his post just three months ago – mostly ignored the challenges from his Democratic primary rivals and instead focused his attacks on Daines, the likely Republican nominee in the race.
"Steve Daines … wants to cut government and he wants to do it on the backs of our most vulnerable citizens," Walsh said, when asked what differentiates the Democratic candidates from Republicans. "I'm going to look out for our most vulnerable citizens."
Walsh, Bohlinger and Adams squared off Saturday at the Cameron Auditorium at the Benefis Health System campus in Great Falls.
No other debate is scheduled among the three Democratic candidates for Montana's U.S. Senate seat, which, until February, had been held for 35 years by Democratic Sen. Max Baucus.
Baucus stepped down after being named U.S. ambassador to China and Montana Gov. Steve Bullock, a Democrat, appointed Walsh to fill out the rest of Baucus' term this year.
Walsh, who was lieutenant governor under Bullock, already had declared himself a candidate for the Senate seat, after Baucus announced last spring that he would not run for re-election in 2014.
Adams, a Wilsall rancher and political newcomer, and Bohlinger, Montana's lieutenant governor under Democratic Gov. Brian Schweitzer, are challenging Walsh for the Democratic nomination for the Senate seat.
Daines, Montana's U.S. representative, faces two primary challengers as well for the Republican nomination, but is a heavy favorite to advance to the fall election.
Primary election voters will decide the nominees in the June 3 election.
Walsh, supported by Democratic Party leaders in Montana and Washington, D.C., had raised $1.5 million in campaign contributions through March 31. Bohlinger and Adams have raised much less and are mostly self-funding their campaigns.
Bohlinger and Adams have made the issue of excessive campaign money central to each of their campaigns.
Bohlinger said the first thing he'd do as U.S. senator would be to sponsor a constitutional amendment declaring that First Amendment rights of free speech do not extend to corporations, undercutting a 2010 U.S. Supreme Court decision that allowed unlimited spending by corporations on campaigns.
"Who's in charge of our democracy?" he asked. "Is it the Washington, D.C., power-brokers and the PAC money and the influence it buys? The ones who are financing John Walsh and Steve Daines? Or is it you, the people of Montana, the people who live and vote here?"
Adams said Walsh has taken money from many of the same sources giving to Daines, including people tied to Wal-Mart, Exxon, pay-day lenders and tobacco firms.
"You need to understand the same people who give money to Steve Daines give money to John Walsh, and John Walsh takes it," Adams said.
Walsh said he "strongly disagrees" with Adams' statements about donations and that Adams has said he supports the 2010 Supreme Court decision. But he saved his sharpest barbs for Daines.
Walsh said he supports overturning the Supreme Court decision, known as Citizens United, while Daines does not – and noted that Montanans voted for a 2012 initiative directing the Montana congressional delegation to work to overturn it.
"So I ask you, why doesn't Steve Daines listen to the citizens on Montana?" Walsh asked.
The three Democratic candidates also sparred over the environment and health care.
Adams said he's the environmentalist in the race, for he opposes construction of the Keystone XL oil pipeline through Montana, believes "coal is dead," and calls climate change "the most important issue facing our civilization."
He also warned that the Berkeley Pit in Butte is 12 years from overflowing with toxic water, and that no solution is in sight.
Bohlinger and Walsh said they believe in combatting climate change, but support the Keystone Pipeline, and don't believe it's feasible to quickly abandon fossil fuels.
Walsh said he thinks coal development is "very important for jobs," and that he doesn't want to send any more young men and women to the Middle East to fight over oil resources, which should be developed in America.
Adams and Bohlinger said they're supportive of the Affordable Care Act – the health-reform law known as "Obamacare" – but that it's only a first step, and that America should move toward a single-payer health system that provides equal coverage to all.
Walsh had little positive to say about the ACA, and said he supports efforts that would reduce the cost of health care, such as empowering the government and others to negotiate with the pharmaceutical industry over prescription-drug prices.
Walsh's comments brought a rebuke from Adams, who said some Democrats seem afraid of their own ideas, and "right now, in our interim senator, (we have) a guy who can't say he supports the Affordable Care Act. Why can't he say he supports the Affordable Care Act? Because of some consultant who said he can't."
Missoulian State Bureau reporter Mike Dennison can be reached at 1-800-525-4920 or by email at mike.dennison@lee.net.