BEIJING — While rural Americans struggle to keep their cell service, Chinese consumers have evolved from a cash-only economy to managing their whole lives through a smartphone.
In less than five years, Chinese families famous for saving 40 percent of their annual income under the mattress at home have embraced the Big Data lifestyle in ways that leave arguably more mature digital marketplaces such as Hong Kong gasping like Wile E. Coyote in the Roadrunner's dust.
In 2016, Chinese mobile-pay customers spent 70 times more than their U.S. counterparts — more than $8.5 trillion according to Boston Consulting Group.
The rest of the First World spent decades moving from personal checks to credit cards to online banking and stored-value cards. China's 1.4 billion citizens leap-frogged from paper banknotes to touchscreens in less time than Apple went from iPhone 5 to iPhone 8.
Here's what it looks like for the 731 million Chinese cellphone users:
You wake up in the morning to a list of headlines on your smartphone tailored to your interests by Toutiao, a Chinese news aggregator app. To get to work, you rent a Mobike bicycle for a few kuai (less than a dollar) by releasing the GPS-enabled lock with your phone on any of millions of bikes strategically parked all over the city. If you're feeling lucky, you can scan the phone app for a bike someone's probably left near your door rather than walk a few blocks to a rack.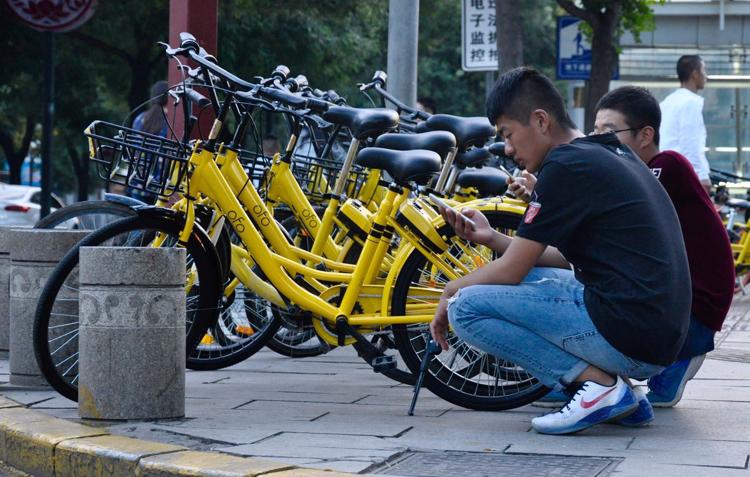 On the way into work, you pick up a cup of coffee with a swipe of the phone at a Starbucks counter. Don't get annoyed at the tourist ahead of you who's trying to pay with cash that the clerk must check with a counterfeit scanning machine next to the cash register. Everybody else is using something like the phone app Alipay, an e-wallet service of China tech giant Alibaba.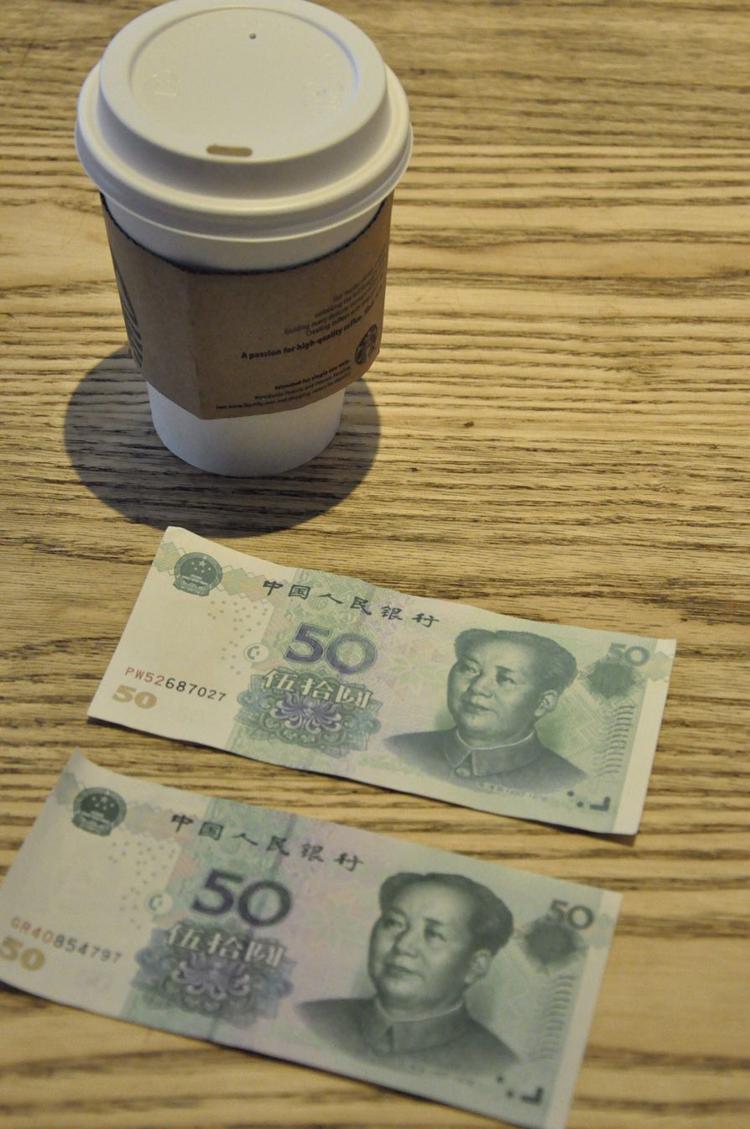 Join a group of friends for lunch. When the bill comes, you pay it by photographing the restaurant's QR code, those pixilated squares now replacing bar codes everywhere. Then tell your phone to move the correct amount from your online debit account to the restaurant's. Your friends create an online group into which they deposit their shares of the meal, which gets transferred to your account so you're paid back. If you liked the service, the waiter has a QR code badge on his lapel. Photograph it and send him a tip.
Outside, a beggar on the street hopes for a digital handout. He's got a QR code alongside his cardboard plea for charity.
Grab some groceries on the way home. The clerk totals up your cart at the traditional checkout line, then scans the QR code on your phone and deducts the bill from your account. The receipt logging all your purchases and the moment you bought them gets emailed to you.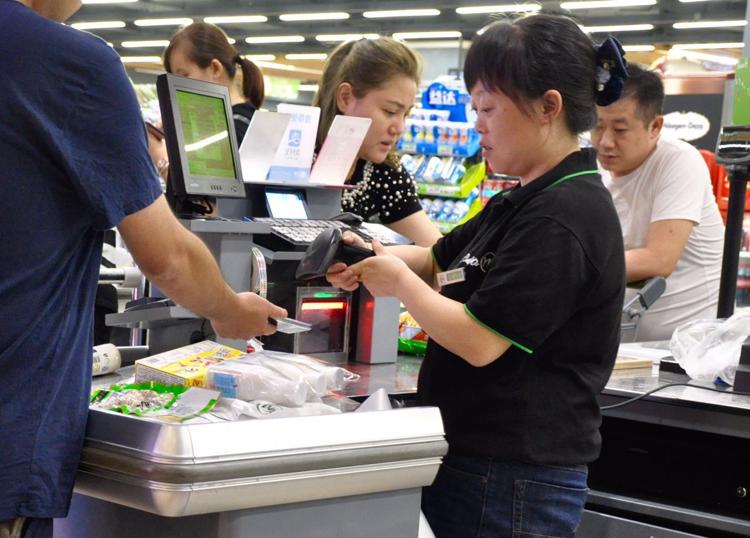 You have free articles remaining.
Got yuan left over? Move it into a money market account that initially paid 4 percent to 7 percent interest when it started four years ago. Within six months, Alibaba's Ant Financial had raised 600 billion RMB ($78 billion U.S.). At the end of its first year, it passed 1 trillion RMB ($130 billion), when the central government realized that institutional investors were getting in on the deal and added restrictions to cool the market. Nevertheless, by April 2017 it had $165 billion (U.S.) under management. That beat JPMorgan Chase to become the world's largest money market fund.
And this isn't just a metro phenomenon. Business research firm McKinsey and Co. reports that online shopper growth in China's smaller cities actually outstrips the larger ones, 61 percent to 43 percent.
Interested in dating one of your co-workers? You might use Alipay's Sesame app to compare credit scores to see if you're economically compatible. They're available on your phone. If you hit it off, use the same credit score to request an upgraded airplane seat and expedited visa processing for the trip you take together.
Brag about the date to your friends using the popular WeChat messaging app. Be aware that the app's terms of use collect your name, phone number, email address, credit card information, chat logs, physical location and contacts list — all of which it will make available to the government if asked. Those friends you lunched with, their credit scores, where they rented their bikes — all that goes into corporate databases searchable by the government.
Here the cultural divide widens between Chinese and American internet perceptions. In September, 367,737 Montanans had their credit history exposed after the Equifax hack, prompting congressional hearings on personal privacy. China's society has approached the digital world more like a family setting household rules for dinner table conversation and dating curfews.
Those rules have evolved at Roadrunner pace. On Sept. 24, the central government essentially shut down the messaging service WhatsApp within its borders. The New York Times recently reported on the new leash tightening around Toutiao's headline algorithms. 
According to David Bandurski, a China scholar at the Robert Bosch Academy in Berlin, government oversight has been magnifying in advance of the 19th Communist Party Congress on Oct. 19. In an article he wrote for The China Media Project on Sept. 16, he quoted a February 2016 speech from Chinese President Xi Jinping announcing "that 'all media must be surnamed Party,' that all media must 'love the Party, protect the Party and serve the Party.' "
Put more legalistically, China's internet regulations released in early September include a new Article 4, which states: "Providers of information services through internet chat groups on the internet, and users, must adhere to correct guidance, promoting socialist core values, fostering a positive and healthy online culture, and protecting a favorable online ecology."
But the perspective appears very different from the Chinese side, based on interviews with Chinese professionals in Beijing and Xi'an. Asked about the level of exposure their digital lives required, few objected.
The services and convenience provided through the smartphone were worth the permission they gave every time they used them. And the threat of identity theft, social media hijacking, or privacy violation wasn't something anyone in China raised as a personal concern.
Instead, they wondered about exposure of their lives to forces in the United States. After all, they depend on smartphones designed by U.S. technology companies, using operating systems written by U.S. software firms, and transmitted through root servers all located outside of China.
But those phones get built in China, right? Yes, the Chinese reply, but the Chinese manufacturing cost is about $5 per iPhone 7. Subtracting $225 in materials cost, U.S.-based Apple profits more than $400 per phone.