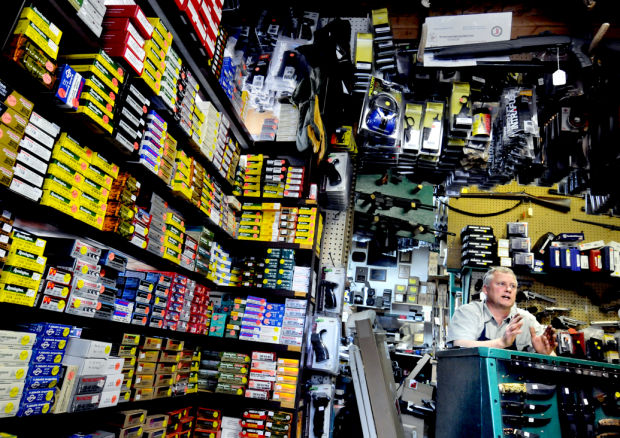 For the past several years, Chris Bonner has had a waiting list of 40 to 50 people who want to buy .22-caliber ammunition but can't find it anywhere.
Bonner, the owner of Accu-Arms in Missoula, has the same predicament as pretty much every ammunition retailer and manufacturer in western Montana – or most of the country, for that matter: He can't get enough of certain calibers on his shelves to keep up with the voracious demand.
"We just aren't seeing any availability of the stuff," Bonner said. "If you are not a contract buyer and get it from a distributor, which I do, you are not meeting any kind of demand. I'm not getting enough to keep a couple kids happy shooting ground squirrels."
Bonner said that ammunition distributors have sales representatives who each get an allocation of ammunition. They then decide which dealer is going to get the ammo.
"Luckily, I've been here 26 years, and I'm friends with my sales rep," Bonner explained. "If he ever leaves his company, I don't know where I would get it. All of last year, I was only able to get 100 bricks of .22 shells, which is nothing. And it was the same the year before. I ran out in January and haven't been able to keep it stocked since."
Bonner said he has been trying to figure out years why there isn't enough .22 ammunition.
"Getting to the bottom of where that supply has gone is not an easy task," he said.
There are three ammunition manufacturing companies in the Bitterroot Valley, and all have been racing furiously to produce enough of certain types of ammo to keep customers happy.
Michelle Turner, the operations manager at Armscor Cartridge Inc. in Stevensville, said her company recently ordered five new machines to increase production.
"For the most part, the .223 55-grain sells out pretty quickly, but the one thing we can't keep on the shelf is the rimfire ammo, the .22," she said. "Rimfire is in a worldwide shortage. It's the .22 long rifle ammo. You used to be able to walk into Walmart in Missoula a year ago and find a shelf full of it. Now, you have to be there first thing in the morning and they maybe sell a case of it a day. You can't go into sporting good stores and find .22 ammo any more."
A spokesperson for a large sporting goods company in Missoula declined to comment on any specifics relating to ammunition sales, saying that he preferred to talk to customers in the store.
Turner said she's heard lots of theories about why .22 is such a fast seller, but she isn't buying all of them.
"I have no idea why that is such a hot commodity to where everybody is hoarding it," she said. "I've heard the rumors. We've asked what is being done with all the .22. Some people said it started at the last election. They were told that .22 was not going to be sold anymore. I can't imagine where that came from. But when people start thinking their Second Amendment rights are going to get taken away, panic sets in and you know how those things go."
Although having demand far outpace supply sounds like dream scenario for any businessperson, Turner said the ammunition shortage has actually been a big pain.
"It sounds like it would be good for business, but you can't keep it on the shelves and people are upset they can't get it," she said.
Besides .22 ammunition, Turner said there is high demand for .380, 9 mm and .45.
Her company currently employs 23 people, and using nine machines they churn out about 230,000 pieces of ammunition a day.
Turner said the company will soon hire more people, along with ordering the new machines.
"We are ordering machines from a local company," she said. "Those machines are a pretty big purchase. It's not like going to a grocery store and buying a six-pack of pop. We're keeping the money in the valley. The nice thing about having so many ammunition manufacturers in the Bitterroot is that one company is not going to steal business from the other because demand is so high. All of them can, and do, flourish, which is a wonderful thing to me."
Rimfire ammunition is so-named because the firing pin in the gun strikes the outer rim of the cartridge to fire the bullet, as opposed to the center of the cartridge in centerfire ammo. Rimfire technology makes it cheaper to produce, but it can't be reloaded economically like some centerfire cartridges.
Bonner said .22 pistols and rifles are the weapon of choice for people who want to practice their marksmanship at gun ranges or rid a farm field of gophers. He said that since demand has become so high, many retailers who ordinarily aren't in the ammunition business have become major players in the market.
"The big sporting good stores and the big box stores hate selling guns and ammo," he said. "But the one thing they hate more than that is somebody making a nickel in retail other than them. There is new breed of dealer right now because of the supply and demand issue in the firearms industry. They aren't gun stores, but they go after that stuff, but they don't even want to carry standard ammunition. They don't want to carry everything. They want to just carry the cream. They are just interested in money, and they mark it up. Then they use the profit to buy more of the stuff."
Bonner said he makes his living mostly as a gunsmith, and he carries a wider variety of ammunition. He said he was selling .223-caliber ammunition for $399 last year when other stores were selling it for as much as $1,000 per case.
Bonner said he has a few ideas on what is going on.
"The Homeland Security chief admitted to buying .22 shells, but they don't have a gun to shoot them in," he said.
In fact, the Government Accountability Office released a 51-page report on Jan. 13 to address the issue of whether the Department of Homeland Security was buying mass quantities of ammo and therefore causing a shortage.
In the summary of the report, the GAO found that annual ammunition purchases by Homeland Security have declined since 2009, but that the department still purchased 84 million rounds of ammunition in fiscal year 2013. That number sounds large, but is less than DHS' ammunition purchases over the past five years.
Over the past six years, DHS purchased an average of 1,200 rounds per firearm-carrying agent or officer per year. There are 70,000 firearm-carrying personnel in the department, the most of any federal department. The GAO found that Homeland Security ammunition purchases are driven primarily by firearm training and qualification requirements.
The GAO found that DHS estimated it had about 159 million rounds in inventory as of October 2013, enough to last about 22 months to meet training and operational needs. The GAO did not make any recommendations as a result of its investigation.
Mike Bazinet, public affairs director for the National Shooting Sports Foundation based in Newtown, Conn., said the shortage peaked early in 2013.
"The good news is actually that across the U.S., the shortage is starting to ease as a result of manufacturers increasing production and retailers limiting purchases over time," he said. "There is no question that this shortage was consumer-driven, the way social media is these days. A Cabela's manager told me at the height of this, they had guys waiting at the door when they opened. They would go in, and if they saw ammo, they would get on their iPhones and tell everyone they knew that there was ammo there."
Bazinet said that a recent report by the Bureau of Alcohol, Tobacco and Firearms showed that the number of rounds being produced has increased in recent years.
"There are more people entering the shooting sports," he said. "There are more women entering. Not just for self-defense, but actually taking advantage of ladies nights and using shooting as a social activity. There is a lively, active shooting sports community."
Bazinet doesn't completely discount the theory that people were motivated to hoard ammunition because they feared elected officials might pass laws banning the sale of certain products.
"There is no question that when people are concerned that they are perhaps losing access to a product, they go out and try to purchase it pre-emptively," he explained. "There was a fear of increased federal regulation of firearms, and that has subsided since the Manchin-Toomey bill went down in the Senate. Polls show that people are less concerned about federal regulation than they were a few months ago."
The Manchin-Toomey bill would have expanded background checks on firearm purchases and closed the so-called gun show loophole.
Bazinet said that the ammunition shortage could have simply been caused by a culture change among gun owners.
"When people buy a handgun today, they tend to go to the range and shoot, and the same is true for the AR platform," he explained. "People don't just leave it in a drawer. Gun ranges have become better. There are a lot of dynamics at work. I've heard that the shortages in Texas are over, anecdotally. Other states may be a different story. We have not quite returned to the selection we once enjoyed, but prices are starting to ease. There are spot shortages, but trucks are leaving distributors out to retail. It's a slow process."
All the reasons in the world for the ammunition shortage don't mean much to ammo dealers like Bonner when customers come into his store on South Third Street West and he doesn't have any .22 ammo for them to buy.
"There are too many questions that haven't been answered, and the ones that are answered aren't fun to hear about," he said.
Get local news delivered to your inbox!
Subscribe to our Daily Headlines newsletter.