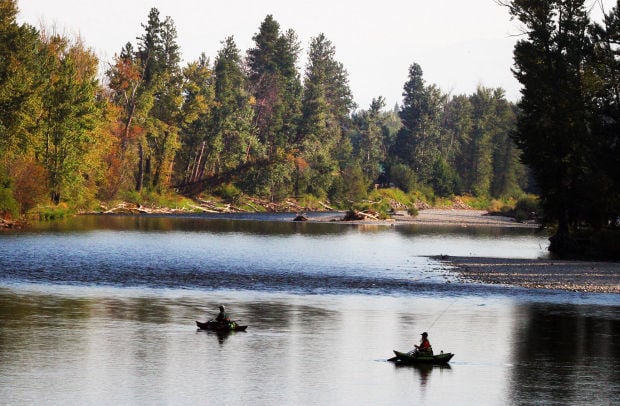 HAMILTON – It would be hard to imagine that Steve Puppe will ever climb onto a raft again without a life jacket hanging around his neck.
He's certain today that his life would have ended last week without one.
Puppe and a friend were filming a crew of state fisheries biologists working on the Bitterroot River when disaster struck near the confluence of the West Fork of the Bitterroot and the main stem of the river.
Puppe's raft was trailing behind the state boat when they approached a slight bend in the river where the current took most of the water right into a log jam.
One of the three people in the Montana Fish, Wildlife and Parks raft jumped out upstream of the obstacle and guided that boat through a nearby riffle. When Puppe's friend jumped out to do the same, he lost his footing and ended up back in the raft.
"He tried to jump out and take the raft to the shallow side, but he had on tennis shoes and he lost his footing," Puppe said. "The water was pulling fairly strong and he couldn't hold it, so he jumped back in. At that point, it was too late to do anything. The current took us right into the log."
The raft hit the log sideways and the downriver side was pushed under the log jam. The other side then buckled and the raft flipped backward.
"We both tried to bail out onto the log," Puppe said. "It was wet and slimy from all the water hitting it. The current pulled us backwards under the log."
Puppe has no idea how deep the pool was that he slid into. He knows he couldn't touch the bottom.
"When we flipped, I really don't recall a whole lot," he said. "I do remember that it was extremely black when I was underwater. I could have been under the raft. I could have had my eyes shut. I don't know."
All of a sudden, he saw a flash of light and he reached for it.
By that time, his inflatable life jacket was filled with air.
"It's what pulled my head out of the water," he said. "I caught one foot on a pretty good-sized log. The other one was freewheeling. The current was extremely strong. I couldn't push my free foot against the water."
Something else was firmly wedged against his backside. It helped him keep his head above water.
His friend wasn't so fortunate.
He had gone completely under the log jam and his leg was caught in some debris. It was all he could do to keep his face above the water's surface.
FWP biologist Chris Clancy saw the whole thing unfold.
"It's a nasty site where the river gets more dangerous as river levels drop," he said. "You don't have much room to maneuver and the water is so low that you can't get any leverage with your oars. When we saw them floating into the log jam, we could see it was going to be bad."
"This kind of thing happens fast," he said. "One minute, you're having a good time and the next minute your life is in peril."
Clancy was accompanied by Leslie Nyce and Tyler Hildebrand.
Hildebrand immediately called 9-1-1 and then handed the phone to Nyce.
Clancy and Hildebrand made their way onto the log jam. By that time, Puppe was still stuck, but he was stable. They focused their efforts on keeping Puppe's companion's head out of the water.
"The water was right to his chin," Clancy said. "We took turns helping him. They were both really cold, but they remained calm. It didn't seem like they panicked at all."
About 20 minutes after the accident, emergency crews began to arrive on the scene.
Keith Hackbarth came in a dry suit and slid out on the log behind Puppe. Hackbarth secured Puppe with a large rope. He and a couple of others pulled Puppe up and out of the log jam.
"The guy who showed up in the dry suit is kind of the hero in all of this," Clancy said. "He did a really good job in tying off Steve and getting him stable."
Others used a saw to cut away the log debris that trapped Puppe's companion.
Both men had been in the 55-degree water for about 45 minutes or more.
"They suffered uncontrolled shivering for about a half hour," Clancy said. "If this would have happened in the spring, I'm not sure they would have survived. I can't say enough about how tricky and difficult some of these log jams are to navigate around this time of year.
"If you don't feel like you can row around them, there's nothing wrong with getting out of the boat and walking the boat around them," he said. "Sometimes it's the best thing you can do."
With the Bitterroot River nearing historically low flows for this time of year, it might seem like the danger for floaters is past.
"It's very deceptive," said Montana Fish, Wildlife and Parks Warden Captain Joe Jaquith. "People might think that since the river is low, it's somehow safer. At lower flows, there's not near as much river to move around in, the channel gets narrower and it becomes difficult to avoid obstacles."
"The river is just as dangerous now as it is in high water," he said. "It might be more dangerous."
The accident gave Clancy a new appreciation for the men and women who respond to emergencies like this.
"I've never faced a situation like that where there was a potential fatality," he said. "I didn't realize how tense I was until they pulled the last one out. I burst into tears. When you see all those people arrive on the scene, it sure makes you happy. They sure do a great service for all the people using the river."
Puppe knows things could have ended much worse.
"I was a firefighter and paramedic before, and so I've seen lots of things where people might ask how in the world did that happen," he said. "All I know is that we didn't really have any time to react. It just happened. I know too that our life jackets saved our lives. They pulled our heads out of the water."
"I'm not the most religious person in the world, but when I got on shore, I looked up in the sky and said, 'Thank you Lord,' " Puppe said. "I know someone was looking out for me that day."