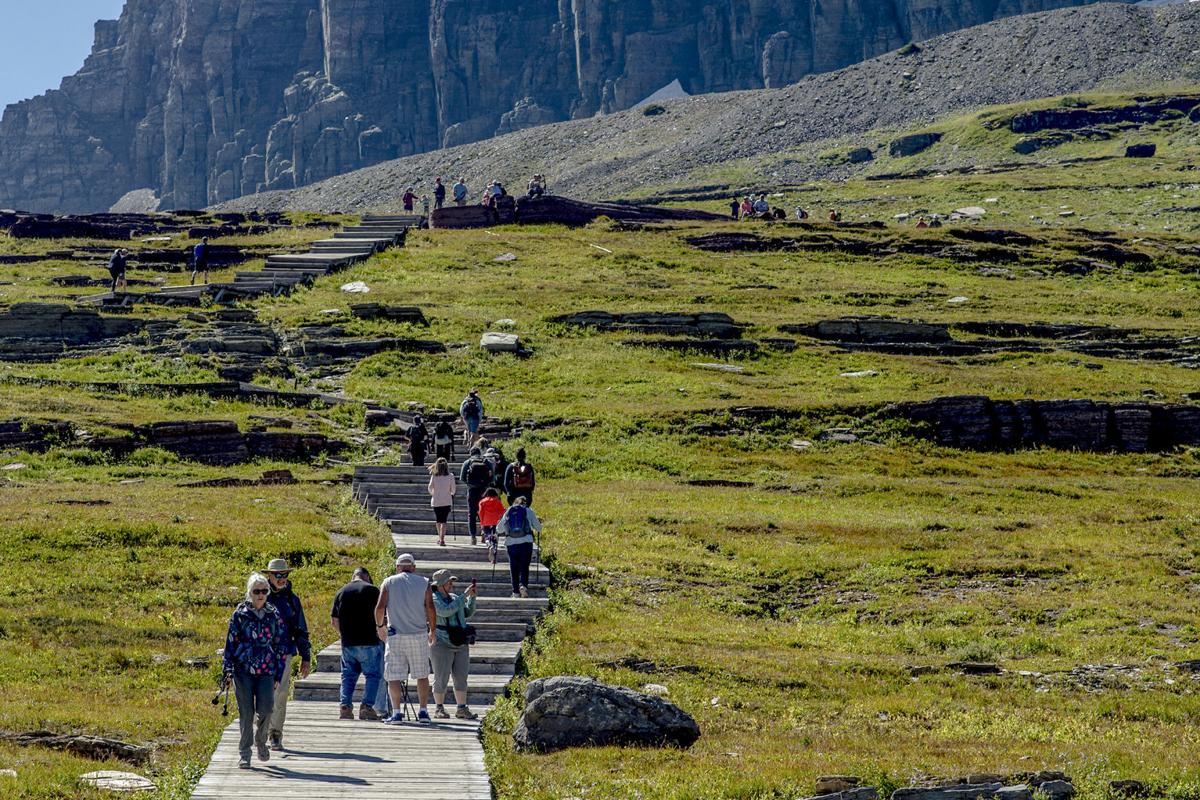 Closing non-essential access to the Blackfeet Indian Reservation puts lives ahead of livelihoods, Blackfeet tribal leaders said of their new COVID-19 restrictions.
"Some people thought we'd flattened the curve, and then the cases shot up," Blackfeet Incident Command Director Robert DesRosier said on Friday. "This coronavirus is not going away, and we can't afford to be letting our guard down. We have a vulnerable population here. So we'll regroup and come back in 2021."
The Blackfeet Tribal Business Council on Thursday evening extended the reservation closure through at least Oct. 1, after previously planning to re-open on June 30. That means all non-essential travel through the reservation, including access to five roads on the eastern border of Glacier National Park, are closed. It also extends the closure of all non-essential businesses and advisories to wear personal protective equipment throughout the reservation.
Montana recorded its 22nd COVID-19 death on Thursday, a patient in Rosebud County. The state reported 29 new cases and 829 cases total as of Friday. After staying relatively flat for most of May, the daily case count has been on a steep upward trend.
Seven cases have been reported in Glacier County, which overlaps the Blackfeet Indian Reservation. But neighboring Flathead County to the west has had 52 cases in total, while Toole County to the east has had 31.
"Look at it this way," Blackfeet Tribal Business Council member Mark Pollock said in a video announcement accompanying the closure extension. "Our elders have a lot of knowledge that has not been passed on yet. Once that knowledge is gone from them, if it hasn't been shared, that knowledge is gone forever. If we let the coronavirus in somehow, then that knowledge could be gone."
Blackfeet tribal spokeswoman Eileen Henderson said the reservation community faces a greater risk than other parts of the state due to local housing conditions.
"We have multiple families living in one home, and these are the ones we need to look out for," Henderson said. "We don't have a live-in shelter (for quarantine patients), and that's stretched our community thin."
The Blackfeet Tribe has received about $30 million in federal assistance through the Cares Act and other grants, but that money is being held for a covid-related outbreak, not for economic stimulus or payments to tribal members, Henderson said.  
Motorists on U.S. Highway 2 and Highway 89 may still stop for gas and food in reservation communities such as East Glacier and Browning. Travelers may also get overnight lodging for single nights. But all other non-essential activity such as camping, hiking, or boating is prohibited by the ordinance.
That leaves Glacier Park with only one major entrance at West Glacier. Hotels and businesses in and around the entrances at East Glacier, Two Medicine, St. Mary and Many Glacier will remain closed for the rest of the 2020 summer season. And due to the closure of the Canadian border to non-essential travel, access to Waterton Lakes International Peace Park in Alberta is also blocked.
In 2019, about 127,000 motorists entered the four east-side gateways to Glacier in July, compared to about 150,000 vehicles that month through West Glacier. Hotels, businesses and the Fish Creek campground at Lake McDonald on the west side are open for visitors, but with significantly reduced services due to virus-related safety measures. All front- and backcountry camping reservations in Glacier have been canceled and are now being offered on a first-come, first-served basis for sites that can be reached.
The Going-to-the-Sun Road across the middle of Glacier remains blocked by snow for motorists and is not likely to be cleared before July. Once drivers are able to cross Logan Pass, however, they will have to return the way they came because exits aren't allowed through the St. Mary gateway. National Park Service staff are still evaluating plans to open the St. Mary front-country campground this year, according to Glacier spokeswoman Gina Kerzman.
The need for single-occupant housing to provide virus protection meant Glacier Park had to hire about 25 percent fewer seasonal staff this year. With access to the trails and facilities on the east side so limited, park employees spent much of Friday evaluating how best to deploy rangers and workers in the places the public can still visit.  Superintendent Jeff Mow said he expected changes day to day.
"We're building the plane as we're flying it," Mow said of the park operations. "There is no guidebook or template for how this should work."
For example, park restrooms must have lowered capacity to give enough social distance space for visitors. But they also have to be cleaned and disinfected much more often than in the past for virus safety. And with workers unable to share vehicles to avoid passing infections, the whole staffing equation needs rethinking.
Meanwhile, predictions for how much visitor traffic will actually show up this summer are as clear as McDonald Creek in spring runoff.  The gradual release of pandemic lockdown measures has prompted many local residents to daytrip into the park, while summer vacationers remain an unknown quantity. Mow said anecdotal reports hint that many tourists may be renting vans or camper-trailers and staying at private sites to maintain hygienic isolation. But the hard evidence isn't available yet.
"Since we've been open in the two weeks after June 8, we're probably seeing 60-70 percent visitation we normally would for this time of year," Mow said. "That's healthier than what I might have expected before we opened. But it's a little curious to me. I've talking to folks at local chambers of commerce. There's an awful lot of cars, but the hotel occupancy rate isn't close to 60 percent. They're still down."
The closure order will force many tourism-dependent businesses on Glacier's east side to write off the 2020 economic year. In East Glacier, Mountain Pine Motel owner Ryan Sherburne said adaptation has become a requirement for success there.
"If this business can last 73 years, I'm sure it can last more," said Sherburne, whose great-great grandfather was the namesake for Sherburne Lake in the Many Glacier Valley. "Some people are a little freaked out by the monetary side. But I think it's smart to listen to what the tribe wants to do. The health of the community is far more important than anybody's opportunity to profit."
Sherburne said businesses in the closed areas were still eligible for federal paycheck loans and other economic stimulus programs, although he was concerned those might fade out as the rest of the nation attempts to resume business as usual this summer.