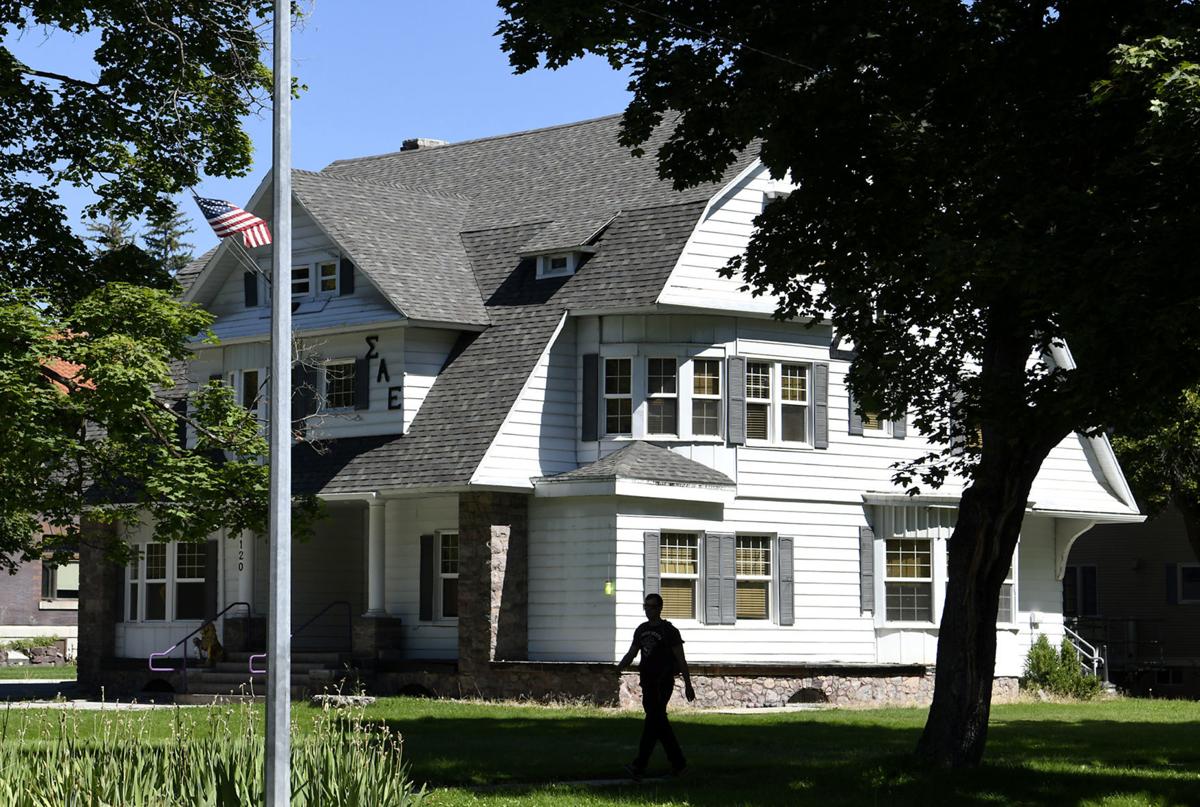 Earlier this summer, the members of Sigma Alpha Epsilon fraternity's University of Montana chapter got startling news: Their house had been closed for the year.
"We just got told it's shutting down and that's that," said junior Travis Roy outside the SAE house Monday. While the chapter remains in good standing, the alumni corporation that owns the house decided to close it for this year, citing financial pressures — and leaving about a dozen members to find other housing.
"I'm definitely shocked. (It) blindsided us all really," said Roy.
Sigma Alpha Epsilon's UM chapter dates to 1927, occupying a three-story house on Gerald Avenue. Members rent from the chapter, which, in turn, rents from a separate mutual benefit corporation, Sigma Alpha Building Corp., which owns the house. The fraternity's national organization processes the financial transactions.
Mick van den Bos, a UM senior and last year's chapter president, estimated that Sigma Alpha Epsilon finished the 2018-19 school year with 25 to 30 members, about 15 of them living in the house and 12 or 13 of them having signed leases to return last year. "We had a really solid group of dudes that was ready to move in," remembered former fraternity member Brin Vaughan.
But he and Roy found out, around early July, that the house would be closed. "Sometime in the middle of the summer we got an email" to that effect, said van den Bos. The news left the members scrambling for alternatives. "It wasn't easy, and there was definitely a couple weeks of not panic, but worry," van den Bos said.
In an Aug. 13 email to members, Jake Showalter with the national SAE Financial & Housing Corp. explained that while the chapter remained active, the house had indeed been closed.
"This was a decision made purely for financial reasons," he wrote. "There was not enough income generated by members living in to support the cost of opening the chapter house."
Kurt Ingold, Sigma Alpha Building Corp.'s treasurer, estimated that property taxes and insurance each cost about $12,000 per year, on top of utilities and maintenance. The goal, he said, is to make dues competitive with student housing, which costs between $2,000 and $3,000 per semester.
"The business model that's necessary to make it go … is to have sufficient rental income to pay for those expenses, and that hasn't been the case for this past year and this upcoming year."
He told the Missoulian that shutting the house down reduced the corporation's variable expenses, such as utilities. Fixed expenses can continue to be paid out of reserve funds, he said.
The scuffed white mansion was mostly empty Monday. But an American flag still flew from its third floor, two bikes languished in the entry hall, and current and former residents were still dropping by to check on things.
Brin Vaughan doubted this outcome was inevitable. In his view, the rapid closure reflected "a total lack of responsibility to the guys who lived here" and lack of support from alumni or the university.
Whatever the case, he thinks that the house closure amounts to a "death sentence" for the chapter. Van den Bos is more optimistic. "I'm hoping that we can recover," he said, also pointing out that fraternity members continue to meet and keep in touch. It remains to be seen whether they can secure the 24 residents that Showalter said would be necessary to reopen the house next year.
In 2018, 428 UM students — 4.5% of the total — belonged to a fraternity or sorority. UM did not respond to requests for prior years' data or other comment, but both Vaughan and van den Bos said they had seen signs of declining interest in the system. Nationwide, fraternities have faced increased criticism in recent years, driven by reports of alcohol abuse, dangerous hazing and sexual misconduct.
But Vaughan, while no longer a member, was quick to defend Sigma Alpha Epsilon and its place in campus life.
"I don't think that I could have ever asked for a better place, house, group of guys," he said.
Get local news delivered to your inbox!
Subscribe to our Daily Headlines newsletter.