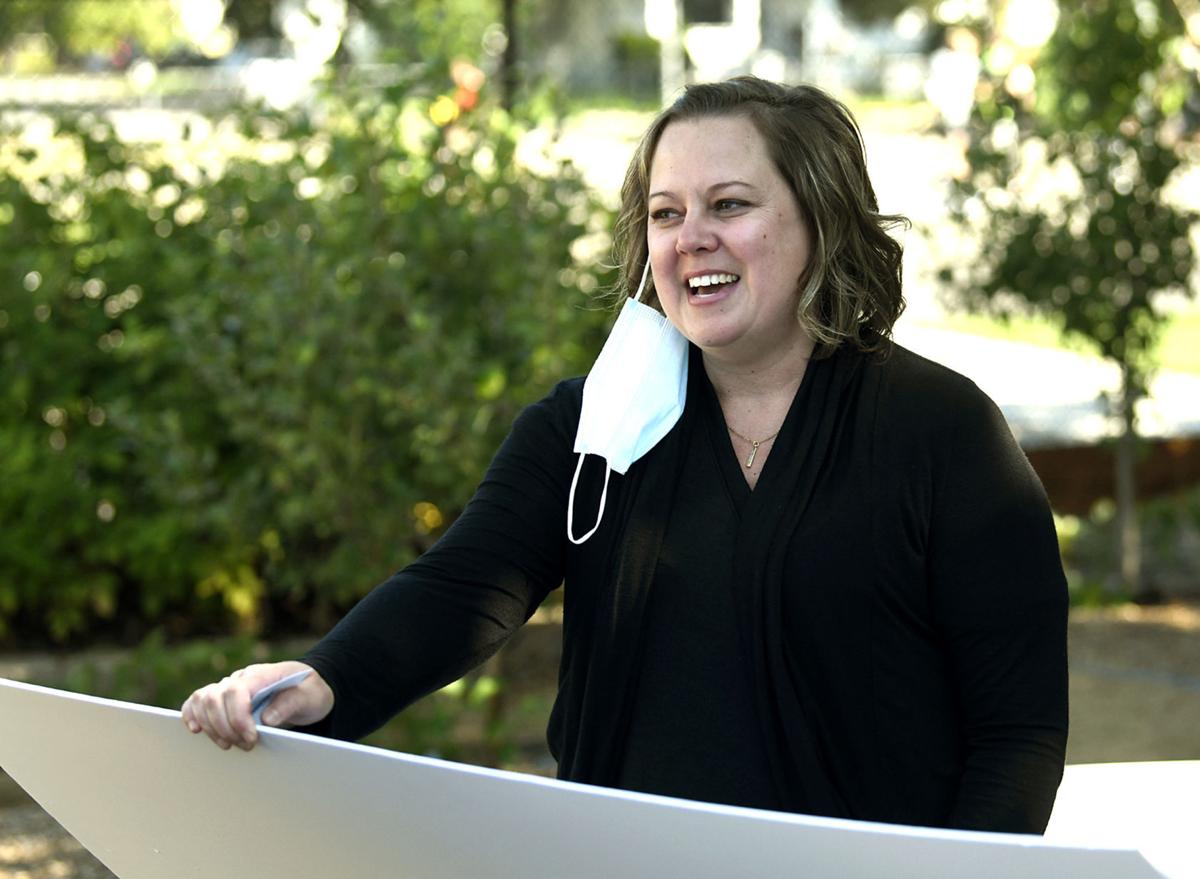 In the early afternoon shade blanketing Lowell Elementary's community garden, two women positioned benches to face each other in anticipation of their guests from Blue Cross Blue Shield of Montana.
Angela Groves, director of strategic impact and grants for Friends of the Children, and Barbra Frank, the principal of Lowell Elementary, expected a conversation about the next steps in getting their new partnership off the ground.
But that all changed when a white Care Van with Blue Cross Blue Shield parked in a nearby parking lot and public relations coordinator Randi Heigh emerged holding a giant check.
"What?" exclaimed Groves.
"This is not what I was expecting," added Frank as Heigh approached.
Blue Cross and Blue Shield of Montana awarded the Missoula chapter of Friends of the Children a Healthy Kids, Healthy Families grant of $50,000 on Thursday afternoon, which will help aid their startup costs.
Friends of the Children is an international nonprofit youth mentorship organization that is setting up shop in Missoula. The group partners professional mentors called "friends" with young children for over 12 years through high school graduation in an effort to create generational change by empowering youth who face adversity.
Children involved in the program will be among the most impacted and involved in the child welfare system and justice system.
Missoula is the first community in the state to host the Friends of the Children program, which will partner largely with children and families at Lowell Elementary in its early stages.
"It's an impact on my school and beyond because we get to start the kids in the program and then we know that it carries through with them all the way through high school," Frank said. "The thing I love about this program is it's two-generation and that's our approach as well — you can't help a kid if you aren't helping their family."
Through the program, trained, paid professional mentors are paired with children between the ages of 4-6 and not only support them, but their families as well. Groves is still in the process of hiring an executive director, as well as other support staff such as a program leader and operations manager. After that, they will move to bringing on the "friends," who are hired through a four-tiered interview process.
Once the entire team is assembled they will begin working with their first cohort of 16 students. For at least the first three years of the program, Friends of the Children plans to enroll a cohort of 16 children annually.
"If there is community interest and if there's funding, multi-year, sustainable funding, to support growth we can scale that growth faster," Groves said.
More than $1.5 million has been awarded since 2014 through Blue Cross Blue Shield of Montana's Healthy Kids, Healthy Family initiative.
The initiative focuses its investments with nonprofits that offer sustainable and measurable programs to reach children and their families in five focus areas of nutrition, physical activity, disease prevention and management, substance abuse prevention and suicide prevention.
"The important work Friends of the Children will do with this funding bolsters our desire to build stronger Montana communities through strategic investments," wrote John Doran, divisional vice president of external affairs with Blue Cross Blue Shield of Montana. "Children are the foundation of our state's future and Friends of the Children's work promises to strengthen that foundation."
Friends of the Children is launching in Missoula with support from Missoula County Public Schools, Partnership Health Center, Western Montana Mental Health Center, Montana Child and Family Services, the Behavioral Health Alliance of Montana and many others.