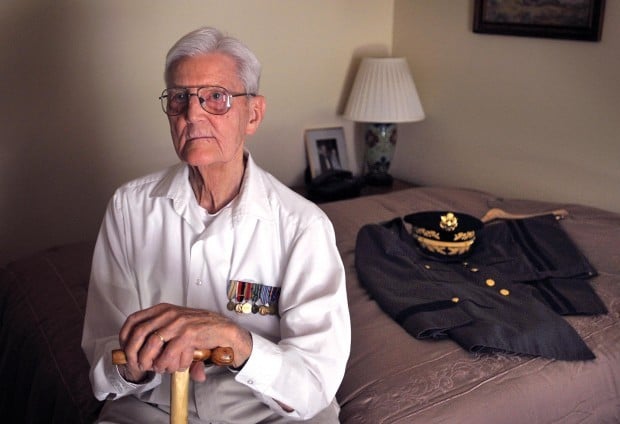 Bo Foster was a Yale graduate in love with Montana, a gentleman of refinement and decorated war hero with hair-raising tales to tell.
But there was one story he always came back to.
"I think what he talked to me about most was the separation from his family," said Dennis Gordon of Missoula, a friend and biographer of Foster's. "He went overseas and left his young wife and newly born daughter, and he didn't see them again for three years. That was a huge price to pay, similar to what our soldiers are doing today."
Brig. Gen. Mayhew "Bo" Foster died Monday night at the Village Senior Residence in Missoula, less than seven months short of his 100th birthday.
"They said at the Village it was a surprise, but I guess when you're 99 1/2 or so, it's imminent. It's obviously a great loss," said Foster's son-in-law, Roy Korkalo of Livingston.
Two summers ago, Foster received France's highest military honor, the Legion of Honor Chevalier, for his actions during the Allied invasion of southern France in 1944.
An Army pilot, Foster received the U.S. Silver Star for his involvement in the Allies' amphibious landing assault on Aug. 15, 1944. "Riviera D-Day" came nine weeks after the Normandy invasion in northern France.
From his "Grasshopper," a tiny L4 Piper Cub observation plane, Foster spent five hours in the air relaying information to the command post on the Mediterranean and locating an inland field for others to land in.
He was there as Allied forces opened access to the Rhone Valley and, in the face of heavy resistance, enter Germany that winter.
Perhaps Foster's most-recounted war exploit was the May day shortly after the Germans surrendered in 1945 when he flew Hermann Goering to Army headquarters in Augsburg, Germany.
The 300-pound Goering, commander of the German Luftwaffe and one-time heir to Adolf Hitler, chatted affably throughout the 55-minute flight over the Bavarian countryside. Unarmed and unescorted, Foster listened from his front pilot's seat.
"He showed me where he'd grown up and gave me a guided tour," Foster told the Missoulian in a 2009 interview. "There was no indication he was thinking of himself as a prisoner. You'd think we'd been friends for life."
Foster never saw the notorious Reischmarschall again. Condemned to death for war crimes at the Nuremberg trials in 1946, Goering took cyanide and died the day before his scheduled execution.
Foster was born Oct. 9, 1911, in Richmond, Va., but spent many of his boyhood summers at the family ranch on the Blackfeet Indian Reservation near Glacier National Park.
"His father was a private school teacher and taught at various places, and in the summer he taught classes near Glacier to people who came out from the East," Korkalo said. "That's where he began to love Montana."
When Foster graduated from Yale in 1933 during the Great Depression, he settled for a job he hated - in a Cleveland department store. With $4.35 in his pocket, he hitchhiked "home" to Montana and managed to land a job with the U.S. Forest Service.
He eventually transferred to Missoula, where he boarded at a fraternity house and met Virginia Walters, who was kin to the Missoula Greenough family. They married in October 1940.
When war came, Foster left his 5-day-old daughter, Susan, to ship overseas.
"Basically his entire life was devoted to service," said Tate Jones, executive director of the Rocky Mountain Museum of Military History, a museum Foster helped establish. "Way up through his 90s, as a matter of fact, he was serving as museum president. Starting with the ROTC in the 1930s and continuing all that way, it was really quite a ride."
"Montana and America will always be blessed because of people like General Foster," U.S. Sen. Jon Tester, D-Mont., said in a statement. "Sharla and I join all Montanans in praying for the general and his family, and always remembering him as a hero. General Foster dedicated his entire life to defending our freedom, and his service and bravery will never be forgotten."
When he returned from the war, Foster started the 443rd field artillery battalion at Fort Missoula, Missoula's first National Guard unit.
"The history of the National Guard in Missoula really begins with Bo Foster and the 443rd in the late 1940s," said Jones. "For many years to come, he'll hold title as Missoula's foremost soldier."
Foster made numerous impacts on Missoula, with his work at Fort Missoula and at the military museum, but also with the Missoula Rotary Club and in helping get the 9-1-1 emergency system off the ground in 1976.
"General Foster was a fine human being on so many levels," Gordon said. "He always gave of himself. He passionately loved and served his country, his state and his community. But his greatest virtue was the way he treated others, with dignity and respect.
"The world desperately needs more Bo Fosters."
Foster's wife, Virginia, preceded him in death. Their only child, Susan, died in 2007.
He's survived by his sister, Priscilla Howard of Tucson, Ariz., son-in-law Koraklo, and grandson Chris Korkalo of Virginia Beach, Va.
Funeral arrangements through Garden City Funeral Home are pending.