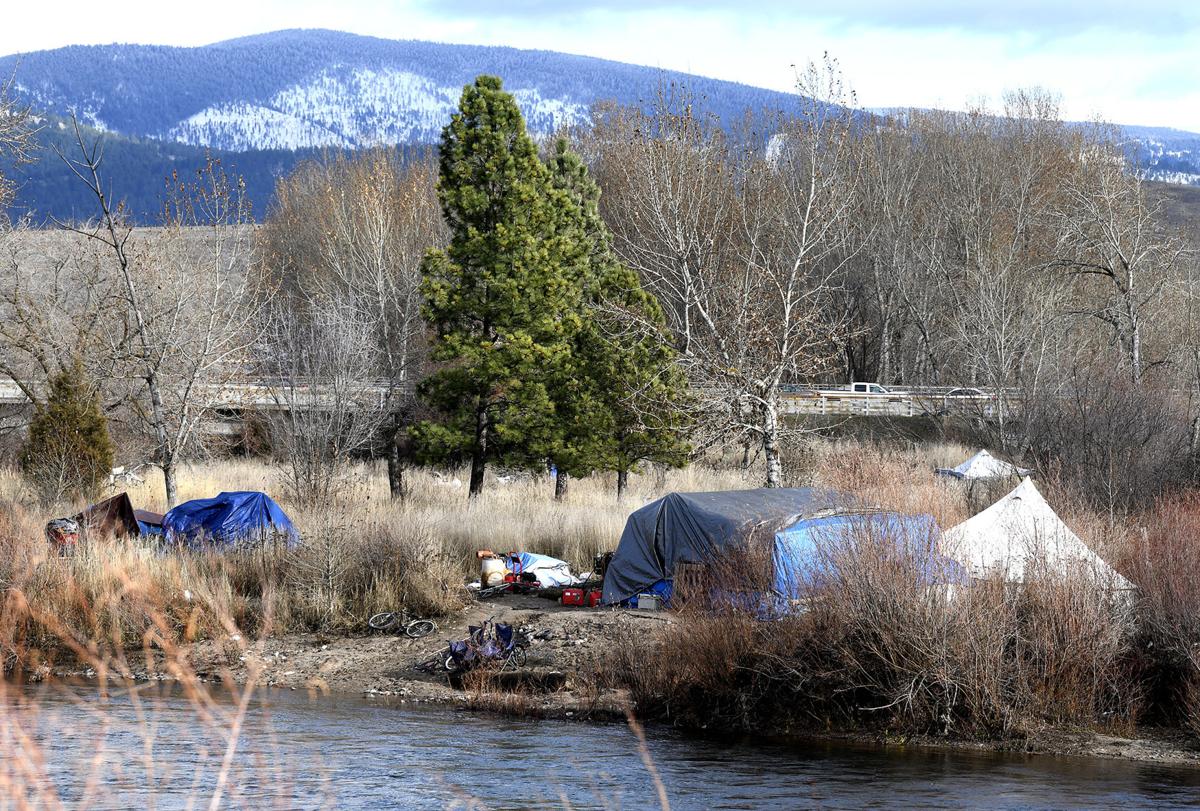 Missoula's county commissioners voted to allow a Temporary Safe Outdoor Space to continue operating, but not before admonishing some public commenters who disparaged Missoula's unsheltered population.
"We've heard a few times today the comments, 'I'm not against the homeless, but...' and I will be blunt with folks, I find some level of disingenuousness with that," said Commissioner David Strohmaier. "That is followed by some comments that 'I'm not against the homeless, but this type of people...'"
People made comments that the people seeking refuge at the Temporary Safe Outdoor Space weren't "quality homeless," as Strohmaier put it.
"And I find that somewhat offensive," Strohmaier said.
Neither Missoula County nor the City of Missoula operates the Temporary Safe Outdoor Space.  The space was created through a partnership between United Way of Missoula County and Hope Rescue Mission with support from other local nonprofits and community agencies. The commissioners were voting on whether the site, 4285 US Highway 93 S, could host the space under the area's zoning regulations. It was opened earlier this month.
The property is zoned for single-family residential use, but the land-use designation is "working lands" and a campground would not be inconsistent with that zoning, according to Karen Hughes, assistant director at Missoula County Community and Planning Services. The commissioners used their authority under a March Emergency Proclamation regarding the pandemic to determine the TSOS could continue to operate until the end of the current state of emergency.
The site has 20 two-person tents, access to showers and laundry, trash removal, food, handwashing stations, a heated wall-tent and wellness screenings. It will be staffed 24/7 and residents will have access to outreach workers, case managers and safety precautions.
United Way of Missoula County, Hope Rescue Mission and the Missoula County Office of Emergency Management plan to pay for much of the estimated $100,000 cost of running the temporary shelter all winter by utilizing federal and state funding available for COVID-19 mitigation.
About 10 people testified during the meeting. A couple people raised concerns about how busy the highway next to the site was and whether the TSOS would create a hazard with people crossing the road to get to the bus stop.
Hope Rescue Mission's Director of Outreach, April Seat, said people who stay at the site have to sign in and acknowledge certain rights and responsibilities, which include making sure they promise to use the crosswalk to get to the opposite side of the highway. Staff at the site watch to make sure the residents follow that requirement as well, Seat said.
Robert McCue is the owner of Eagle Self Storage, 4101 US Highway 93 S. Given his business' proximity to the TSOS, he worried about transients breaking in to his business in the past. He asked how the operators of the camp would distinguish between the homeless in Missoula and transients in Missoula.
"My concern is will this camp attract nefarious activity, in other words will there be people coming in and preying on these people, to sell drugs, to disrupt, whatever; and I guess I ask that question because I've been told you're moving Reserve Street camp there," McCue said.
The Reserve Street encampment McCue referred to is on Montana Department of Transportation land. Neither the city, the county nor the partners operating TSOS have the power to move any encampment off that area, said Ginny Merriam, communications director for the City of Missoula. Dispersing homeless encampments would also be against guidance from the Centers for Disease Control and the Federal Emergency Management Agency, which both recommend not clearing encampments during the pandemic.
The TSOS did help transfer some people over from the Reserve Street bridge encampment, but it was through offering them a safer situation, Seat said.
"I want to go on record in making sure this group knows we are not against homeless people," McCue said. "As a matter of fact we've been contributing through our church, through various organizations, the Poverello, we're on record for giving a lot over the years."
Devan Bahm echoed some of McCue's concerns. She said she wanted to know what the background checks would be for the people at the site.
"I do want to make sure you understand I'm not against helping the homeless," Bahm said.
She said the people living in encampments such as the one near the Reserve Street bridge are not homeless, but transients, and that isn't a population the community should be helping.
"Everybody's a check away from being homelessness anymore. Those are the people I feel we should be helping, people who have a mental issue or things like that," Bahm said. "I'm just really concerned about what type of people are going to be living there."
The people Bahm listed as needing help are exactly the people TSOS will be helping, Seat said. There are people onsite who have full-time jobs at minimum wage. But they can't get housing when a person needs three times the rent to qualify, she said.
After Bahm, several people spoke in support of the TSOS. Several voiced the importance of caring for those who have the least at a time when the need for such help is rising. One of the last people to voice support was Michael Workman.
"I want to just talk a little bit briefly about my dad," Workman said. "He is an extremely hard-working individual and I have to say I'm extremely frustrated that I even have to say that to justify what I'm about to tell you."
Workman's father has suffered from mental illness and addiction all his life and all of Workman's adult life, he said. His father has been periodically homeless and often is on the brink of homelessness. What he faces is not uncommon, and Workman said he was privileged in that he doesn't suffer from debilitating mental-health struggles. He watches his dad struggle every day to navigate the social programs he needs to keep his housing, Workman said.
"I'm saddened by the amount of disgust that fellow community members in this call have shared toward the homeless community here," Workman said.