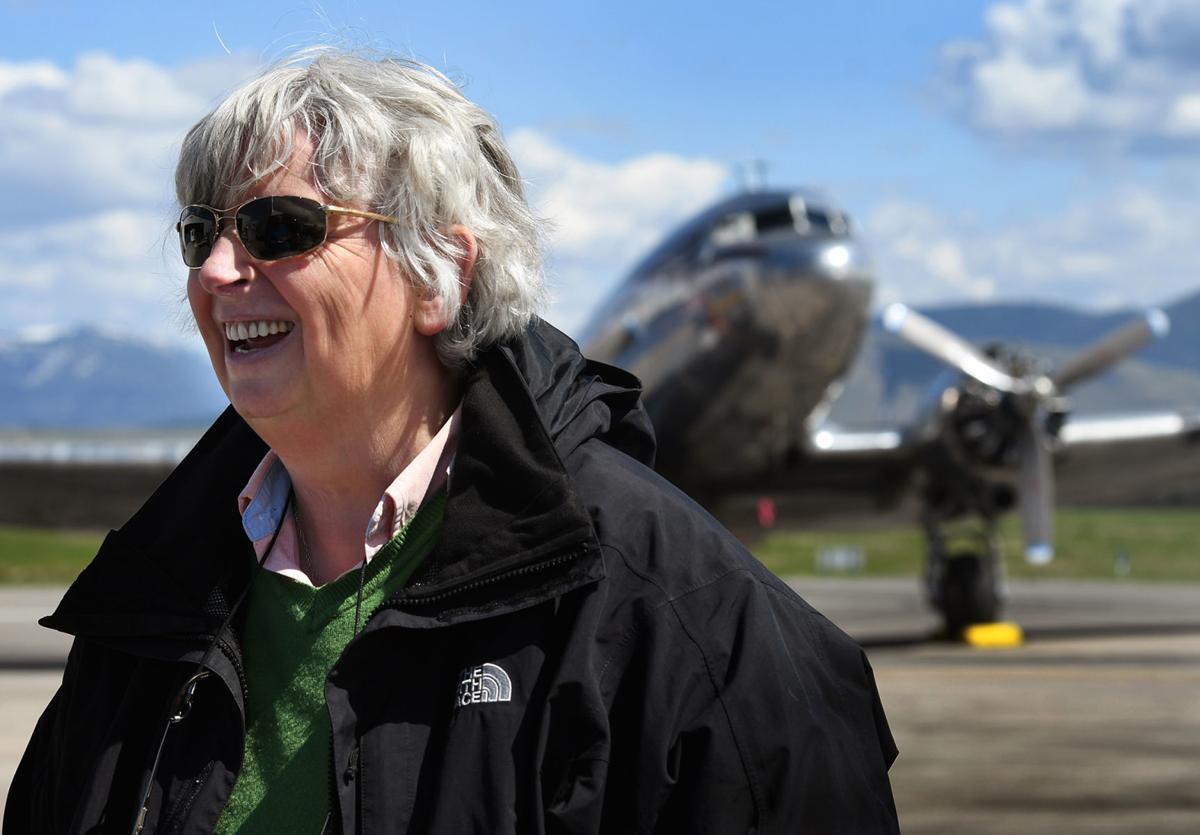 She's in Missoula for some flight certification but for Kathryn Burnham there's more to it.
She's fanning the flames of love.
"It's gorgeous," the veteran pilot from East Yorkshire, England, said Monday.
Burnham cast an adoring eye at a particularly famous local Douglas DC-3/C-47 parked outside the hangar at the Museum of Mountain Flying in Missoula.
The Brits call them Dakotas, or "Daks" for short, and 35 to 40 of them will be the focus of Daks Over Normandy next month in Britain and France. More than 2 million people, including veterans and world leaders, are expected for the June event. It marks the 75th anniversary of D-Day and the Allied invasion that led to the liberation of Europe.
Missoula and Montana are contributing the pilots, mechanics and paratroopers of "Miss Montana," the object of Burnham's immediate affection.
"It means so much to people," she said. "You can't understand how a machine can do that, but it absolutely can. It's got a soul, more so than any other airplane that I've come across."
Burnham has been flying Daks in the United Kingdom for more than half her life, and recently renewed her license to fly them there. In a saga with so many twists and turns, she flew from England over the weekend to get her American certification so she can take an American airplane to England and on to France for Daks Over Normandy.
That plane won't be Miss Montana, whose pool of pilots is being fleshed out this week at the Missoula airport under the watchful eye of Frank Moss.
A legend in the Douglas DC community, Moss is doing his training on the flying museum's latest acquisition, a 1941 Western Airlines DC-3 with a World War II and Montana history of its own. The airplane operated through Great Falls into Alaska to support the Aleutian campaign until after the war, when Western refitted it to serve a commercial route from Salt Lake City to Butte, Helena and Great Falls.
Purchased in Arkansas in March, the Western aircraft spent the last five weeks in Oregon helping pilots from across the nation get ready for the D-Day commemoration. It arrived at its new home in Missoula last Friday and has been making training runs ever since as mechanics continue to work through electrical issues to get Miss Montana airworthy.
The latter is still scheduled to leave next Monday, May 13, to join the rest of the D-Day Squadron in Oxford, Connecticut, although organizers caution the schedule is flexible until it's due into England in early June.
Burnham will be flying a 1939 Douglas DC-3 out of San Francisco. "Hap-Penstance" was a VIP transport for Henry "Hap" Arnold, who trained under the Wright brothers and wound up a four-star general and commander of the U.S. Army Air Force during WWII.
The number of D-Day veterans is diminishing, and the 75th anniversary is viewed as the last worldwide commemoration of the largest amphibious assault in world history.
The allure and the spotlight it's casting on the DC-3s was too much for Burnham to resist.
"I am never going to see the like again," she said. "I've never seen that many (Daks) in one go. The most I've seen is nine, and that was such an impressive sight."
Burnham said she'll never forget watching those DC-3s taxiing together on a quiet morning just after dawn.
"It just gave you a lump in the throat," she said. "The airplanes all have history. They all can tell you a story. You could not be in awe over something like that, could you?"
For Britons, World War II is "totally immediate," Burnham said.
"It's not that long ago, and the place is a place you know," she said. "They walk past these airfields every day. They fly over them."
It never ceases to amaze her how many airfields were built for the war effort, "particularly where the 8th Air Force is concerned," she said.
"I was on the east coast. Every two or three miles is an airfield."
Most of England's airports today are modernized airfields from wartime. Patterns from abandoned airfields remain visible on the landscape.
Burnham's father was a boy living on England's east coast during the war. She said he watched aircraft practice for the D-Day air invasion.
"They'd form up over the UK, so he was used to seeing the Lancasters and the Mustangs based not far away, with the 8th Air Force just down the road with the B-17s. So he'd seen all of those as a kid. Here, just one generation removed, makes it very real."
Burnham was in her late 20s or early 30s, with 10 years of pilot instructing under her belt, when she decided she'd indulge in a year of flying Dakotas.
"After that I thought I should be sensible and join the airlines and get a proper job," she said. "I was there 30 years to the week. It was only when the company folded that I left. But I still fly their airplanes."
For the past couple of years she's been head of pilot training for an air freight company at East Midlands Airport.
"It's near Nottingham, if that helps," Burnham offered.
East Midlands is 120 miles north of London and roughly 100 miles northwest of Duxford. Duxford field is where the D-Day Squadron will join others from across Europe in late May. They'll launch airdrops of some 300 parachutists over England on June 4. The next day the entire squadron will head across the English Channel for the Normandy jumps.
The Indian Air Force bought a Dakota in anticipation of the historic flight.
"They rang and asked would I go and teach them how to fly. So I did," she said.
She had a "whale of a time for two weeks in New Delhi." What made it special was the airplane itself.
"She was very happy out there. You could tell she was having a really nice time," Burnham said, turning toward the nose of "Miss Montana" parked across the way.
"You look at them when they sit and you tell me that isn't a smile," she said. "That's a happy old airplane."