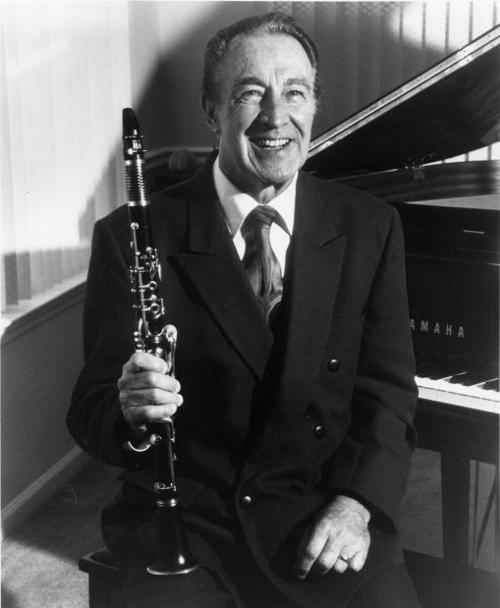 The world-famous clarinet player who lent his name to the University of Montana's premier jazz festival and transformed the international genre through his unique bebop style passed away Wednesday.
Buddy DeFranco died at his home in Panama City, Florida. He was 91 years old.
"He was one of the monumental figures in the history of jazz," said Lance Boyd, the former UM music professor and band director who created the Buddy DeFranco Jazz Festival. "His style of playing the clarinet was unique. He was a bebop player where the clarinet was known more as a swing instrument."
DeFranco launched his music career as a teenager growing up in Philadelphia before going on play with such jazz greats as Tommy Dorsey and Count Basie. He led the Glenn Miller Orchestra from 1966 to 1974 and received the title as a "Living Jazz Legend" at the Kennedy Center in 2006.
By then, his ties to Missoula and western Montana were already strong, and the Buddy DeFranco Jazz Festival was already in its sixth season.
In a 2008 interview with the Smithsonian National Museum of American History, DeFranco discussed his ties to Montana and traced them back to the 1990s, when he began playing the jazz festival in Whitefish.
"We began to enjoy Whitefish and Kalispell, and I came back for a third time," DeFranco said during the interview. "The fourth time we played at the Whitefish Jazz Festival – the Flat Fish Festival, it was called – they gave us a place to stay for about a month or so."
Looking to live part time in the area, DeFranco and his wife, Joyce, set out to explore western Montana. Mike Stockland, whom DeFranco identified as a good friend in the interview, asked the jazz great to consider a concert and clinic in "Mazula" at UM.
"Lance Boyd was the band director there and the head of the music department – the jazz area," DeFranco said. "He and (Stockland) suggested they change the name of their festival to the Buddy DeFranco Jazz Festival, and so we did. It's been really good. We had some really good guys on that."
Boyd remembered his early encounters with DeFranco and how the two became friends over the years. Boyd hired the musician to headline the UM Jazz Festival, as it was known before DeFranco lent his name in 2000.
"The university was very much in favor of it," Boyd said. "This is somebody who's in the history books as one of the few giants of jazz. When he was here, those were the glory days. He brought so much to us by being here."
DeFranco attended his namesake festival each year through 2012. While he was slated to attend in 2013, Boyd said, his health had taken a turn and he stopped attending. Boyd remembered DeFranco as a friendly, congenial man.
"The stories I'd heard, when he took over the Glenn Miller band and fronted that, he was considered to be a bit of a hard case," Boyd said. "By the time I met him and knew him, that wasn't the case at all. He was a pleasant fellow to work with and we became very good friends."
DeFranco's son, Chad, said his father was fond of Montana and spoke proudly of the festival. He'd been involved in music education over the years, and the festival helped continue that practice.
"His concept for the festival was to have a venue where music students could get together with international jazz giants and learn directly from them on stage in a live environment rather than through books or second-hand methods," Chad said Friday. "With the help of Lance Boyd, Shirley Howell and many amazing people within UM, they were able to make the festival a reality that continues on."
Like other musicians of the time, Chuck Florence grew up idolizing DeFranco's music and style. While living in Detroit in the 1970s, Florence got a call from DeFranco, asking him to fill in on the Glenn Miller gig for a night or two.
By then, Florence said, DeFranco was at odds with the band and its habit of playing old standards. The two would catch up again years later when DeFranco began to frequent Montana. Visits took place around band camps in Whitefish and Jazzoula concerts in Missoula.
And there was that night at a downtown hotel where DeFranco wowed Florence with his clarinet skills.
"I was playing the Holiday Inn at night and (DeFranco) was in town for one of his festivals here," said Florence. "I happened to walk down the hallway and I heard him warming up. Holy smoke – he was going though all the scales. I just stood outside (the) door."
As Florence put it, if one could play half as good as DeFranco, they'd be considered an accomplished clarinetist. DeFranco took it a notch higher.
"I used to listen to his records growing up, and my clarinet playing is all balanced around what he did," Florence said. "It was very nice knowing him."
The family asks that contributions in DeFranco's memory be made to the Buddy DeFranco Jazz Festival at the University of Montana Foundation, P.O. Box 7159, Missoula, MT 59807.