BROWNING — In the end, all that remained of the bison was a windpipe, 40 pounds of half-digested grass and some blood. A few tufts of winter hair rode a breeze toward the Two Medicine River.
The rest of the quarter-ton animal was seeping into the Blackfeet Indian Reservation just as its blood soaked into the grass. Wild buffalo may never approach the millions that once blackened the prairie and sustained the Blackfeet, but enough have returned to revive a sense of identity and purpose.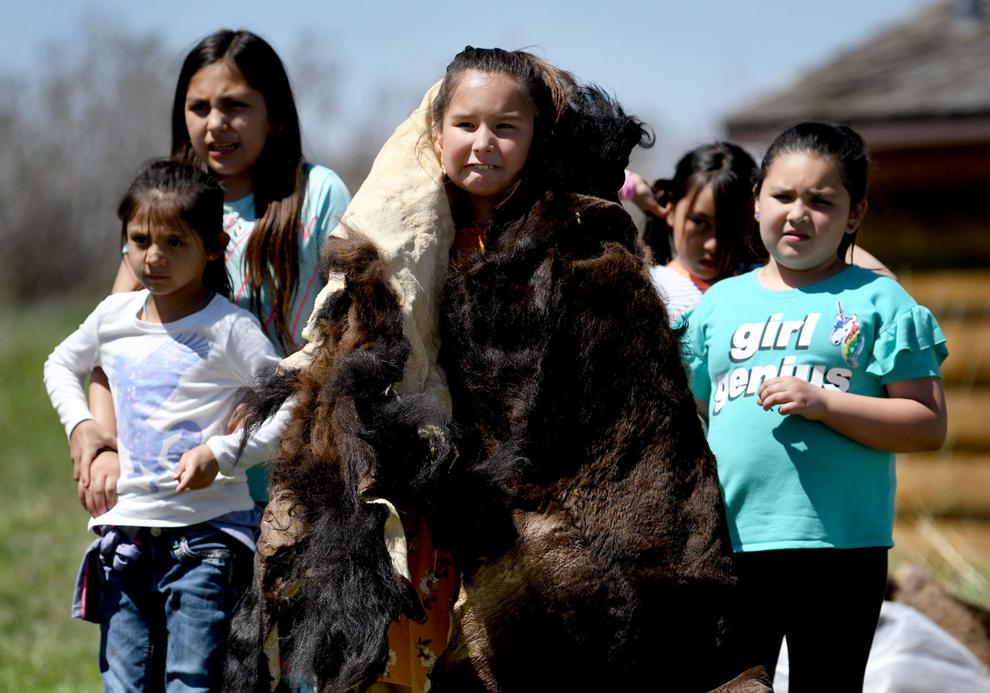 Killing that bison during Iinnii Days didn't only feed the crowds that came to celebrate a new delivery of genetically pure bison calves the day before. It signified a deep renaissance of practice, tradition and community central to Blackfeet life.
An hour before, Chazz Racine drove his pickup toward a small herd on the Winter Buffalo Camp prairie, waiting for one animal to present itself for slaughter. When it did, Racine shot it once with a rifle. The other bison surrounded their fallen herd mate, glaring at the truck. He had to drive around the defensive group several times before they dispersed. Then he needed two more trucks to surround the carcass to keep the buffalo from coming back.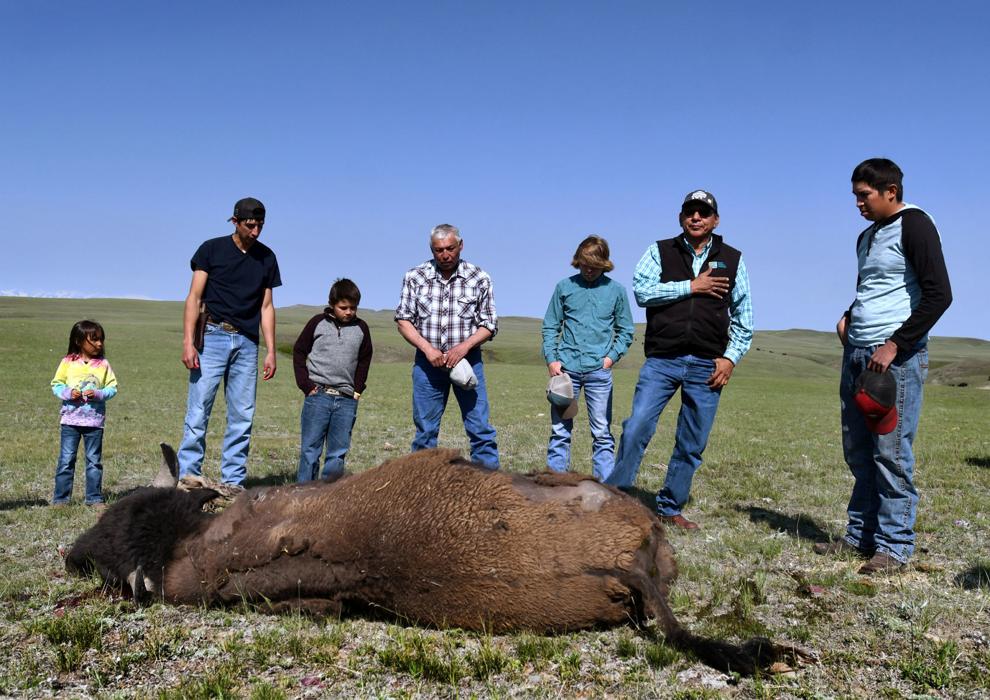 John Chief Moon watched the gathering from a lawn chair. Before the full-on dismantling began, he asked for a moment to sing a buffalo song. The crowd silenced and watched him.
"I think it's page 99 in the hymnal," Chief Moon said to startled laughter. "Old people know when it's too quiet. So they tell a joke."
Chief Moon was one of several tribal elders who came from the Blackfoot Confederacy in Alberta to cross the "Medicine Line" and attend the gathering in the United States.
"Our people used every part of our area to call on sacred powers," 90-year-old Blackfeet spiritual leader Earl Old Person said. "We shouldn't even call this a program. It's something still with us. We may not have the ceremonies, but the songs are still with us."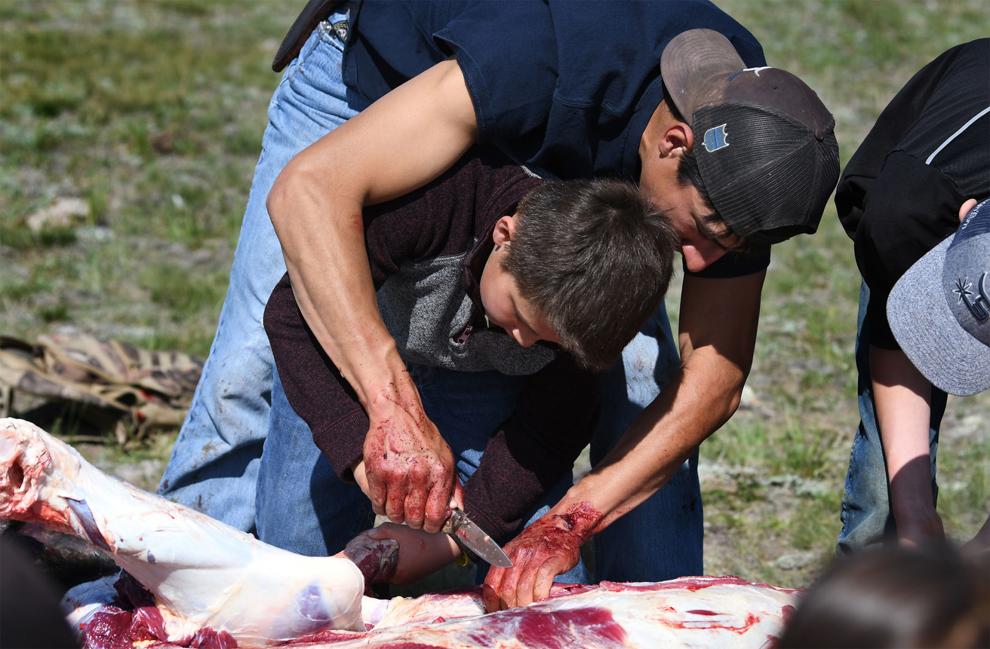 Remember the old songs. Recall all the uses for a bison body. Restore the buffalo in Blackfeet culture. The Iinnii Initiative spent a week introducing those experiences to anyone wanting to share them.
"My grandmother was Buffalo Stone Woman, and I'm from the Mountain Chief family," Iinnii Initiative coordinator Teri Dahle said. "We're still here because our ancestors survived on that buffalo. Let's honor that relationship."
With Doug Loring and Steve Tatsey, Racine got busy peeling back the black-and-brown hide. They pulled out a heart as big as a man's head, and a tongue as long as a boy's arm. Three young boys immediately challenged for the right to carry it, facing off with Rock-Paper-Scissors.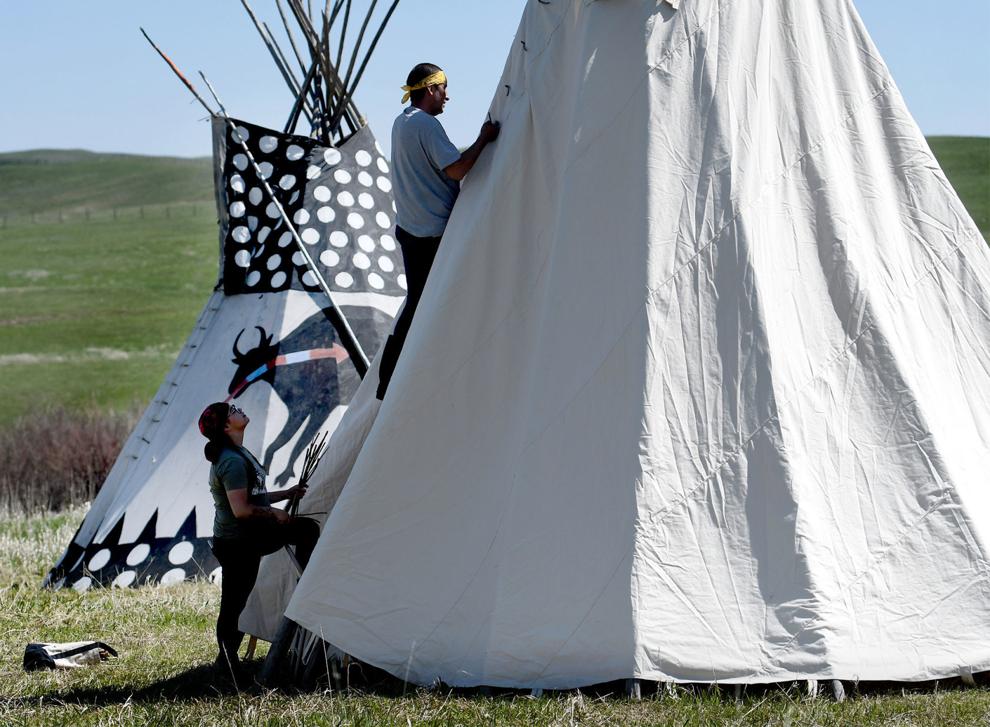 Taos Wellman, 11, was attending his third spring buffalo slaughter on the Blackfeet Indian Reservation. He listed off the commodities on the hoof: a bladder that becomes a water jug, spoons from the horns, a whip from the tail, glue from those cantaloupe-sized hooves. Then someone came around with the still-steaming buffalo kidney and a knife, offering samples.
"It was pretty good raw," Wellman said. "But my friend Harmony tried it and said 'Yuck — I'm Navaho. I eat mutton. You're Blackfeet. This is your meat.'"
Blackfeet Tribal Buffalo Program Director Ervin Carlson said people started bringing bison back to the reservation in 1974. When he became director of the tribal agricultural department in 1996, he found little support for a bigger buffalo herd.
"It was frustrating," Carlson said. "But in the past eight years, things grew. Now we're at numbers where they're taking care of our people."
The story of the journey Blackfeet bison made from near-extinction to recovery has few certain facts. History books, Indian Agent reports, university archives, personal journals and government records have variations of a central story: That an Indian named Samuel Walking Coyote captured between three and 20 bison calves from the Blackfeet Reservation around 1873 and herded them over the Continental Divide to the Flathead Indian Reservation. There they came into possession of Michel Pablo and Charles Allard, who raised a herd soon numbering in the hundreds south of Flathead Lake. This herd added and lost members over the years, including 25 sold to Yellowstone National Park in 1902 to bolster that vanishing population.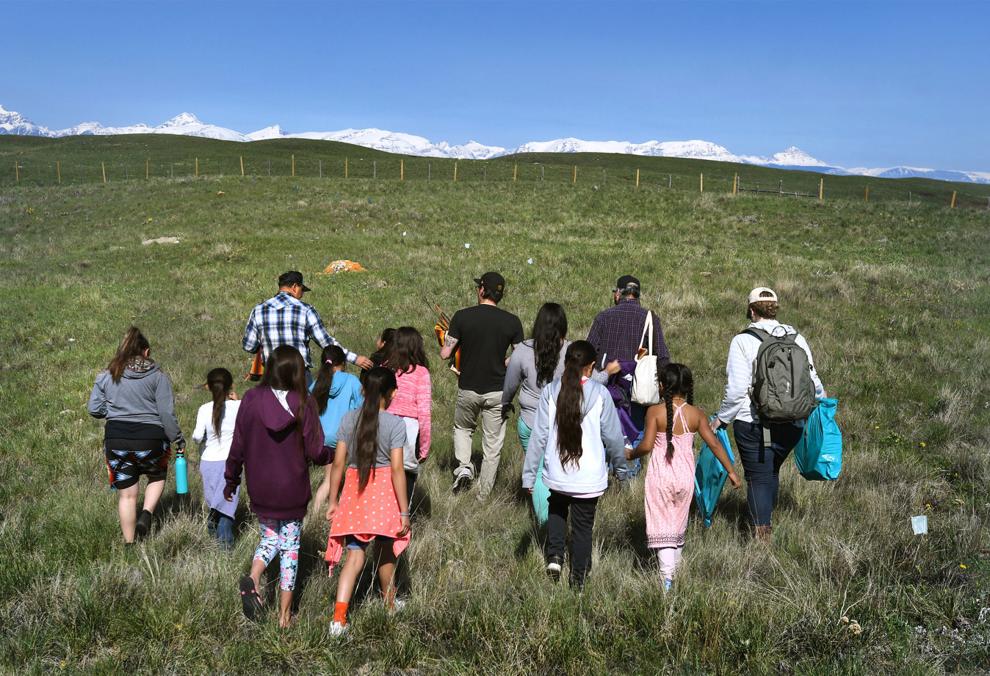 When the Dawes Act opened the Flathead Indian Reservation to white homesteading in 1906, tribal members couldn't put together enough land parcels to sustain the herd. They attempted to sell it to the federal government, but Congress acted too slowly. Instead, most of the bison were sold to Canada, which also wanted to revive its nearly extirpated buffalo heritage.
Congress did finally act in 1908 to create and fund the National Bison Range on Ten Sleep Mountain. By then, the only bison left on the Great Plains were mainly in small private herds, the rest killed by market hunters, disease, and conversion of prairie grasslands to farm fields.
"Killing the buffalo went much deeper than removing an animal from the landscape," retired Montana Fish, Wildlife and Parks biologist and Wildlife Conservation Society bison program director Keith Aune said at Iinnii Days. "It was about crushing a people's spirit and reshaping a culture."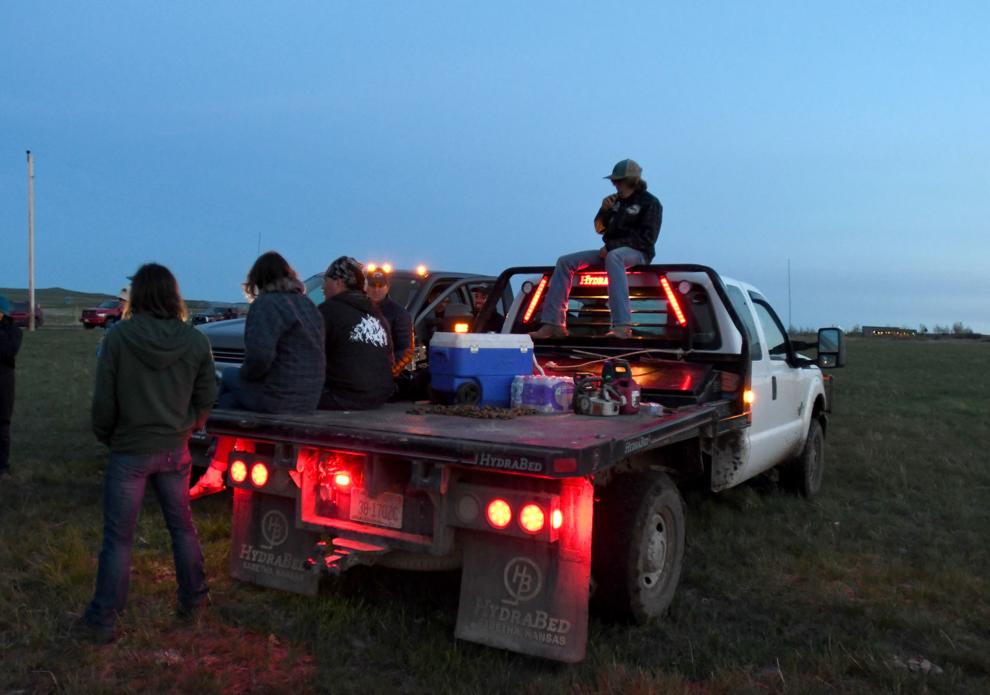 Aune grew up 70 miles south of the Blackfeet Reservation but never learned the Indian perspective of buffalo in school. He recalled playing in ancient teepee rings and digging for bones in old buffalo jumps, and then doing academic research on bison in Yellowstone National Park.
"Now I'm coming full-circle," Aune said. "This was something I grew up with that I didn't understand."
As Aune notes in his new book, "Theodore Roosevelt and Bison Restoration on the Great Plains," all things in nature try to be round. The roundabout journey of Blackfeet buffalo from the edge of the Rocky Mountain Front to the Flathead Indian Reservation to Alberta to Oakland and back to the Blackfeet Reservation doesn't make a geographic circle, but it does return to where it started.
In 2016, the Blackfeet took delivery of 88 mature and yearling bison culled from the growing herd at Elk Island National Park in Alberta. Elk Island also donated bison to the Oakland Zoo, which promised to pass on any calves born in California back to the Blackfeet. In May, the Iinnii herd received a dozen calves descended from that circuitous lineage.
Returning bison also strengthened ties between the Blackfeet tribe in Montana and the Blackfoot Confederacy of First Nations in Canada. The Iinnii Days gathering at the former Smith Ranch southeast of Browning started with a pipe ceremony led by Blackfoot Sacred Horn Society members Peter Weasel Moccasin and Michael Bruised Head, who renamed it Buffalo Spirit Hills. In Piikuni language, the words for "spirit," "friend" and "shadow" are closely linked, based on the idea that your shadow resembles you and never leaves you.
"Five years ago, a lot of people came to sign the treaty," Bruised Head said of the cross-border tribal agreement to grow a new buffalo culture. "Now the bison are here. It's good we're including young people — they will be the ones sitting around the pipe conducting the ceremonies. They may not understand this until later, but they'll think back and know that something transpired. Twenty, 30, 100 years on — don't let this be the last smoke here."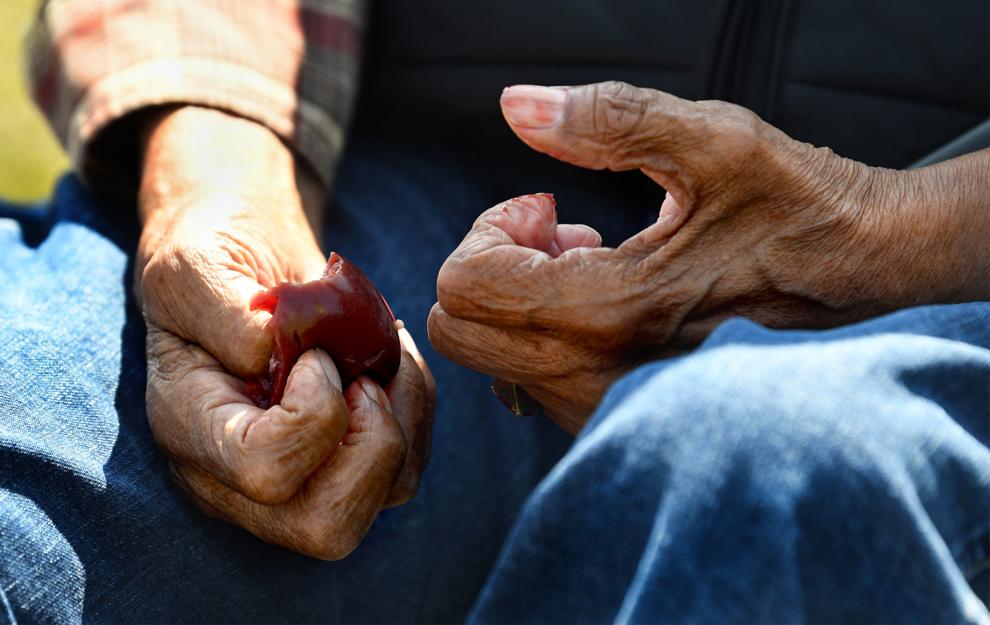 Joel Parrott of the Oakland Zoo said his institution wanted to create an exhibit of the major animals that once roamed California: the grizzly bear, gray wolf, jaguar and bison. All had been wiped out by the early 20th century. In seeking a bison population, Parrott first tried to acquire animals from Yellowstone National Park, but the paperwork challenge proved daunting. In the process he connected with Aune, who suggested appealing to the Elk Island National Park staff. The zoo helped underwrite the 2016 Blackfeet bison delivery, and that opened the door for 14 bison cows to go to Oakland. Those cows produced a dozen calves, which were trucked to Buffalo Spirit Hills.
"These bison have commanded the world's attention and swamped San Francisco media," Parrott said. "Word is spreading to zoos across the United States that this is a way to partner with states and the National Park Service and support animals in the field."
Glacier National Park Superintendent Jeff Mow looks forward to the day the park includes bison as part of its animal inventory. The reservation border has no fence; Glacier actually employs cowboys to haze private cattle out of the park. Bison would have the same status as grizzly bears and elk, free to roam where they will.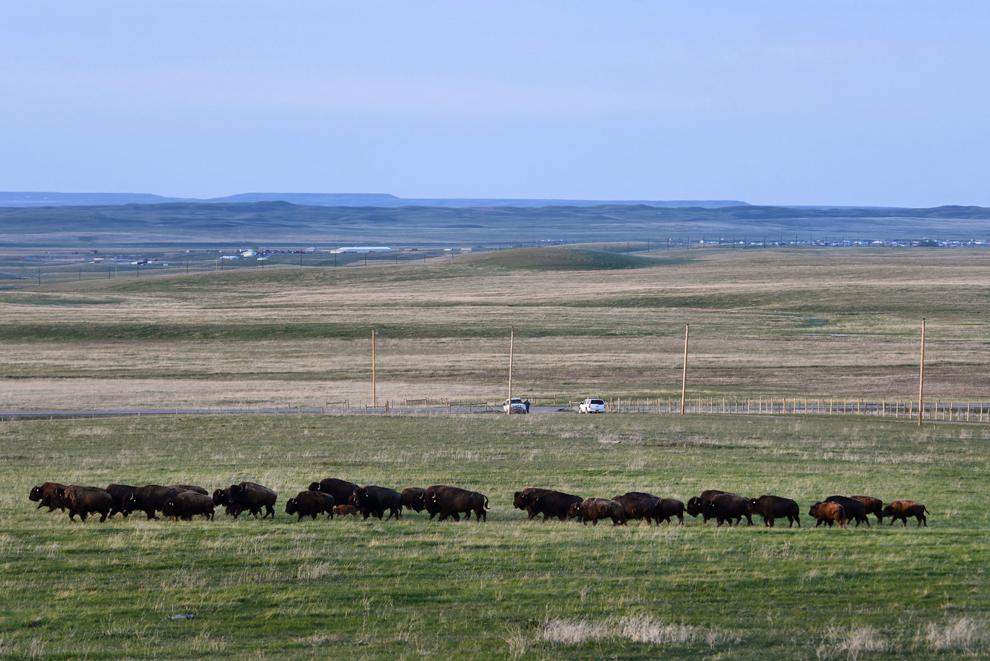 "This is one of the most transformational things we can do in the national park system," Mow said, noting that the NPS shoulder patch on his uniform has both a bison and an arrowhead. "This helps understanding of how you manage conservation across an international boundary."
They return in other ways as well. Blackfeet elder and school teacher Betty Cooper spent a few minutes after the bison slaughter was finished to collect buffalo manure patties from the prairie. In addition to being great fertilizer, she said the undigested grass seeds would germinate in her garden and bring back more of the buffalo landscape.
"I wanted kids to have hands-on experience with the buffalo by sixth grade," Cooper said. "The first time, I asked all the kids' parents and grandparents to come help. This year, I didn't have to teach anything. At this age, they already know how to skin a buffalo. They know the cuts of meat."