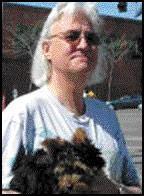 Missoula entrepreneur Bruce Lee, who created Evening in Missoula blend tea and was an elegant fixture of Missoula's arts and cultural life, died Monday morning in Missoula of kidney failure.
Lee was 57. He spent his last days at the home of his friends Dawn and Bob Bennett, where hundreds of people visited, called and faxed from around the world.
"It was all day and all night long," said Brynda Zuber, Lee's first wife and a collaborator in the first businesses in the Butterfly Building at 515 S. Higgins Ave. "He was just so well-loved by so many people."
Lee, a Missoula native, was one of 13 people who transformed the industrial building into an emporium that included Butterfly Herbs, Rishashay, the Crystal Theater and the Gilded Lily deli and cafe upstairs. It opened May 1, 1972. Lee's entrepreneurial spirit was clear back then, said Shirley Juhl, a partner in the Gilded Lily and now owner of the The Bridge bistro in the building.
"He had ideas for all of us," she said.
Butterfly Herbs sold spices, teas and whole-bean coffee, which was then a novelty. Lee soon showed he had a knack for creating tea blends, said Linda Bennett, a founder of Rishashay, which housed Butterfly Herbs: Evening in Missoula, Glacier Gold, Night on Glacier Bay and, Bennett's favorite, Purple Mountain's Majesty. Lee created hundreds of blends.
It was an idealistic, free-spirited time, Juhl and Bennett said. The new business people were "just kids," said Juhl, who was 21. They were going to start a free medical clinic and a free school with the profits.
Anecdotal history says that Lee had the first commercial espresso machine in town. In September 1980, he moved Butterfly Herbs downtown, to what was Peterson Drug. The store became an anchor in a downtown that was reeling from the opening of Southgate Mall and a poor economy.
"There were practically weeds growing in downtown," Zuber said. "You could say that he was part of starting the movement back downtown."
Lee sold Butterfly Herbs to two employees in 1984 and started a mail-order business, Montana Tea & Spice. He retired from the business in 2003.
Lee was part of the Woody Street music scene when he was a high school kid in the early 1960s, said old friend John Keegan. He studied art and art history with Rudy Autio at the University of Montana and was involved in Missoula's arts and cultural life throughout his life.
"Bruce went to all the openings," Keegan said. "You'd always see Bruce at everything. If he wasn't going to them, he was volunteering for them."
Lee was a patron of the Missoula Art Museum and just a few weeks ago helped move paintings for its building remodel. He also volunteered for the Montana Repertory Theatre and at the door for the Missoula Colony playwrights' festival for years.
Lee gave his time to the Montana Festival of the Book in Missoula out of his love for reading, Keegan said. His library was full of signed first editions, many by Montana authors who were also friends. He was very well read, his friends said, and could talk about almost anything.
"He was always such a gentleman, dressed to the nines. Always reading," said Juhl. "He knew something about everything."
Lee was also well-traveled and touched people wherever he went, from Rome to Bali, said Bennett.
"He was really a universal person," said Zuber. "He just was interested in everything. He was very, very well read. He didn't have many prejudices against much."
Known for his trademark long, white-blond hair, Lee loved food and cooking and entertained many friends at his home on Stoddard Street, cooking recipes he had collected from around the world.
He had a beautiful garden, Keegan said, where he raised marigolds he cross-pollinated and put out bowling balls as art objects. He was generous to his friends, Keegan said, and was crazy about his dog, Bark Lee, a Yorkshire terrier.
"He was a spirit people did not forget," Bennett said. "He touched people."