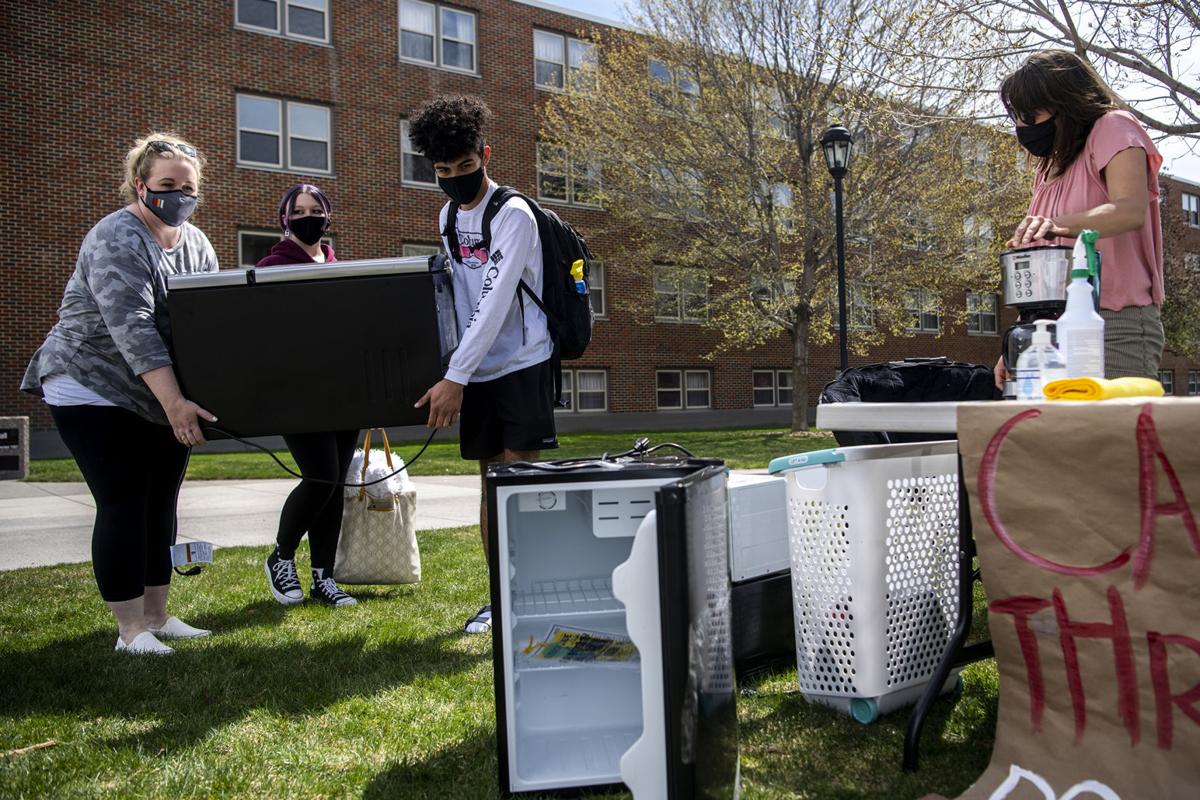 Every few minutes on Friday, another University of Montana student or their parents would haul a mini refrigerator or a microwave out of one of the campus dorms and place it at a donation table on the grass.
Those donated items that students can't take home with them for the summer will then be resold on Wednesday at a public sale called Campus Thrift.
The UM Office of Sustainability and UM Housing are organizing the program, which has been running since 2015.
"This event takes a ton of volunteer hours to pull off and we are so excited that we get to offer the collected items back to the campus and Missoula community at our annual Campus Thrift sale," explained Derek Kanwischer with the UM Sustainability Office.
"All items are priced at bargain prices and proceeds benefit our campus sustainability programming at UM," he added. "Leftover items from the thrift sale are donated to area nonprofit organizations to distribute and sell within their community network."
Kanwischer and volunteers set up tables to collect donations all over campus on Thursday, Friday and Saturday before the UM graduation ceremony.
Isaiah Goings, a freshman at UM studying business administration, said he and his family are flying back to New Hampshire.
"I hope somebody gets to use it," he said of the mini-fridge he donated.
Cathryn Raan started the program in 2015 and still volunteers every year.
"This year is a little different because there's less students, but we usually fill up a 26-foot U-Haul to the ceiling," she said. "It's like stuffed. The first year was honestly probably the most stuff. But it's become a lot more efficient of a program over the years. We empty the U-Haul into the gym on Monday morning and start sorting it for the sale."
The sale is open to the general public and will take place on Wednesday, May 5 from 9 a.m. until 12 p.m. at the Schreiber Gym, located at 32 Campus Drive on the UM Campus. Cash and checks are the only form of payment accepted.
"Whatever does not sell we have local organizations come pick up, whatever is appropriate for their organization," Raan explained. "The Poverello Center takes a lot of the bedding and towels. The Habitat for Humanity Re-Store takes furniture and small appliances. Mountain Home Montana takes a lot of used clothing. Soft Landing Missoula is coming. Everything kind of gets dispersed around the community in the appropriate places and the waste reduction is huge."
Raan said students who fly home used to just put lots of perfectly good items in the campus dumpsters before the program started.
"Even before we set up in the morning there's stuff in these dumpsters that is perfectly good," she said. "It reduces so much waste it's kind of incredible."
She got the idea after seeing so many useful household items going to waste.
"I used to be one of the people that would go floor to floor through the dorms and see what was left behind by students," she said. "If you think about being a student and trying to move out and making travel plans and saying goodbye to your friends and have finals all in the same handful of days, this makes it really easy for them. Because they wouldn't be able to responsibly dispose of their items in that time frame."
Volunteers will set up the gym for the sale on Monday and Tuesday, May 3-4 from 9 a.m. until 5 p.m. More information can be found at bit.ly/3t8LE1K.​
On the day of the sale, volunteers will assist with crowd control and physical distancing. They'll also assist customers who have questions, set prices on miscellaneous items and will clean and load.