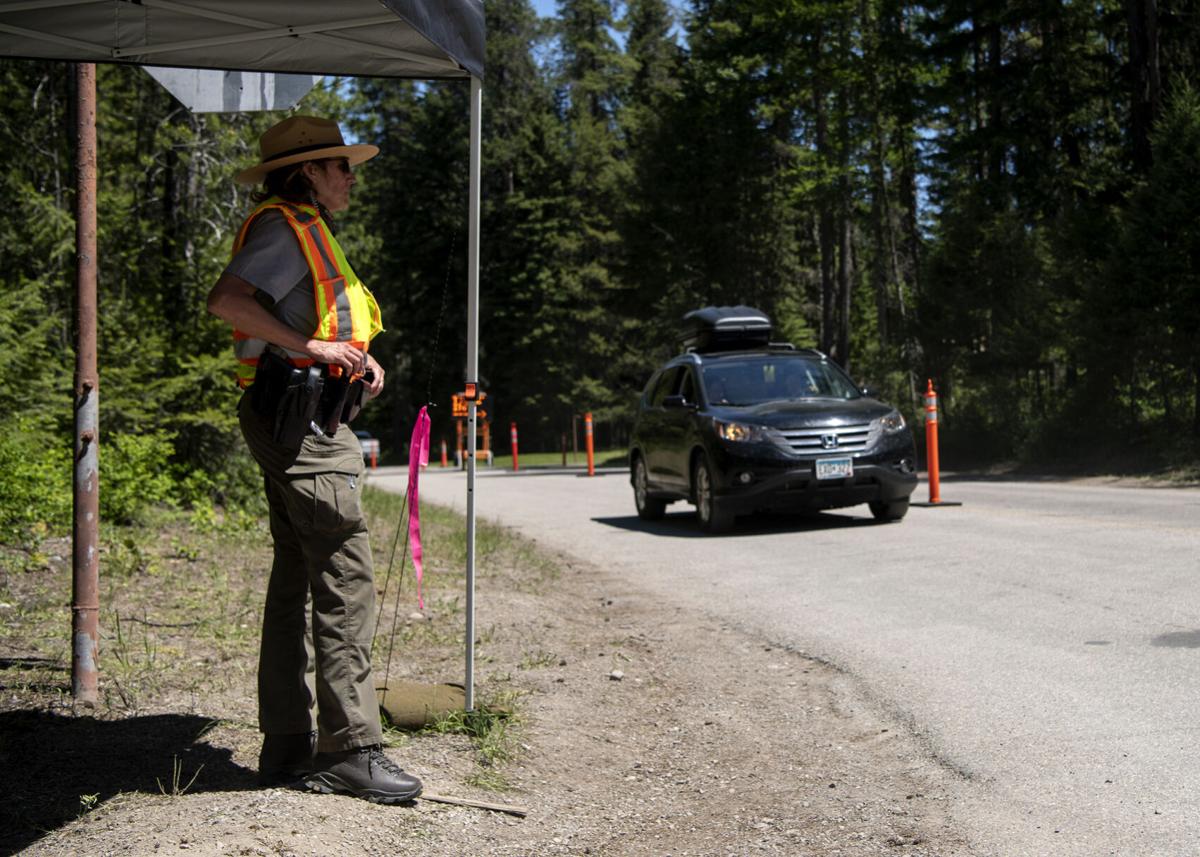 WEST GLACIER — Before the western gate to Glacier National Park comes in view, a line of people with clipboards awaits arriving motorists.
They wave over each vehicle hoping to enter the 111-year-old park, checking to see if — for the first time in its history — that driver has won the lottery to get in that day.
Those who lack, or didn't know about, the new entry reservation tickets get directed to the "car corral" behind Glacier Park headquarters for further advice and consultation. Many have to turn around and find somewhere else to enjoy the summer day.
Anyone who has got that far without the ticket has missed several chances to avoid the mistake. A huge reader board at the edge of Columbia Falls warns of its necessity 15 miles west of the park entrance. Glacier staff have set up a booth in Hungry Horse, 10 miles out, to explain the new lottery system and how to get a ticket.
"This is our first time doing this, but we felt it went really well," park spokeswoman Gina Kerzman said of the Memorial Day Holiday weekend ticket experience. "We had fewer than 100 cars want to get through without a reservation."
That experience will change as summer tourist season hits high gear.
Although Glacier National Park encloses 1 million acres and has seven vehicle entrances, the vast majority of visitors aim for the Going-to-the-Sun Road between West Glacier and St. Mary. That 50-mile drive over the Continental Divide regularly ranks as one of the most scenic highways in the world. The skinny, two-lane route climbs from Lake McDonald (elevation 3,153 feet above sea level) to Logan Pass, 4,000 vertical feet higher.
In 2020, despite the COVID-19 pandemic and its travel limitations, the line of cars waiting to get through the West Glacier gate occasionally backed up to Coram, 8 miles to the west, Kerzman said. In early June, when maintenance crews are still clearing the higher elevations, motorists can only travel 21 miles inside the park to Avalanche Campground.
And last Wednesday, every parking spot at Avalanche was filled. Many visitors drove that far and then started walking or biking up the Sun Road. On Friday, those carless travelers were allowed to start going all the way to Logan Pass.
However, the upper stretch remains vulnerable to hazardous rockfall and occasional avalanches, as well as the routinely erratic weather conditions of mountain topography. Also, most of the guardrails aren't yet installed along the last several miles where the road clings to sheer cliff walls.
Vehicle access to Logan Pass should open sometime in the last week of June or first week of July, depending on weather conditions. Last week's unseasonably high 80-degree weather can quickly be replaced by rain or even snow that can re-block previously opened road sections.
While the upper section of the road remains closed, lower traffic is limited to a 2,300-vehicle capacity, Kerzman said. After the upper miles become available to spread visitors out, the number of daily tickets released will rise to 4,600 vehicles.
About three-quarters of the tickets were released by online lottery through the Recreation.gov system back in May, and those have all been claimed. The remaining tickets are released 48 hours in advance, starting at 8 a.m. Those typically get snapped up by 8:05 a.m. according to Glacier personnel and comments on social media.
Visitors who have reservations at a Glacier campground or one of the interior hotels, as well as those with tickets for horse or boat tours, do not need the $2 entry ticket to get through the gate. However, they do still need to buy a pass to enter the national park, which ranges from $35 for a single-vehicle, 7-day entry to $80 for a year-long pass good at any national park.
Those entry passes also get a motorist through the gates at Polebridge, Camas, Two Medicine, Cut Bank and Many Glacier. Those entrances also lead to popular destinations within Glacier, but do not connect to the Going-to-the-Sun Road.