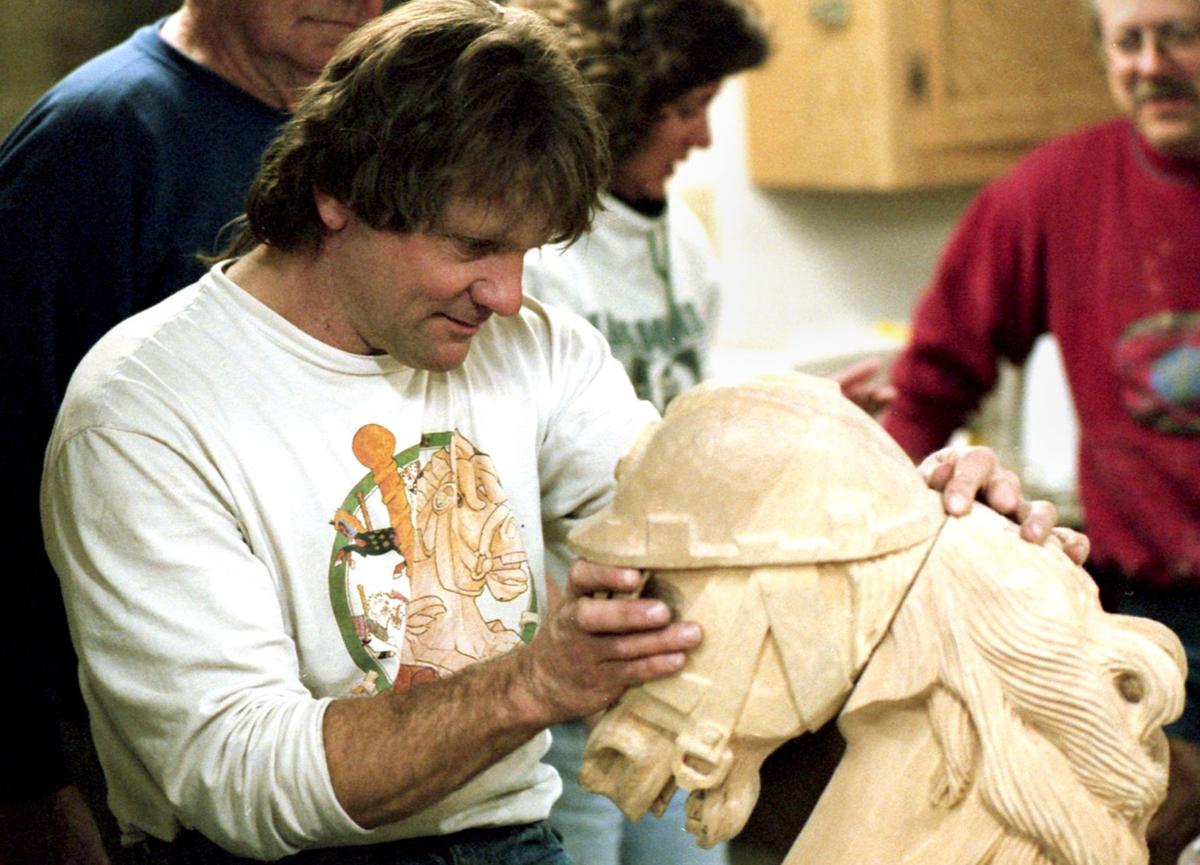 Every year, somewhere around 190,000 people take a ride on one of the colorful hard-carved horses at A Carousel for Missoula.
And it's all because in 1988, a skilled cabinetmaker named Charles "Chuck" Kaparich got the idea to carve a horse after seeing a turn-of-the-century carousel in Spokane, Washington.
That idea soon grew into a yearslong effort, completed in 1995, to build the first fully hand-carved carousel of its kind in the United States since the Depression, enlisting volunteers and donors who shared his enthusiasm.
"He was the reason that we're here and lots and lots of people contributed to that. He could not have done it by himself. It would not have happened without him," said Theresa Cox, executive director of the Carousel and a volunteer from the beginning.
Kaparich, 73, died on Monday, June 28, of multiple myeloma, said his wife, Beth Kaparich.
He was a "driven man," constantly coming up with dreams that he compared to trains running through his head, she said.
Once he set his mind to a project, it was like "being on a runaway pony. You just couldn't stop him, so you just had to know it's going to happen."
With imagination and a sense of humor that could bring down the house, he persuaded strangers to contribute thousands of hours to his project.
"He could talk you into anything," Beth said. 
One carver, John Thompson, said it's probably "the largest public art piece in Montana that was put together with all volunteers."
To pay tribute to him, the Carousel will have free rides on Sunday. (See box.)
Seeing a carousel
Kaparich grew up in Butte, and as a child he frequented the vintage carousel in Columbia Gardens.
He and his brother, Fred, who later became a mechanical engineer, were "always creating things," Beth said, almost all of it self-taught. (Their father died at age 38).
After finishing college, he pursued a degree in teaching, but while he liked working with kids, "he couldn't handle the four walls. It was too restricting for him," Beth said.
His affection for the horses was stirred again during that trip to Spokane and thoughts of his grandfather, who'd immigrated from Croatia.
"And I just started to cry. For some people it might be walking into a cathedral, you just get that sense of awe. But for me it was walking in and seeing the kids spinning around on those horses," he told the Missoulian in 1995.
A woodworker himself, he was struck by the craftsmanship.
"I went up to the horses and I touched them and felt them and I thought, 'Who would do this?'"
He dove into research and decided he wanted one for his house, eventually contacting a carousel expert named Fred Fried.
Fried told him, "You're just like the rest of those carousel vultures. You'll destroy a priceless piece of American culture just to have a horse in your front room," Kaparich recalled to the Missoulian.
He said that he was grateful that Fried wasn't a collector, and set him on a different line of thinking.
Beth said he didn't know how to carve wood — she gave him wood-carving tools in 1990, so he could begin making his own horses. "It took him awhile to figure it out, but he got it figured out."
He was getting up early so he could dedicate an hour to it before work. After envisioning a full carousel in Caras Park, in 1991 he went to Mayor Dan Kemmis and Geoff Badenoch of the Missoula Redevelopment Agency for public support.
To be more precise, he brought a visual aid to the mayor.
"This is how naive I was," he told the newspaper in 2005. "I drug this horse in the mayor's office and said, 'I want to build a carousel for Missoula.'"
A nonprofit and board of directors was set up and they began recruiting volunteers, showing off ponies at events around town like Out to Lunch and the Western Montana Fair to stir up interest.
"The horses were our best ambassadors," Kaparich told the Missoulian.
Thompson, who signed on to draw designs to show to sponsors, said Kaparich would go visit with a prospective donor and "leave with a handful of checks" and new people eager to help.
They came up with an "adopt a pony" campaign, where families and businesses could come up with ideas for the designs.
Kids from Missoula schools collected a million pennies to adopt four of the horses. Thompson said they brought an overhead projector to classrooms to figure out the designs — all the little boys wanted a horse with armor, the girls wanted feathers.
Carving horses
Kaparich taught people of all skill levels how to carve and sand basswood, which alone could take 400 to 800 hours per horse, according to Cox.
Even people who weren't handy helped out with paperwork, writing thank-you notes and the other logistics of the endeavor. Mechanics volunteered to work on the antique machinery and make the wheel spin.
"There were a million ways for this to fail and maybe only one for it to succeed," Kaparich told the Missoulian. "Somehow it just kept funneling through that one way. When you were short of something or needed something, somebody would just show up at your door one day."
Cox said the project "created such a bond for people from all socio-economic strata of the community."
Kaparich taught an adult education class and ended up with a waiting list. There were artists, high school teachers, surgeons, bookkeepers, pilots, dermatologists, retirees. They met in his garage (he took Fridays off), up to 20 people at a time, for four years. Thompson estimated that at their peak they had 40 active carvers.
Bette Largent, an expert who worked on the Spokane carousel, came over to teach painting. She told the Missoulian in 1995 that these horses are distinct from the other established looks. "They've created a style of their own, not a copy of something else," she said.
"Chuck made sure each one of them was perfect," Cox said. He wasn't afraid to tell someone "you need to keep going on that, you need to dig a little deeper, or make this curve a little different.' And that's the reason our carousel is so beautiful, because he started that culture of making sure that everything was right."
An auction, redevelopment agency funding and other sources helped pay for the horses and the building and the Stinson Co. band organ with some 400 pipes. It was paid off from the start.
The grand opening was held in 1995 with a parade. A line stretched all the way to the Wilma. One attendee told the Missoulian she'd driven up from Victor and waited two hours. (It was worth it, she added.)
Other projects
While Kaparich had initially thought that he would run the carousel, he decided it didn't suit him and he stepped down not long after its debut.
The carving didn't stop, though.
"He was always creating, and sometimes he would get almost over his head," Beth said. "I always said, 'Did you beat it today?' and he said, 'I beat it.' "
He and Carousel friends got together at least weekly for years, crafting everything from gargoyles to totem poles. He and Steve Weiler made a "rat fink" carousel, based on the hot rod characters for the Petersen Automotive Museum in Los Angeles.
He, Weiler, Jerry Covault and Alex McDonald carved a 10-foot-tall circus wagon, complete with a tiger and elephant, that was paraded down Higgins Avenue by eight mules for the University of Montana Homecoming in 2006.
He also consulted for other towns that built carousels, such as Helena, Butte and Edmonton.
He built a red-barn style house for the family in the Orchard Homes neighborhood, on an acre where he'd dug a pond and installed fountains and a paddle wheel, and a "big metal dinosaur head that's peeking out of the bushes," Beth said.
He built a little town for his shop in West Riverside, with a fire station and a bell tower and a red-light district. He also restored cars, everything from a vintage Ford Woody to a model he took to the Bonneville Salt Flats to vintage kids' pedal cars. They weren't all solo ventures — "friends would drop by to see what he's doing and add their talent to it," Beth said.
He built a cottage on California Street and River Road in a whimsical style he dubbed "Hansel's House," which he thought was fitting for Missoula since it was "a little bit offbeat and a little bit quirky."
"I want people to smile when they go by," he told the Missoulian.
The Carousel, meanwhile, "never would have happened without Chuck," Thompson said. "It was his personality, his dream. He let us all go along for the ride and play."
Thompson, like many others, still carves today.
"He changed a lot of lives," he said.