Colin Cox has always loved animals. The soon-to-be junior at Big Sky High School said that growing up, he begged his parents to have pets. 
"Colin has a big heart, and he would own more animals if he had more space," said Cindy Arnott, an agriculture teacher and advisor for Missoula's chapter of Future Farmers of America, as she watched Cox handle a lamb on the farm. 
Cox grew up in Missoula, and like many other students who work on the farm at the Ag Center, he didn't come from a farming family. But he was hooked on agriculture as soon as a group of students from FFA brought piglets on a visit to his eighth-grade class.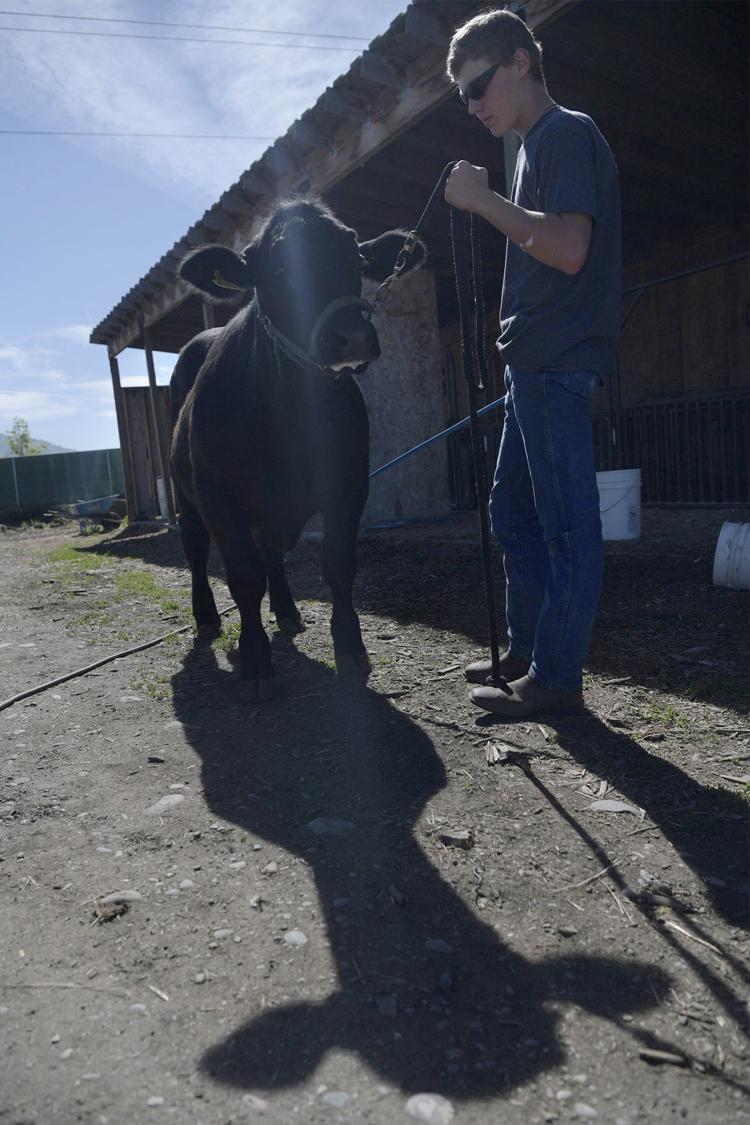 Now an FFA officer, Cox spends his summer at the farm caring for his animals, including a young female pig he won recently via an essay contest.
This fall, he's enrolled to take a new class offered by the Ag Center at the new meat processing facility. There, he and his classmates will learn more about the complex relationship that farmers and ranchers have with their livestock. 
"I was worried about it because I get really attached to them, and I get to know them and their personalities," Cox said, standing beside a pen on the farm housing his new pig. 
"It will be hard to watch, but if I know that it's going to help someone's family by feeding people." 
Since 1930, the 100-acre farm southwest of Big Sky High School has taught students from Big Sky, Hellgate and Sentinel High Schools about raising animals and farming. This year, it will begin teaching students about the butchering and retail sides of the farm industry at its newly-constructed meat processing facility. Students will also learn first-hand how to handle the emotional and ethical challenges that come with the territory.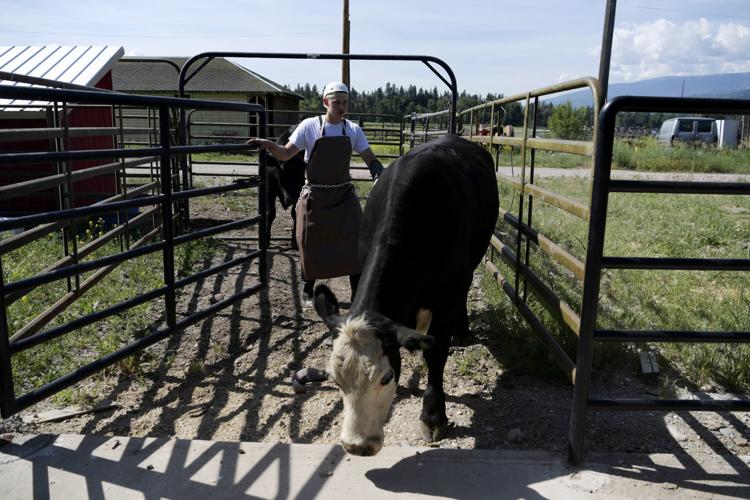 "Kids take this class because they love animals, and we're here because we love animals," said Kristy Rothe, a plant science teacher with the Agriculture Education program. "But if you're in animal agriculture, this is a part of it. We just want students to know where their food comes from so that they can make the best decisions for themselves."
Both proud of the new facility and emotional over the thought of slaughtering an animal she's raised, Arnott pointed to a chute that leads animals into the facility from an outdoor pen. The narrow, single-file ramp is flanked by panels that prevent animals from seeing things that may scare them as they enter the building.
Students even cut strips of tire and laid them on the ramp so the animals have sure footing and feel confident and safe as they climb the ramp. 
Teachers emphasize low-stress animal handling with students and try to make the killing "as humane as possible" by limiting the number of people in the room when they stun the animal. Still, it's a sensitive process, even for the adults involved.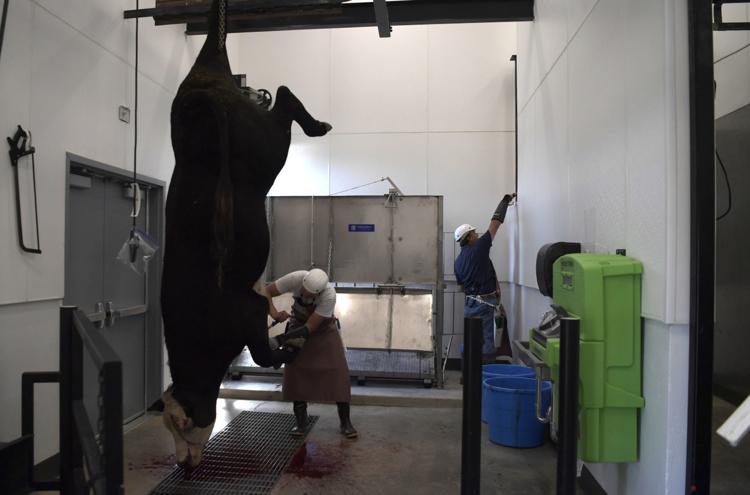 "I'm as animal-oriented as a person can be, but I like to eat meat," Arnott said, holding back tears. "I want to know that the animals I'm responsible for have been cared for the very best, so if I can be a part of this process, then I know that my animals are safe, they're not hurt, they're not being mistreated."
Once the animal has been stunned, students can be involved as much or as little as they'd like to be.
"Nothing is ever going to be required," Rothe said. "If the student gets to a point where they're like 'I'm not comfortable,' that's never going to be a requirement, and they're never going to lose points."
Cox said that at first, he was worried about witnessing the killing, but after sitting in on a few, he's more focused on the valuable outcome.
"The first time, it kind of took me off guard, but seeing that end result where it's finally packaged is really cool," Cox said.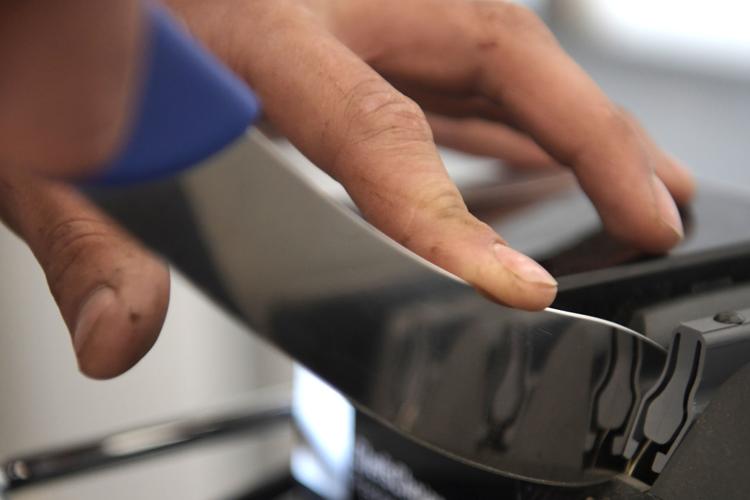 The facility is close to securing a state license. Once licensed, it'll be the first high school farm in the nation able to sell USDA-stamped retail meat from animals raised on the farm.
Tom Andres, an animal science teacher who came up with the idea and design for the meat lab, said the new facility completes the district's Agriculture Education program.
"We've been raising animals right from the beginning, and then by the time they were ready to be butchered, we would send them off, and it would be over," Andres said. "This allows us to complete the whole food cycle from beginning to end."
Andres said that because the farm is self-contained, it can produce meat in a more ethical and environmentally friendly way than "any place you can buy a pork chop."
"That animal is bred right over here," Andres said, pointing over his shoulder to one of the farm's structures. "It's born right there, and it's fed right over here.
"The kids can actually walk it over to the butcher, and it'll have never been in a vehicle its entire life until it leaves the refrigerator and it goes to your house. There's almost no place in the world that happens."
The farm also plays a role in sustainability throughout Missoula.
You have free articles remaining.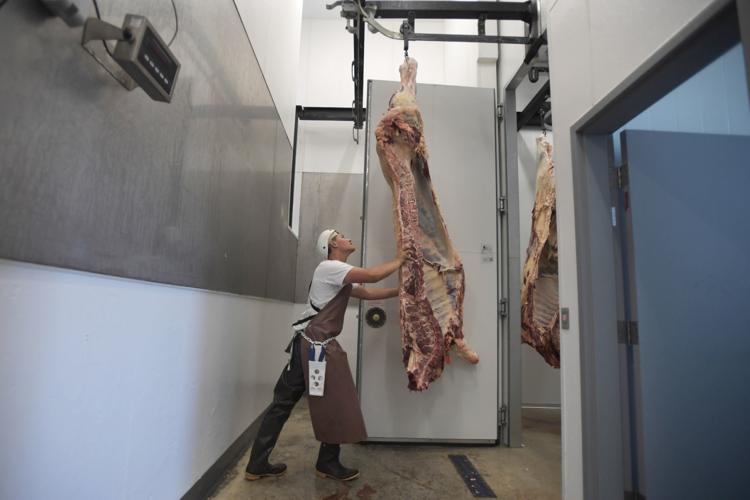 Although the cows feed mostly on grass, the farm works with Great Burn Brewing, KettleHouse Brewing Co., and Imagine Nation, breweries in town that donate spent grain for the livestock. The Montana Food Bank Network also sends food that's going bad, which the farm feeds to pigs.
Students compost the farm's waste products as well, like the guts and hide from cows they've butchered, and then use the compost as fertilizer.
Andres said he expects the meat processing facility to be fully state licensed by the end of June. Then, the farm will be able to buy locally raised, grass-fed cows from ranchers at the local livestock auction in the fall.
Although students will never fire a stun gun that kills a steer, they'll have the opportunity to be involved in every other step. They'll learn to make retail cuts of meat on the carcasses, have them inspected and sell the meat products to the school.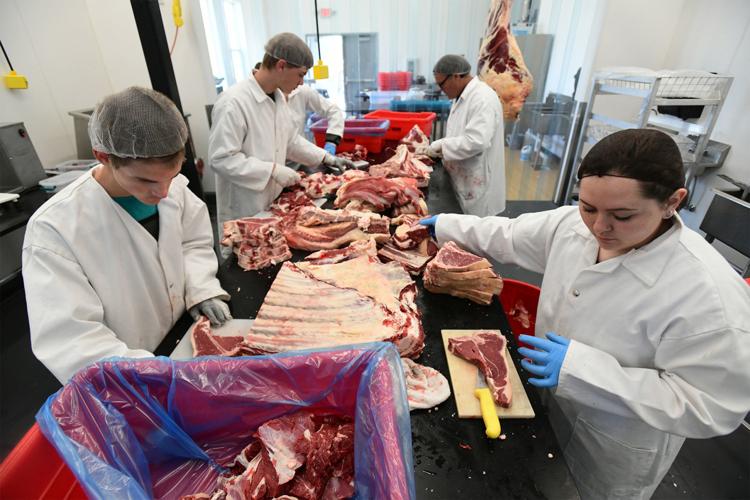 The program aims to provide ground beef for the entire district, feeding more than 8,000 students any day that beef is on the menu. In addition, the meat students process will be available for the public to buy at the facility and eventually at local stores.
"We will save the school district money, provide a great product, support local agriculture, and provide a realistic learning experience for the students," Rothe said.
Arnott said they'll also use the beef in tacos that Missoula's student-run Future Farmers of America organization sells at the Western Montana Fair as a fundraiser.
But tacos and hamburgers are only the beginning. As the meat processing program settles into the new facility and teachers secure more grant funding, they want to pursue selling jerky in school cafeterias and vending machines, selling whole pigs to the public for hog roasts, and even renovating a food truck to take their taco stand to special events and football games.
It's easy to get carried away with the possibilities, but Andres said the focus will always be on education.
The Ag Center has long been a place where students in Missoula who don't live on a farm have the opportunity to raise livestock. Although many aspects of the program focus on raising animals, Arnott said the animals are tools to teach kids other lessons.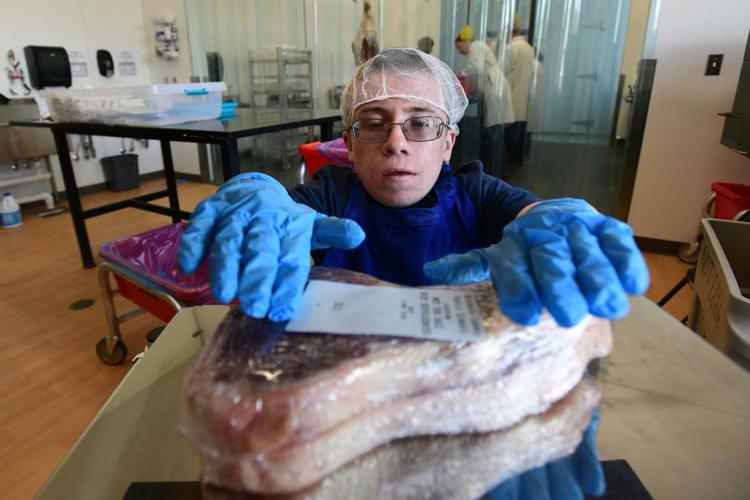 Through various classes offered by the agriculture education program, students learn everything from raising and caring for livestock to learning how to operate a small business.
Students previously learned about veterinary science and animal anatomy, but with the addition of the meat lab, those interested in pursuing careers in veterinary care or the medical field can examine organs that have not been degraded by time and formaldehyde.
They'll also learn about food safety and how to butcher and package meat. When it comes time to sell the meat, they'll learn how to develop and maintain good customer relationships. They'll learn more universal lessons about life, death and hard work, too.
"The kids are going to have to work hard and produce something because there has to be a product at the end of the day," Andres said." A lot of kids are lacking at that. They think that showing up for a job is good enough."
Andres said he struggled to find outside opportunities for students to participate in internships or apprenticeships, so he decided to "bring the business to the school."
As an educational program, students have the opportunity to do things that they wouldn't be able to do in a lot of jobs, like running equipment in the processing lab. And of course, students will get hands-on experience butchering animals.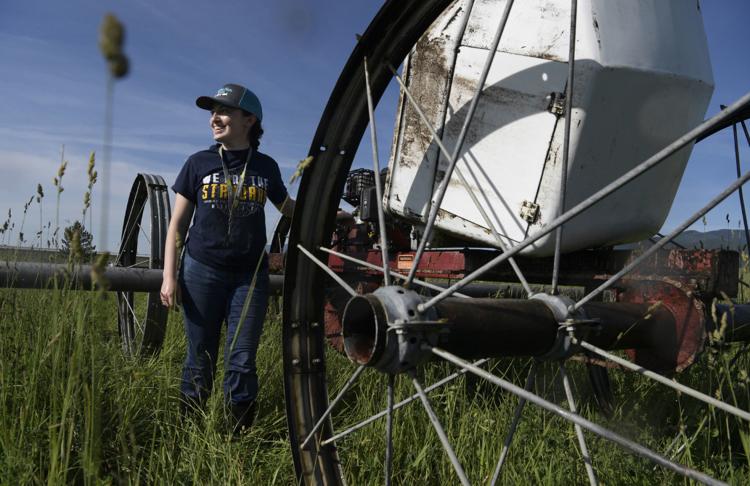 Earlier this month, Max Andres, Tom Andres' son who's a senior at Big Sky, helped his dad "process," the industry term for slaughtering, an Angus steer as a state inspector looked on. His dad's side of the family doesn't have much history in farming, but his mom's side does, making Max a fifth-generation farmer.
Max helped usher the steer up the chute and into an enclosure where an adult "stuns" the animal, effectively killing it. From there, Max helped hoist the steer, remove several body parts, and cut the carcass in half. As he worked, the inspector looked on and examined the body parts to check the animal's overall health.
Then, the meat was sprayed with lactic acid and moved into the "blast chiller," a room designed to quickly cool it.
The steer Max and his dad processed was one they raised at home, and Max said it was the ninth steer he's helped slaughter. "It's nice to know where all your food comes from," he said.
Arnott said that once the beef comes out on a hanger, students are more comfortable being involved. 
Andres proposed his idea for the meat lab years ago, and trustees added $750,000 for construction of the facility as a line item on the Smart Schools 2020 bonds, which voters approved for improvements across the district.
The bond hasn't covered all of the costs of the meat lab, located in the building that housed the school's old woodshop. So Rothe has been applying for grants "like crazy." Over the past two years, she's secured more than $200,000 to purchase equipment like a smoker, patty maker and scalder, but she said the program needs more funding.
Down the road, she'd like to hire someone to help process the meat and even build another barn for more animals. But between managing the farm, caring for the animals and writing grants, Rothe and the other teachers already have a full plate — and plenty of meat.​